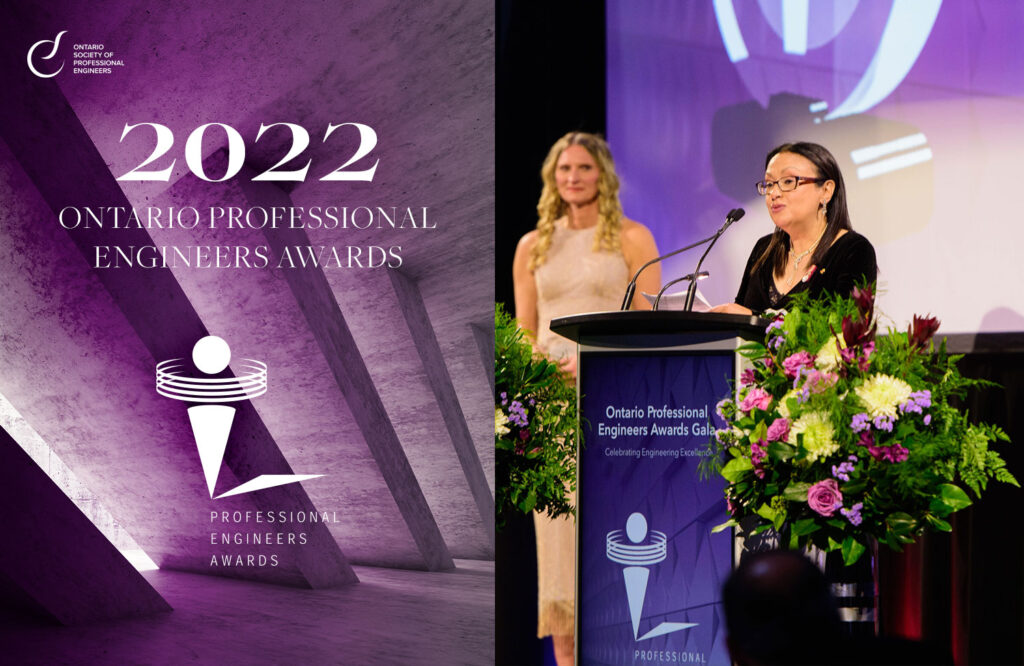 Earlier this month at the 2022 Ontario Professional Engineers Awards, Jeanette Southwood, P.Eng., received the Citizenship Award. We are pleased to share her citation for this coveted award.
---
An award-winning engineer and leader, Jeanette Southwood is the Vice-President, Corporate Affairs and Strategic Partnerships at Engineers Canada, the national organization of the 12 engineering regulators that license Canada's 300,000+ members of the engineering profession.
Before joining Engineers Canada, Jeanette led the Canadian Urban Development & Infrastructure Sector and the Global Sustainable Cities teams at the international consulting firm Golder Associates. At Golder, she was the first Black woman to be appointed to the senior leadership position of Principal globally. In addition, her work-related achievements include collaborating with experts from around the world and in many different fields on cutting-edge issues, authoring many papers, undertaking research, and creating and teaching university engineering and other courses. She is a member of the TD Insurance Advisory Board on Climate Change, and of Canada Life's Client Advisory Council.
Ms. Southwood is a dedicated volunteer with several organizations and has served on several volunteer boards, providing strategic advice across many sectors and creating awareness of the role of engineering and professional engineers in Canadian society. In late 2020, she was appointed by the federal government's Minister of National Defence to a volunteer role as the first Honorary Captain to be affiliated with the Royal Canadian Navy's naval engineering community.
Ms. Southwood is a Fellow of Engineers Canada and a recipient of the province of Ontario's Leading Women Building Communities Award. She has been honoured as one of Canada's Clean50 for her work and dedication towards sustainable development, leading change, championing innovation and changing our world for the better. She has also been inducted as a Fellow of the Canadian Academy of Engineering, which recognizes engineers contributing in exemplary ways towards their disciplinary fields and the wider community.
Other recognitions she has received include the Ontario Professional Engineers Awards (OPEA) Engineering Excellence Medal and the Young Engineer Award, and an Honorary Doctorate from Ontario Tech University. She has also twice been named one of WXN Canada's Top 100 Most Powerful Women.
In 2018, she was inducted into Professional Engineers Ontario's Order of Honour and was selected to provide the Dineen Lecture, a prestigious honour. In 2019, she was inducted into the University of Toronto's Engineering Hall of Distinction and received the Governor General Sovereign's Medal for Volunteers.
These are just some of the many accomplishments from a distinguished career.