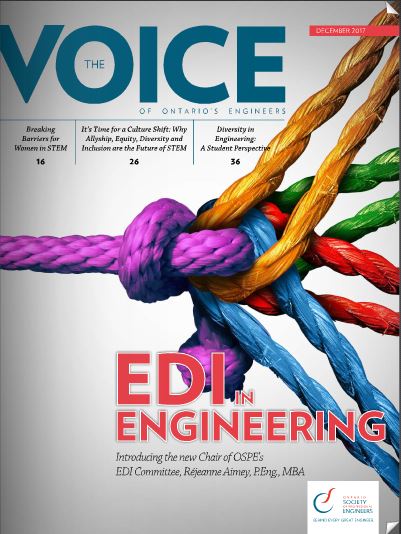 Spoiler alert! If you haven't yet flipped through the pages of the latest issue of The Voice magazine, themed diversity in engineering, you may not have caught wind of OSPE's latest advocacy announcement.
We are excited to share the news that as of 2018, OSPE will launch its Equity, Diversity and Inclusion (EDI) Committee that will serve to complement and deepen the Society's current efforts to support a diverse and progressive engineering profession.
The EDI Committee will provide leadership on matters related directly to equity, diversity and inclusion, as well as the elimination of discrimination in Ontario's engineering profession.
Working alongside OSPEs Women in Engineering Advocacy Committee (WEAC) – which is focused on encouraging women to pursue an engineering career, their P.Eng. license, as well as leadership opportunities inside and outside of the engineering profession – the EDI Committee will focus on other groups that are underrepresented in the profession based on their ethnicity, sexual orientation, gender, socio-economic status and special ability.
Why is OSPE developing an engineering diversity and inclusion committee?
—-


In 2016, OSPE staff and PAN representatives met with several MPPs who expressed interest in OSPE taking on a leadership role in this space by helping government increasingly promote engineering to diverse groups.
Several of our sponsors have also indicated a preference to support OSPE programs and events that focus on diversity more broadly.
The establishment of a dedicated diversity and inclusion committee will help ensure OSPE remains relevant and aligned with how partner organizations and other stakeholders are approaching the issue of diversity in engineering. In fact, several stakeholders in the engineering community have comparable committees:
Professional Engineers Ontario (PEO) has an Equity and Diversity Committee, which facilitates equity and diversity presentations to PEO chapters, and encourages PEO members from various demographics to volunteer and run for elected Council positions.
Engineers Canada has an Equitable Participation in Engineering Committee, which focuses on women in engineering, Indigenous access to engineering, outreach and youth engagement.

Companies

such as Hydro One, IBM, Accenture, General Electric (GE), Xerox, CH2M, Microsoft, Deloitte, TELUS and Amec Foster Wheeler all have committees that focus on supporting both women and other underrepresented groups in the workplace.
By taking a more comprehensive approach, OSPE can ensure our advocacy efforts better represent the diversity of all our members.
What kinds of activities would EDI undertake?
—-
Under the direction of the Chair, Réjeanne Aimey, P.Eng., the EDI Committee will determine its activities with input from both committee members and OSPE staff.
Activities may include: conducting research on diversity and inclusion within the engineering profession in Ontario, developing policy submissions to government, preparing proactive communications pieces that profile diverse engineers and engineering companies who champion diversity and inclusion, organizing relevant events, and/or participating in relevant conferences.
Who will be invited to participate as subject matter experts on the EDI Committee?
—-
Consistent with other OSPE advocacy committees, the EDI Committee will be comprised of (up to) 12 individuals. This includes (up to) 7 OSPE members who bring an understanding, expertise and experience with the principles of diversity and inclusion, as well as up to 5 stakeholders who are subject matter experts in this policy area.
Key issues that the subject matter experts would help address may include (but are not limited to) what definitions or key terms OSPE should employ, best practices to support diversity and inclusion in the workplace and/or classroom, and statistics related to the participation of diverse groups in engineering.
Experts will be strategically selected to fill knowledge gaps, strengthen the committee's activities and outreach, and ensure the committee's success in producing tangible and meaningful outcomes within its first year.
When will recruitment take place for the EDI Committee?
—-
This month, OSPE published a call for volunteers on the Society Notes blog. The blog lists the various advocacy committees that currently have vacancies, including the EDI Committee.
Prospective EDI committee members will be asked to submit their resume and a standard OSPE application form to OSPE's Board Relations Coordinator. These materials will then be shared with the incoming EDI Chair for review and consideration.
To express your interest in volunteering on OSPE's EDI Committee, simply email dthomson@ospe.on.ca for more information by December 31, 2017.
OSPE looks forward to continuing to work together to help ensure that everyone has an equal opportunity for meaningful participation and advancement in the engineering profession.