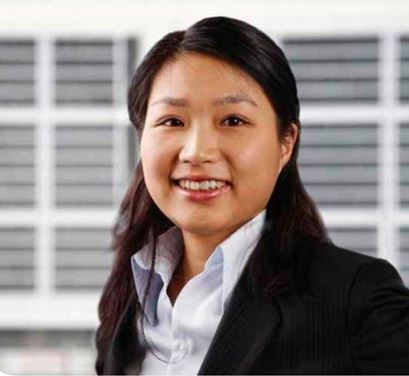 Laura Yu, P.Eng., Ph.D., is a new OSPE member and Business Development & Innovation Procurement Manager at Ontario Centres of Excellence (OCE) – a not-for-profit organization funded by the Ontario government. As one of the economic development engines for Ontario, OCE plays a key role in the province's innovation ecosystem. Their funding programs support Ontario-based companies to develop new technologies and innovation that help SMEs and start-ups scale and grow.
"OCE has been around for 30 years and started off facilitating connections between tech-based companies and academia," Yu said. "The goal was to help them tap into academic expertise and resources to help advance research and development (R&D) within the company. Fast forward to today – OCE's mandate continues to be driving the economic growth and development of tech companies in Ontario, through various strategic initiatives such as fintech, autonomous/connected vehicles, clean tech, and others."
Yu has been at OCE for six years, starting out as a Business Development Manager, where her role was to meet with tech companies from a variety of sectors to understand their business, R&D initiatives they were working on and how those outcomes had a direct impact on driving company growth. This allowed her to identify program(s) at OCE that would be suitable to support their R&D initiatives and add value to their company.
"My role is very exciting – I get to speak to high-tech companies and learn about the innovative technologies they're developing, while also staying on top of the latest research in academia," said Yu. "I wouldn't be able to do this job without my engineering background and several years as R&D Engineer at Baylis Medical. There I saw first-hand the product development lifecycle — from the concept phase to the actual product being used by physicians to treat patients. My undergraduate and graduate degrees in chemical, biomedical, and mechanical engineering, as well as the industry experience allow me to understand technology from many sectors."
"A lot of the start-up companies that we work with are run by engineering graduates," said Yu. "These young people want to make an impact in the world, so they've taken their knowledge and created a new tech-based product or service that can solve business challenges. They see there is an opportunity to improve things in everyone's life."
Yu also worked closely with the Director of Academic Entrepreneurship at OCE to lead the Campus-Linked Accelerator/On-Campus Entrepreneurship Activities network, which are extra-curricular entrepreneurship programs at all 44 publicly-funded post-secondary institutions across Ontario. The DMZ at Ryerson University and Velocity at the University of Waterloo are, for example, part of this Network. They provide a "safe" space for youths to turn their ideas into viable companies through experiential learning.
Yu now leads MEDG's Small Business Innovation Challenge (SBIC) program. SBIC helps to bridge the gap for the public sector to adopt innovation developed by the private sector.
As a new member of OSPE's Research & Innovation Task Force, Yu believes OSPE is the convening body between industry and academia that can help ensure the voice of engineers is being heard. She believes that, as an engineer, it is important to grasp the impact of technologies that are being developed and implemented today.
"I think there is no better time to be in the engineering profession. Especially with the advancement of innovation – it's disrupting all sectors, like banking, mining, health, and others. People need to understand the impact that it will have on their businesses and everyday lives in the future. OSPE is in an excellent position to play a key role in advocating for the profession and the importance of technology and innovation."
Learn more about OSPE's advocacy work, committees, task forces and the many ways you can get involved.