On May 8, 2021, OSPE held its Annual General Meeting where, among other things, we celebrated some of our most dedicated ambassadors. Every year, we honour volunteers with our President's Volunteer Award. OSPE members are awarded in the Professional Engineer and Young Professional categories.
OSPE was pleased to present Emanuel Corthay, P.Eng., with the 2021 President's Volunteer Award in the Professional Engineer category.
Recently, we caught up with Emanuel to find out more about his work and activities with OSPE and the community.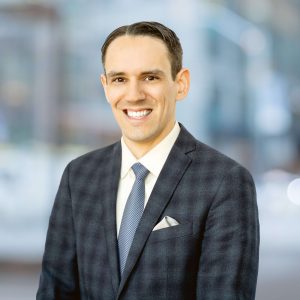 What does your job or volunteer work consist of?
As vice chair of the Research and Innovation (R&I) Task Force, I both lead and participate in R&I interest groups around specific subject such as Data Governance, 5G and Artificial Intelligence. I see my role as a facilitator to bring together subject matter experts, spark discussions and generate content that is helps the engineering profession, government and the public make informed decisions on topics that have far reaching impact in our day-to-day life.
How are you a leader in your profession or community?
I welcome different points of view, openly share what I know in an open and respectful way and encourage people I work with to be the best that they can be everyday.
I have worked in several industries to successfully bring technology product to market in a safe, ethical and beneficial way.
How do you apply engineering knowledge and principles to your job or volunteer work?
I first and foremost apply my ability to learn new things, be open minded and use fact-based, scientific method to make informed decision.
I also use my understanding of engineering and technology to understand what is at stake, synthesize the important elements and communicate it in an easy to understand way.
Why do you think being an OSPE member is important/what do you get out of it?
It's important to get different points of view, connect, debate, recommend and share recommendations to the outside world. It makes me a better, humbler person.
I also strongly believe participating in OSPE has helped me in my career by gaining visibility, insights and in general being a better-rounded engineer.
"I am an OSPE member because…"
…I believe in the power of bringing people together beyond existing limited connection circles (e.g., industry, government or academia in a specific field) to solve concrete problems and see OSPE as a powerful enabler to achieve that goal, be heard and make a difference. Engineers in particular have great talents but have not traditionally excelled at communicating their views. OSPE enables me to expand my horizon, learn and share knowledge as an individual, debate points of view and ultimately amplify my voice to bring a message to people that can make changes, whether they are government, companies or the public directly.
OSPE also enables me to share my passion for engineering with non-engineer and young people interested in engineers to create vocation and help shape the leaders of tomorrow.
Watch Emanuel accept his President's Volunteer Award at this year's AGM
Stay tuned for more on our President's Volunteer Award winners in the coming weeks. Click here to read more about what happened at our 2021 Annual General Meeting.