On May 8, 2021, OSPE held its Annual General Meeting where, among other things, we celebrated some of our most dedicated ambassadors. Every year, we honour volunteers with our President's Volunteer Award. OSPE members are awarded in the Professional Engineer and Young Professional categories.
OSPE was pleased to present Emily Thorn Corthay, P.Eng., with the 2021 President's Volunteer Award in the Professional Engineer category.
Recent, we caught up with Emily to find out more about her work and activities with OSPE and the community.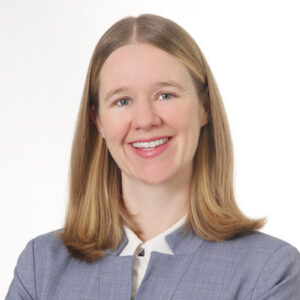 What does your job or volunteer work consist of?
I volunteer as Energy Task Force Chair and help guide the priorities of the task force in line with OSPE's strategic priorities. I chair monthly energy task force meetings and work with task force members to provide government submissions on important advocacy topics. Together with the task force, we write reports and organize events related to energy.
How are you a leader in your profession or community?
I run Thorn Associates, a growing industrial decarbonization and energy management consulting firm. I also was on the OSPE Board of Directors for a three-year term and am co-founder and Chair of the Board of StepUp, a non-profit dedicated to gender equity, diversity and inclusion in the energy management sector. I also teach the Certified Energy Manager course through the Canadian Institute for Energy Training, helping the next generation of energy managers.
How do you apply engineering knowledge and principles to your job or volunteer work?
Engineering knowledge is required when providing submissions to government on various energy topics such as the long-term energy plan and when writing technical reports such as on energy storage.
What issues in the profession are most important to you? What should OSPE focus on?
Getting our society to net zero carbon in line with the Paris Accord is one of the most important issues that engineers can play a critical role. I think this should be a critical focus of OSPE.
"I am an OSPE member because…"
….it's important to be part of an organization that advocates for engineers' interests and provides benefits to the public by advocating for technically sound policy. OSPE also has many personal benefits such as access to the salary survey and insurance discounts, etc.
Watch Emily accept her award at this year's AGM
Click here for more on our President's Volunteer Award winners. Click here to read more about what happened at our 2021 Annual General Meeting.