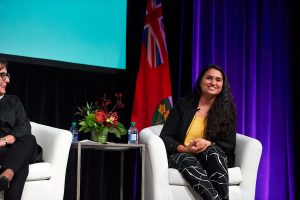 On May 8, 2021, OSPE held its Annual General Meeting where, among other things, we celebrated some of the best volunteers that OSPE is lucky enough to have. Every year at our AGM, we honour these volunteers with our President's Volunteer Award.
This year, we are pleased to present Vanessa Raponi, EIT, with the 2021 President's Volunteer Award in the Young Engineer category.
Recently, we caught up with Vanessa to find out more about her career and volunteer work
What does your job or volunteer work consist of?
As a queer woman of colour, I'm intimately aware of the challenges faced by those who have historically been underrepresented. I have worked for many years to allow these people to thrive by altering the systems and barriers around them. This is what inspired me to create EngiQueers, and keeps me advocating on panels, talks and on YouTube throughout the year.
In my full-time job, I get to design and make toys for a living! Working at Spin Master has allowed me to combine my creativity and leadership skills with technical manufacturing and materials engineering. I work in multiple global teams, which allows me to keep me love of working with others alive and well!
How are you a leader in your profession or community?
As a leader, I strive to keep my word, bring others up, and be my authentic self. For me, that looks like enthusiasm, positivity, and creating a personal connection with those around me. I truly love leading teams as I find when a diverse group of people get together, the real magic and innovation begins! I apply a philosophy of giving people the benefit of the doubt, and work to assume the best in others.
How do you apply engineering knowledge and principles to your job or volunteer work?
I could answer with some technical examples from work, but I think fundamentally engineering has taught me how to be a critical thinker, a lifelong learner, and a persistent problem solver.
This applies to all areas of my life, regardless of application. I further enjoy the ethical side of engineering – "what impact will this have?", "is this the right thing to do?", "how can we alter this to better serve the world at large?". This keeps me engaged both in the equity, diversity and inclusion (EDI) space, as well as in environmental sustainability.
What issues in the profession are most important to you? What should OSPE focus on?
OSPE should lead the way with out-of-the-box, radical innovation in the EDI space. The engineering profession must be representative of the people they are serving, otherwise it can never be successful. Whether it's from the perspective of understanding the needs of your consumer, or from the perspective of divergent thought resulting in better conclusions – we need people from the most diverse backgrounds possible to help serve our communities adequately.
"I am an OSPE member because…"
…advocating for our profession is of paramount importance.
Watch Vanessa accept her award at this year's AGM
Stay tuned for more on our President's Volunteer Award winners in the coming weeks. Click here to read more about what happened at our 2021 Annual General Meeting.