The engineering profession is as diverse as the many industries within which engineers work. Regardless of the specific tasks that we carry out in our varying job roles, productivity and efficiency tend to be two overarching principles that define and guide any of the work that we do. We work hard for the money we earn; so why shouldn't our money work hard for us too?
Choosing to invest ensures that your assets are as productive and efficient as you are. If you keep your money in your back pocket, it's hard to earn more than simply what you save. By investing your money, the returns you earn allow your money to grow, creating financial wealth over time.
Of course, investments also come with a certain level of risk–another concept with which engineers are very familiar–but by staying educated and informed about the different types of investment options available out there, you'll be equipped with the knowledge you need to make calculated and evidence-based decisions that are right for you.
As lifelong learners and problem-solvers, it's no surprise that engineers tend to be well-suited to mastering the infinite tools, technology and resources available in our highly-digitized, online world. Online investing is yet another exciting and empowering opportunity to satisfy our thirst for convenience and independence. Regardless of how active you want to be in managing your investments, one of three available online investing options is sure to meet your needs and desired level of control.
There are three different ways that you can invest online, depending on your preferences. BMO Wealth Management offers all of them. Depending on how active or hands-off you want to be with your investments, you have the freedom to choose the service that's most appealing to you. Take a look!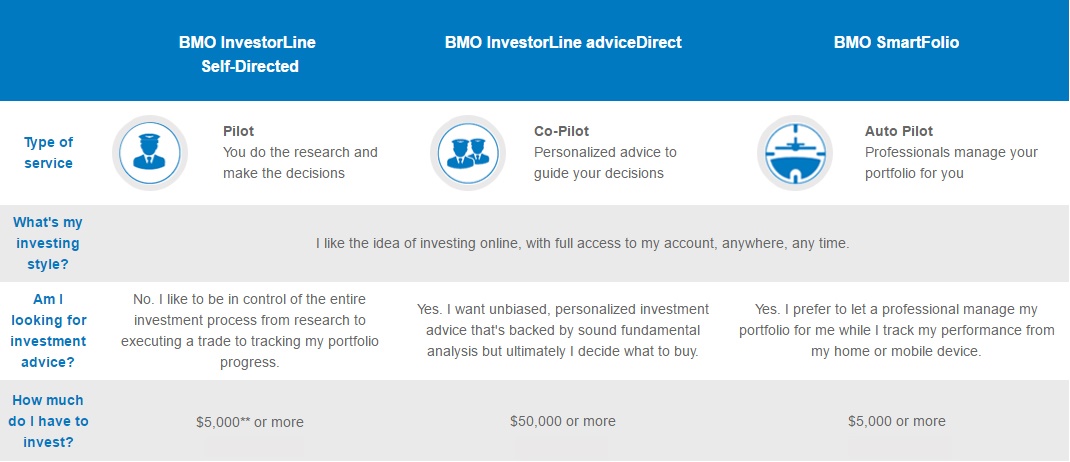 Learn more                               Learn more                                Learn more
BMO Wealth Management has special offers on these services exclusively for OSPE members!¹
Log in to your OSPE member profile for more information, and you can start taking advantage of these new service offerings today!
1 Some conditions apply.
*Self-Directed – there is no minimum to open an RESP or TFSA. BMO Wealth Management is a business group that consists of Bank of Montreal and certain of its affiliates including BMO InvestorLine Inc. and BMO Nesbitt Burns Inc., in providing wealth management products and services. Not all products and services are offered by all legal entities within Wealth Management. BMO InvestorLine provides order execution only for equities, options, mutual funds, fixed income and foreign exchange currency. An adviceDirect account is a non-discretionary fee based account which offers investment recommendations. adviceDirect does not provide portfolio management by a portfolio manager. The client makes their own investment decisions and manages their own investment portfolio. adviceDirect does not offer discretionary, managed accounts. A BMO SmartFolio account is a discretionary fee based account which offers Digital Portfolio Management service. BMO SmartFolio is a product of BMO Nesbitt Burns. "BMO (M-design)", "BMO" and "BMO (M-design) Wealth Management" are registered trademarks of Bank of Montreal, used under license. "Nesbitt Burns" and "SmartFolio" are trademarks of BMO Nesbitt Burns Inc. BMO Nesbitt Burns Inc. and BMO InvestorLine are wholly owned subsidiaries of Bank of Montreal.