Whatever their specific field or discipline, Ontario's engineers provide comprehensive engineering services that help their clients overcome today's most pressing challenges. A formal business or engineering agreement between a professional engineer and a client sets out what each party expects of the other. Although this seems simple, practice has shown that receiving prompt or proper compensation for engineering services provided isn't always easy.
For engineers and businesses who find themselves involved in legal matters valued under $25,000, the expense of legal fees can outweigh the potential benefit. Many are discouraged from pursuing their legal rights because they can't afford a lawyer.
So what is the solution?
Small Claims Court
Small claims is a great way to pursue debts or unpaid accounts for engineering services. The Ontario Small Claims Court is specifically designed to manage cases that are valued at $25,000 and under (not including interest and costs), and its rules and procedures are flexible enough to allow individuals to represent themselves successfully, including at trial. Particularly beneficial for engineering consultants and small businesses, this economically viable option means your biggest commitment likely becomes your time.
Keep in mind that when you choose to represent yourself, it is your sole responsibility to ensure that you have complied with the rules of procedure, including meeting court-mandated deadlines. The accessibility of the court system does not mean reduced personal responsibility for being organized and managing your own case properly.
Did you know?
It costs $75 to file a claim with the small claims court
You can file your claim online, in-person or by email
If you win your claim, you can recover your legal costs up to 15% of the amount awarded
If you lose, your exposure to costs is only 15% of the value of your claim
A lawsuit in small claims court is called a claim. For most engineers, claims will fall into one of two categories:
Claims for money owed under an agreement, such as unpaid accounts for goods or services sold and delivered; unpaid loans; unpaid rent; and non-sufficient funds (NSF) cheques
Claims for damages, such as property damage, including personal effects; personal injuries; and breach of contract.[1]
Major steps in small claims court
Matters in small claims court typically follow a standardized procedure, with the five major steps including: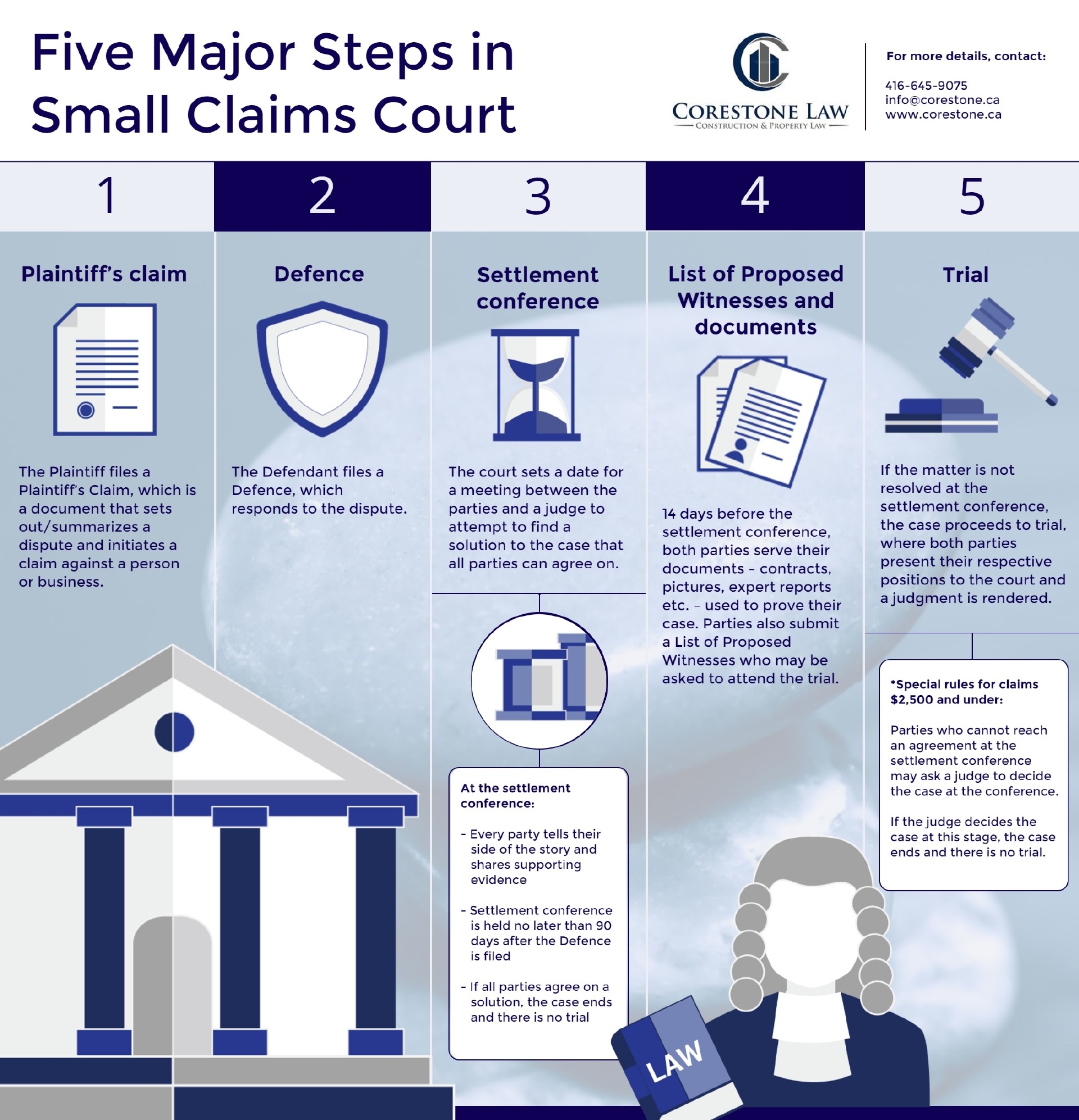 Want to learn more about small claims court?
Successfully navigating Ontario's small claims court system is relatively easy given the court's flexible rules of procedure. But make no mistake – just because the rules are relaxed does not mean that the court will hold your hand throughout the entire process.
On September 28, 2016, OSPE is hosting a Small Claims Court Course that is designed to teach you how to effectively manage your own case in the Ontario Small Claims Court, including both how to navigate the administrative side, such as how to prepare, file and serve court documents, as well as practical tips for what is required to successfully prove a claim.
The experts, and our preferred partners from Corestone Law, will walk you through the technical aspects of the process, from preparing a Plaintiff's or Defendant's Claim, to compiling a document brief. Learn best practices for retaining experts to help prove your case, tips for preparing to appear before a deputy judge in a settlement conference, and more.
Save yourself time and money by gaining the confidence you need to represent yourself in small claims court. Get more information and register here today.
Stay tuned for an upcoming blog post on enforcing judgements, or the procedures in place to secure funds owed to you, in the event that your claim is successful.
This blog post was prepared in partnership with Corestone Law, the official legal partner of choice for OSPE. Corestone Law focuses on construction, property and professional liability law. This article is meant as an overview for information purposes only and does not constitute legal advice. For any questions or concerns, please contact info@corestone.ca.


Sources:
[1] "Small Claims Court." Ontario Ministry of the Attorney General. April 14, 2016. Accessed August 3, 2016. http://www.attorneygeneral.jus.gov.on.ca/english/courts/scc/.