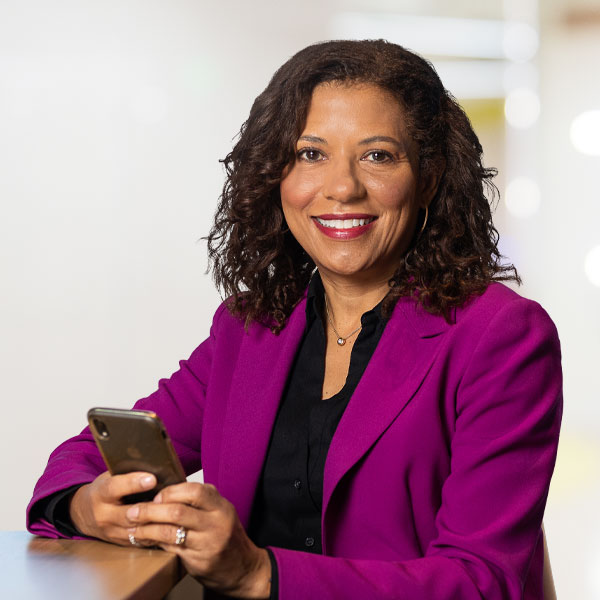 "The superpower of engineers is problem-solving."
Sandra Odendahl, P.Eng., knows where her passion for engineering started: in the "rickety old fixer-upper house" that her father bought in south Ottawa when she was a child.
"I would go to the hardware store with my dad on weekends," she recalls, "and I still remember sitting there at the counter as he picked out the nuts and bolts and tools he needed. Then we'd go home, and he and his brother would figure out everything wrong with the house and how to fix it. It was fascinating."
It was also her first exposure to what she now recognizes as a basic tenet of engineering thinking: identify the problem before you start taking things apart, then apply your knowledge and creativity to solving the seemingly unsolvable. That early fascination led to studies in chemical engineering at the University of Ottawa. And there, one day, she fell into conversation with a friend about her post-graduation goals.
"It's obvious in retrospect that I was thinking about purpose in a big way," she says. "And the direction I was drawn to was always around the environment and sustainability."
After graduating from the University of Toronto with a master's degree in chemical engineering, she went straight to work building an environmental lab for a major resource-exploration company, collaborating with its pulp and paper mills to reduce wastewater contamination.
Ever since, her eclectic, exciting career has been all about applying engineering thinking to big-picture environmental problems. As she puts it, "there's got to be a way to solve the tension between economic development…with the need to make sure we're not ruining the planet."
Ultimately, that led to a role with CIBC as senior director of environmental risk, where she developed environmental management policies. Over the following 15 years, she's held plenty of roles, including running her own climate-risk consultancy, but has always returned to the world of finance.
From 2007 to 2016 she worked in corporate sustainability with RBC, and this January, she took a role with Scotiabank as the Global Head of Sustainability. There, she identifies and designs strategies to embed environmental and social-responsibility practices in every aspect of the bank's day-to-day operations.
In many ways, she says, she's still applying the problem-solving principles she saw her father apply to fixing up that old house: identify the problem, understand the problem, then work to solve the problem.
"I think the superpower of engineers is problem-solving," she says. "Engineers are predisposed to be curious, to want to understand problems, to want to unpack them, take them apart."
That's also where she sees the value in OSPE, as an organization that provides the engineering profession with a platform to illuminate its value to society—and a way to apply engineering thinking to politics, policy and public affairs.
"I think having that diversity of thinking… that search for facts and data, science and technology," she says, "could only be beneficial as part of a group of people that are trying to steer a country, or a province or a region, in the right direction."
For more on Sandra and her work, click HERE.