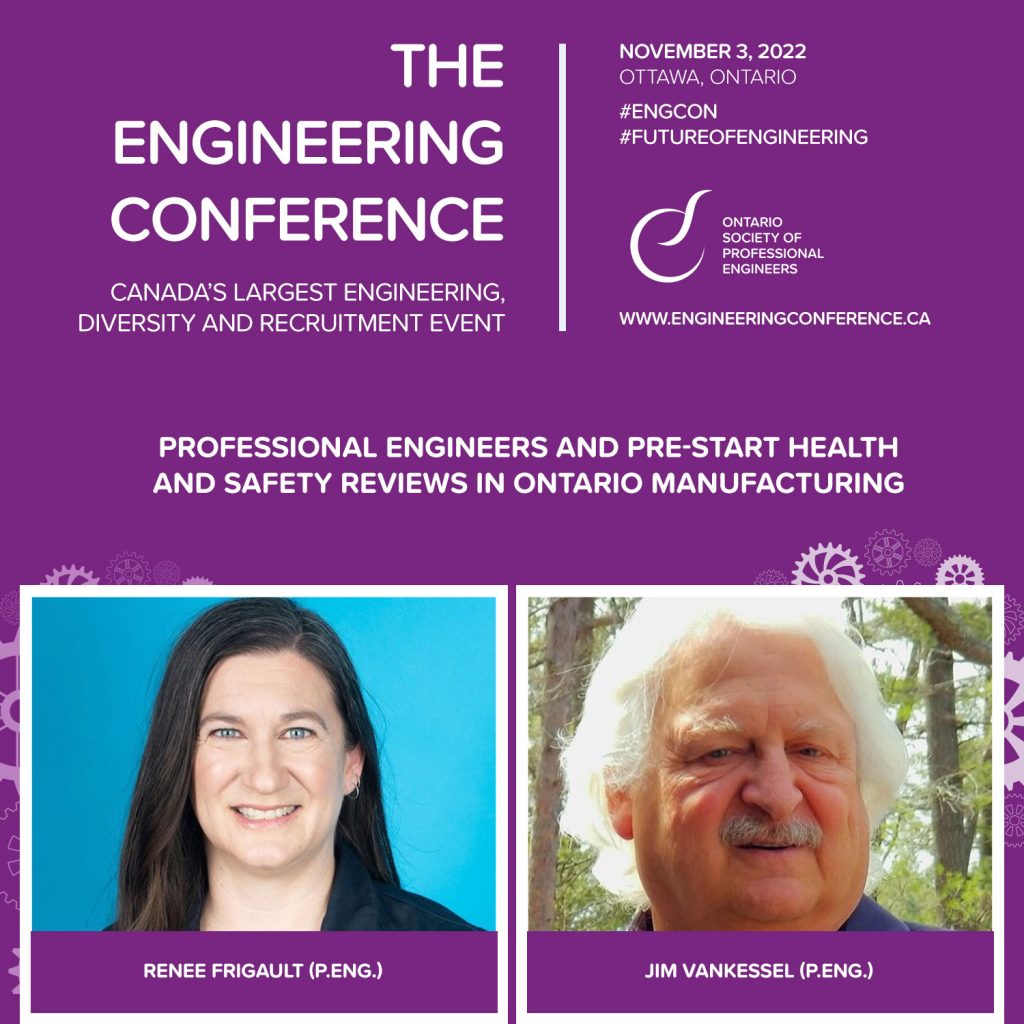 At OSPE's 2022 Engineering Conference, Renee Frigault (MScE, P.Eng.) and Jim VanKessel (P.Eng.) will lead a presentation on Pre-start Health and Safety Reviews (PSRs) in Ontario's manufacturing sector.
PSRs – thorough safety inspections in industrial settings – have been mandatory for over 20 years in Ontario. However, many manufacturing personnel lack the knowledge and qualifications to conduct these reviews. As such, PSR completion has become a crucial function of Ontario's professional engineers.
This presentation (Professional Engineers and Pre-Start Health and Safety Reviews in Ontario Manufacturing) will educate guests on a key component of Ontario's manufacturing sector and identify the critical role of engineers. Frigault and VanKessel will outline the history of PSRs, discuss recent changes to PSR legislation, and identify how PSR expertise can be applied even in settings where these reviews aren't required.
---
About the Speakers
Renee Frigault (MScE, P.Eng.) is president of Lucid Engineering Ltd. She sits on PEO's Professional Standards Committee and Subcommittee for Professional Engineers Providing Reports for Pre-start Health and Safety Reviews.
Jim VanKessel (P.Eng.) is owner of JVK Industrial Automation Inc. He has contributed the development of numerous CSA, ISO, and ANSI standards.
Both Frigault and VanKessel have 20+ years of PSR experience and have led numerous training sessions for conferences and corporate clients.
About the Conference
The Engineering Conference is Canada's largest engineering, diversity and recruitment event. It takes place November 3, 2022 at the Shaw Centre in Ottawa. Details including live and virtual registration, and partnership information, are available on the conference webpage.