If you buy a property with a 25-year amortization period and a 5-year term, that means that you'll have only four opportunities to re-evaluate your needs with an advisor: each time your mortgage is up for renewal.
"As you go through different stages of your life, it's especially important to use the time between terms to get an understanding of what avenues are open to you," says Louis-Philippe Ménard, Product Manager, Financial Solutions, at National Bank.
Take advantage of these key moments to evaluate your options before renewing your mortgage loan:
1. Plan your mortgage renewal in advance
—
When your mortgage is up for renewal, be ready for it. Your financial institution should inform you 90 days before the term is up and provide you with a few options.
"Three months gives you plenty of time to get in touch with an advisor and discuss your needs and opportunities with them," says Louis-Philippe Ménard. Even if you're a month out from renewing, it's not too late to reassess your strategy—in fact, it's highly worth it.
2. Consider your needs
—
First things first: Take the time to think about your life and your upcoming projects so that you can determine the best reimbursement strategy based on your future goals.
Do you need to lower your payments because of the tuition fees that you'll be paying over the next several years? Or because you want to put more money in your investments? Are you thinking about buying a secondary residence? Or do you want to pay off your mortgage as fast as possible? The frequency of your payments, the length of the term and the type of rate—fixed or variable—are all factors that you need to take into consideration when you're planning your reimbursement strategy.
For example, if you're in a position where you can up your current monthly payment, you could decide to opt for an accelerated bi-weekly payment. Because there are 52 weeks in a year, you could make 26 payments of $500 instead of 12 payments of $1,000, which comes out to one extra monthly payment every year. This method reduces your amortization period and, in turn, lowers the amount that you pay in interest.
"Your mortgage renewal really is the time to ask yourself these questions and discuss your options with an advisor," says Louis-Phililppe Ménard. The objective is to see if your original strategy is still relevant or if you're better off redefining it and adjusting your repayment plan accordingly.
3. Decide if you're going with a fixed or a variable rate
—
Interest rates have been going up since 2017, which influences the mortgage rates that are offered. When the Bank of Canada raises its key lending rate, financial institutions generally raise their prime rates as well, which serve as a reference point for negotiating variable mortgage rates.
"Variable rates follow prime rate fluctuations pretty closely," says Louis-Phililppe Ménard. "The economic context will definitely have an impact on your final choice. Variable rates can be very interesting if your financial situation is such that you can absorb a certain amount of variability and if you want to maximize your principle repayment."
A fixed rate, on the other hand, offers peace of mind but it comes with a cost, as fixed rates tend to be higher than variable rates.
Let's say that you've always gone with a fixed rate and it has worked out well. Should you continue in the same vein?
"If you're wondering if the product that you chose 10 years ago is still right for you, chances are that the answer is no," says the expert. "As the years go by, your financial situation changes, usually for the better. The more reassuring product that you needed for your first mortgage is probably not the most interesting one for you several years later."
4. Check out the offers on the market
—
Before meeting with an advisor, it's also important to take some time to research the products on the market and any special offers in detail so that you understand what you're getting into.
"Special offers can be interesting, but they target a very broad public," says Louis-Philippe Ménard. "Everyone has different needs. Committing to a new five-year term isn't nothing. Special offers shouldn't dictate your choice. You have to first make sure that the product meets your needs."
5. Be on the lookout for personalized products
—
When you talk to your advisor, you'll have the chance to discover a range of possible options that go well beyond a five-year fixed or variable rate.
"There are a lot of products that the general public isn't all that aware of," says the expert. "In fact, I'd suggest that a mortgage loan can more or less be adjusted for every client to reflect their needs."
For instance, you could have a fixed rate for half of your loan and a variable rate for the other half so that you can enjoy the benefits of both types of products.
"You can even go so far as to divide your mortgage in three—a variable mortgage, a five-year fixed mortgage and a one-year fixed mortgage —because, for instance, you refinanced your loan in the past to buy a boat and you'll finish paying it off in a year, says Louis-Philippe Ménard.
6. Consider a home equity line of credit
—
Renewing your mortgage is also a great time to consider whether you need a home equity line of credit.
"You can access the repaid principal on your property to take out a line of credit and finance other projects, like doing renovations or the buying a secondary residence," says Louis-Philippe Ménard. "That should be part of what you discuss with your advisor.
Usually a home equity line of credit works according to the user pay principle: Your bank makes an amount available to you with an interest rate that is comparable to your mortgage. You use it when you need it, and only then do you start paying any interest.
"You can also see the line of credit as a security blanket which provides access to cash flow as required," adds Louis-Philippe Ménard.
In short, renewing your mortgage is a crucial step, and it's in your best interest to take the time to think about your needs and speak with an advisor to evaluate the options that are available to you. That way, you can really make the best choice for you—and for your future projects.
Get more tips from National Bank
—
For additional details on National Bank special offers for engineers and engineering graduates, visit

bnc.ca/engineer.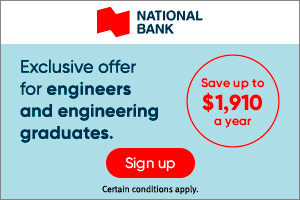 Any reproduction, in whole or in part, is strictly prohibited without the prior written consent of National Bank of Canada. The articles and information on this website are protected by the copyright laws in effect in Canada or other countries, as applicable. The copyrights on the articles and information belong to the National Bank of Canada or other persons. Any reproduction, redistribution, electronic communication, including indirectly via a hyperlink, in whole or in part, of these articles and information and any other use thereof that is not explicitly authorized is prohibited without the prior written consent of the copyright owner. The contents of this website must not be interpreted, considered or used as if it were financial, legal, fiscal, or other advice. National Bank and its partners in contents will not be liable for any damages that you may incur from such use. This article is provided by National Bank, its subsidiaries and group entities for information purposes only, and creates no legal or contractual obligation for National Bank, its subsidiaries and group entities. The details of this service offering and the conditions herein are subject to change. The hyperlinks in this article may redirect to external websites not administered by National Bank. The Bank cannot be held liable for the content of external websites or any damages caused by their use. Views expressed in this article are those of the person being interviewed. They do not necessarily reflect the opinions of National Bank or its subsidiaries. For financial or business advice, please consult your National Bank advisor, financial planner or an industry professional (e.g., accountant, tax specialist or lawyer).