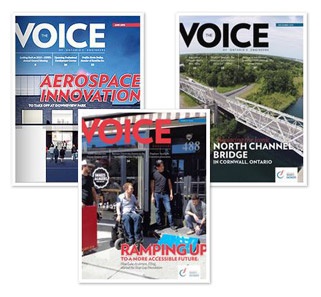 Did you know that OSPE's magazine The Voice is available in print and online? If you are a student member, or you opted to get the e-version, you should be receiving an email with a link to the magazine every quarter. If you've opted for the print version, you should be getting a hard copy in the mail every quarter.
Have you seen our latest issue on innovation in aerospace? In the front section, we've asked all OSPE members to send in a Letter to the Editor for a chance to win a $100 VISA gift card.
We want to hear your comments, criticisms and ideas in relation to our articles, coverage, or any other topic you'd like to discuss. OSPE will then begin sharing Letters to the Editor in each edition of its magazine. So send us a letter and you'll be entered into a draw to win a $100 VISA gift card. Letters to the Editor should be exclusive to the Voice, fewer than 200 words, and may be edited for length and clarity. Please include your name, address/email address and phone number.
Submit your letters via email to letters@ospe.on.ca or mail to the OSPE office at 4950 Yonge Street, Suite 502, Toronto, Ontario, M2N 6K1.
We look forward to hearing from you!