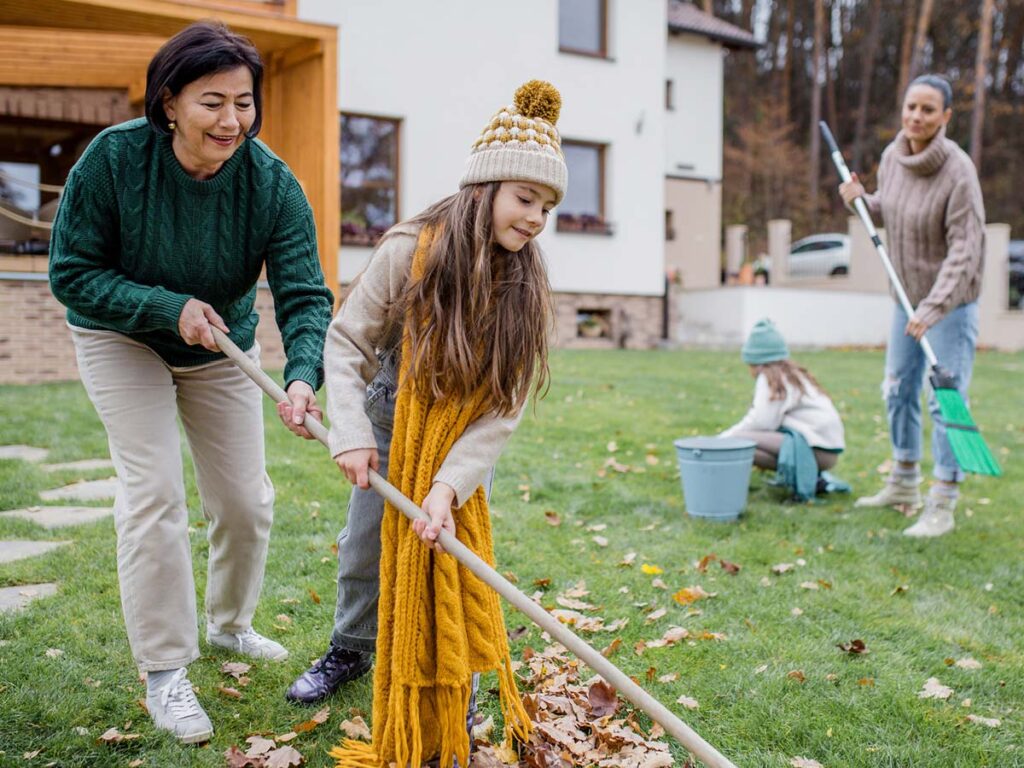 As the days get shorter and the weather gets colder, it's time to start preparing your home for winter. Here are some tips to help you lower your heating bills and prevent some damage.
Store away summer furniture and toys
Clean and dry your seasonal patio furniture, pool chairs, and children's outdoor play equipment. Store these items inside a shed or garage or cover them with a heavy tarp to protect them from the elements.
Prepare your lawn and garden
Trim down your plants and cut off dead tree branches to help prevent winter storms from breaking them. Apply a winterizing fertilizer to your lawn at the end of the season to strengthen and protect it from heavy snow and freezing temperatures.
Shut off and drain outdoor taps
In sub-zero weather, outdoor water taps can freeze and cause pipes to burst. Shut off indoor valves that lead to your outdoor taps and drain any water remaining in the pipes. Don't forget to drain and remove any attached hoses to ensure they stay in good condition.
Inspect and repair your driveway
When ice melts and refreezes inside cracks in your driveway, it can worsen existing damage. That's why it's important to hire a professional to repair cracks before the cold weather hits.
Protect your wooden deck
Sweep leaves and other dirt and debris off your deck and clean between the boards to prevent rot. If you haven't sealed your deck, take the time to apply a coat of deck sealer.
Inspect exterior walls
Look for any holes or cracks in exterior walls. They may require fresh caulking to keep water out and prevent winter drafts. If needed, talk to a professional. Also, refresh any peeling paint with a new coat to protect the wood underneath.
Prepare windows and doors
Check the weatherstripping around windows and door frames for damage and replace it if it shows signs of wear. This will help prevent heat from escaping and moisture from entering your home. Remember to replace your screens too if necessary.
Clear gutters and downspouts
Clogged gutters or downspouts can damage your home's roof and foundation and potentially lead to expensive repairs. Clear any debris and install leaf guards to prevent further accumulation. If you find your gutters sagging or pulling away from the house, the hangers that secure them may be broken or their fasteners may have loosened over time. If needed, don't hesitate to hire a professional to fix them.
Inspect your roof
If you have binoculars, you can use them to inspect your roof from the ground. Look for any missing or damaged shingles or broken vents. If your roof needs attention, call a professional roofer to help you with the repairs.
Maintain and store your lawn and garden tools
If your tools have batteries, remove and store them somewhere clean and dry. It may also be a good time to sharpen and oil the blades on your chainsaw and lawnmower. If you have gas-powered tools, winterize them per the manufacturer's instructions.
Get your snowblower ready
Don't wait for the cold weather to arrive before getting your winter gear ready. If you haven't run your snowblower since last winter, you'll probably want to fire it up before the snow starts falling to make sure it works.
Check your home's safety equipment
Turning your clocks back when Daylight Savings Time ends is the perfect reminder to test your carbon monoxide detectors and fire alarms.
Have your furnace professionally serviced
A routine maintenance inspection by a professional each fall will help ensure your furnace is running properly and efficiently. Remember to change the furnace filters per the manufacturer's instructions. If it has been a while since you last had your ducts cleaned, do that too, or arrange for a professional to do it before the cold weather sets in.
Insulate pipes in cold parts of your home
Pipes in your basement, attic or crawl space may freeze and burst during extreme cold weather depending on their location. Insulating pipes with ready-made tubular foam insulation may be a simple and inexpensive way to prevent damage that could result if frozen pipes were to burst. Ask a professional to help you make sure the pipes in your home are well insulated.
Sweep your chimney
Before you use your wood-burning fireplace or stove, make sure the chimney is clean and in good condition. This will help prevent chimney fires and keep carbon monoxide from building up and finding its way into your home. This is a messy and potentially dangerous job that's better left to a professional.
Taking the time to get your home winter-ready will help you prevent some damage to your property and could lower your heating bills. For extra peace of mind, make sure your home is also properly insured. Learn about the insurance options The Personal offers to meet your specific needs.
To find out more, call 1-888-476-8737.
Or visit thepersonal.com/ospe
This article is being provided by the Ontario Society of Professional Engineers on behalf of The Personal which has a group sponsorship agreement with regards to home and auto insurance for our members.
The Personal refers to The Personal General Insurance Inc. in Quebec and The Personal Insurance Company in all other provinces and territories of Canada. The information provided is meant to be illustrative only and does not constitute or replace the advice of experts. The Personal assumes no liability with regards to how such information is used