It may sound like a philosophical question, but given the ever-increasing adoption of personal computing devices of all sizes, it might just be a question worth asking. With new devices imploring hapless consumers to buy them every couple of months, can anyone be blamed for finding themselves in a pile of out-dated and unused technology? E-Waste is a growing problem and it is one that touches every corner of this earth in surprisingly disparate ways. 
Soberingly, only 20% of the world's E-Waste is properly recycled; leaving millions of tonnes of batteries, motherboards, OLEDs and forgotten memories to bake in the sun of landfills around the globe. This "great gap" has fueled entire industries built off of the movement of hazardous waste.  In many cases, some of the world's lowest-paid workers find their way into these landfills to mine the precious metals from the computing components.  Continual exposure to lead and mercury make this form of renegade mining a dangerous and sometimes deadly profession.
Throughout the evolution of consumer technology there have been several flashpoints where production and adoption outpaced ethical and regulatory progress. The average consumer is forced to calculate the cost-benefit of pollution in almost every purchase they make, with electronic goods offering the gravest Pandora's Box. The black mirror in our pocket, while useful, has a lifecycle far longer than even the most viral meme its user can generate.
So what can be done? Given the rapid adoption of our smartphone-enhanced lifestyles, we find ourselves at yet another flashpoint as each one of us contribute one new phone annually on average to the world's E-Waste supply, not to mention the countless dongles, adapters and obsolete peripherals along with them.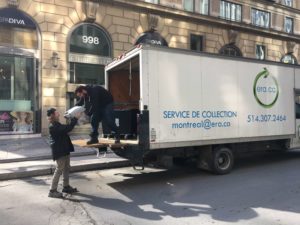 Active participation in a problem requires active participation in the solution. By advocating for and educating the public on the issue of E-Waste, the Electronic Recycling Association (ERA)has become one of Canada's most active participants in the fight against E-Waste and the ever-growing digital divide.  The ERA is a global non-profit organization that has been reducing unnecessary electronic waste since 2004. The association reduces adverse environmental contribution through electronic recycling and repurposing through the donation of electronics and other IT equipment; providing underprivileged communities with the equipment needed to participate in the digital economy.
With drop off locations and pick up services across Canada and the US, the ERA provides a meaningful way for organizations and individuals to deal with their old computer equipment in a safe and secure manner that matches or exceeds government standards.
Good news for OSPE Members:
OSPE and the ERA have reached a new partnership that entitles OSPE members to FREE pickups for used electronics and discounted rates for hard drive destruction! Just go to the ERA website and mention that you're an OSPE member or email Julia@era.ca to arrange your pickup now.
This blog post was contributed by OSPE partner, the Electronic Recycling Association