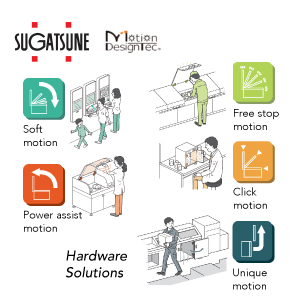 For over 90 years, Sugatsune, a premier manufacturer from Tokyo, Japan, has been inspiring architects, designers, and industrial engineers by providing uniquely designed and precision-engineered hardware products that create convenience and satisfaction for people. Recognized globally, Sugatsune services architects, custom builders, and industrial designers and engineers for residential, commercial, food production, medical, transportation, marine, machinery, and equipment industries. With a specialty in stainless steel materials and certified products, such as NSF (National Sanitation Foundation) for over 500 SKUs, as well as RoHS compliancy, our hardware solutions consist of over 5,000 products such as torque hinges, catches and latches, lid stays, locks, machine handles, hooks, leveling glides, and casters. People have confidence in Sugatsune to deliver tailor made products that stand out for their reliability and effectiveness in their continual use. Sugatsune Canada, Inc. has its headquarters in Montreal, Quebec, since September 2016, and is happy to contribute to the Canadian market for superior quality hardware.
Sugatsune has its own unique product design concept: Motion Design Tech, hardware solutions with specialized movement for the opening and closing of flaps and doors. Sugatsune's Motion Design Tech offers five motions that make the opening and closing of flaps and doors easy, safe, and convenient: soft motion, free stop motion, lift assist motion, click motion, and unique motion. Soft motion adjusts and smooths the opening and closing speeds of flaps, lids, and drawers. Free stop motion holds a lid, flap, or cover in a freestanding position. Lift assist motion helps users open heavy doors and lids with ease. Click motion function is a snap and stop mechanism that holds a flap, lid, or cover at a predetermined angle. Unique motion enables doors to open in various direction, such as laterally for space-saving. Using our hardware solutions may also improve ergonomics and efficiency of work that involves routine opening and closing movements, increasing the added value of devices and equipment.
For technical support or for more information, please contact 833-312-5267 or support@sugatsune.ca.