The following blog was contributed by the Communications Team at GM Canada
At General Motors, we believe the world is at an inflection point for the mass adoption of electric vehicles (EV) – and GM Canada will be an important part of that all-electric future.
Behind every inflection point in history are the disruptors who made it happen. They see the world not as it is, but as it could be. Together, we're forging ahead to create the better, safer and more sustainable world we all want. Big things are happening at GM, and our future in Canada is bright.
GM's Chairman and CEO Mary Barra recently shared GM's strategy to lead the charge in the world's transition to an all-electric, zero emissions future. Here's how we'll get there:
GM plans to be carbon neutral by 2040 in its global products and operations.
GM aspires to eliminate tailpipe emissions from new light-duty vehicles by 2035, and has also committed to the Business Ambition Pledge for 1.5⁰C.
GM will introduce thirty new electric vehicles to the global market by the end of 2025 and invest more than $27 billion in electric and autonomous vehicle products in that timeframe.
We want to put everyone in an EV – from price points that fit every budget, to options for work, adventure, performance, family road trips and everything in between – we believe we have the solutions, capability and scale to do it.
GM's Ultium platform already represents a milestone achievement in electrification, with battery pack costs nearly 40 per cent lower than those in the Chevrolet Bolt EV. GM's Ultium platform is capable of offering an electric vehicle that can go up to 450 miles on a full charge.[1] Now, GM is predicting that its second-generation Ultium packs (expected mid-decade) will cost 60 per cent less than the batteries in use today with twice the energy density expected – putting us even closer to cost parity with gas-powered engines.
But, in order to achieve a zero emissions future, electrification needs to go beyond the daily driver.
Enter: BrightDrop – GM recently introduced its new business that will electrify and improve the delivery of goods and services. BrightDrop will offer an ecosystem of electric first-to-last-mile products, software and services to empower delivery and logistics companies to move goods more efficiently.
GM's Canadian Technical Centre (CTC) in Oshawa and Markham were instrumental in the early stages of this truly innovative solution for the massive global delivery industry. In fact, a dedicated team of CTC employees assisted with the development and testing of the prototype for BrightDrop's first product to market: the EP1 – a propulsion assisted electric pallet designed to easily move goods over short distances (from the delivery vehicle to the customer's front door). It will be available in early 2021.
BrightDrop's second product to market will be the EV600 – an electric light commercial vehicle purpose-built for the delivery of goods and services over long ranges. It will combine zero-emissions driving with a range of advanced safety and convenience features traditionally more common in consumer electric vehicles.
Manufacturing of the EV600 will take place right here in Canada, thanks to a recent C$1 billion investment in GM's CAMI Assembly plant located in Ingersoll, Ontario. The investment will position CAMI as Canada's first large-scale auto plant converted to produce electric commercial delivery vehicles in Canada. Work has immediately begun to transform the plant to support EV production, which will serve the growing North American market for electric delivery solutions.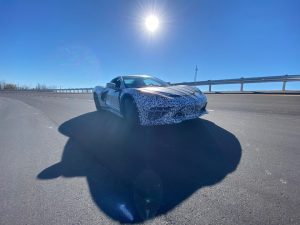 This is a time of historic transformation for our industry and GM Canada is also playing a big role in the R&D and engineering work that is redefining the future. CTC has grown to become the largest software engineering and development centre for GM outside of the U.S. and we continue to hire to support advanced driver-assistance systems, infotainment systems, electrification and innovative new technology.
In spring 2021, CTC's work will go even further with the grand opening of the Canadian Technical Centre McLaughlin Advanced Technology Track (CTC MATT), which will expand Canada's testing abilities beyond the existing Cold Weather Development Centre in Kapuskasing, Ontario. Located on 55-acres just south of GM's Oshawa Operations, CTC MATT will help support continued electric, autonomous and other research and design testing.
As we reach this inflection point in vehicle electrification – the future for GM in Canada looks bright.
Cautionary Note on Forward-Looking Statements: This press release may include "forward-looking statements" within the meaning of the U.S. federal securities laws. Forward-looking statements are any statements other than statements of historical fact. Forward-looking statements represent our current judgment about possible future events and are often identified by words such as "aim," "anticipate," "appears," "approximately," "believe," "continue," "could," "designed," "effect," "estimate," "evaluate," "expect," "forecast," "goal," "initiative," "intend," "may," "objective," "outlook," "plan," "potential," "priorities," "project," "pursue," "seek," "should," "target," "when," "will," "would," or the negative of any of those words or similar expressions. In making these statements, we rely upon assumptions and analysis based on our experience and perception of historical trends, current conditions and expected future developments, as well as other factors we consider appropriate under the circumstances. We believe these judgments are reasonable, but these statements are not guarantees of any future events or financial results, and our actual result may differ materially due to a variety of important factors, many of which are described in our Annual Report on Form 10-K, our subsequently filed Quarterly Reports on Form 10 Q, and our other filings with the U.S. Securities and Exchange Commission. We caution readers not to place undue reliance on forward-looking statements. Forward-looking statements speak only as of the date they are made, and we undertake no obligation to update publicly or otherwise revise any forward-looking statements, whether as a result of new information, future events or other factors that affect the subject of these statements, except where we are expressly required to do so by law.
[1] GM estimated. Government estimates not yet available. Vehicle range may vary based on several factors, including vehicle model, temperatures, terrain, battery age, loading, and vehicle use and maintenance.