In partnership with OSPE, we are thrilled to bring How to Change the World | Canada 2020 to Toronto from 19-21 February 2020. This two-and-a-half day experiential education program is structured around the UN Sustainable Development Goals and the new Canadian Engineering Grand Challenges. This program aims to support individuals and companies expand their capabilities to shift engineering and business practices towards the design of products and services that create positive social, environmental and economic impact in Canada and around the world.

Earlier this year Business Roundtable published a new Statement on the Purpose of a Corporation. Signed by over 180 leading American CEOs, this Statement went far beyond the classic definition of simply serving shareholders, and formally integrated corporate responsibility and serving society and the environment into the heart of corporate purpose. This departure of corporate America from the classic definition is an important wake up call for businesses around the world.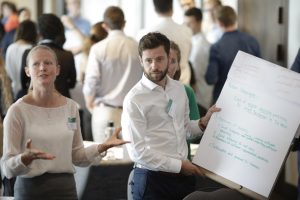 This shift shows the growing external pressure on businesses to take responsibility for the externalities resulting from business as usual. At the same time, it reflects the increasing internal pressure from employees and investors who want to devote their lives and money to delivering products and services that make the world a better place. The rise of social enterprises, B Corps, corporate social responsibility (CSR) departments, and companies actively pursuing and reporting double (profit + social) and triple (profit + social + environmental) bottom lines are clear signs of the rapidly changing landscape of modern business. To be competitive in this new landscape, businesses need to demonstrate to customers, investors and employees alike that they are aware of their impact. They must prove that they are actively shifting the design and delivery of their products and services to align with this broader sense of social and environmental value that stakeholders, increasingly including shareholders, are demanding.
This shift means companies and their staff must develop new innovation processes, capabilities and skills. Especially for companies built on strong engineering and technological ability, it is no longer enough for teams to simply be technically accomplished. Creating positive societal and environmental impact requires staff who have the knowledge and skills to understand the complex societal and environmental contexts the company is operating in. Only then can teams develop and deliver products and services that are responsive to these shifting expectations.
Fortunately, for companies looking to make this shift, there is a growing abundance of potential employees looking to help you do it. Survey after survey shows that individuals are increasingly looking for a deeper and higher level of meaning in their jobs, and they are more willing to leave positions that don't allow them to have the impact they are seeking. They want to make a difference in the world. Just earning a paycheck is no longer sufficient.
As part of the team behind How to Change the World — an experiential education programme designed to provide individuals with the skills necessary to use their expertise to develop ideas that address the biggest challenges our world is facing — we were delighted to find in OSPE a partner organisation that understands and is actively responding to these trends. At the heart of Engineering the Future Together (OSPE's 2019-2022 Strategic Plan) is the recognition that the engineering community writ large has a key role to play in supporting and enabling Canadian companies and society to tackle these challenges together. This is why we are so pleased to be working with OSPE to deliver How to Change the World | Canada 2020 in Toronto this coming February.
The redefined purpose of a corporation will continue to merge with individuals' desire to make a difference in the world, driving to the accelerating transformation of the business landscape. Companies and professionals that lead the way in this transition today will become the industry and corporate leaders of tomorrow. We hope to see you or your staff at How to Change the World | Canada 2020 to continue this discussion together!
This post was created by the How to Change the World team – Founder, Jason Blackstock and Co-Founders, Alana Heath & Duncan Stewart. Registration for the program is now open. For corporates and early-career professionals looking for more information, please contact Jason Di Tommaso at jditommaso@ospe.on.ca or 613-986-1437. For universities or students looking for more information, please contact info@htctw.org with the subject line 'HtCtW Canada 2020'.