There should now be no doubt that we are living through a Fourth Industrial Revolution. Information-based technologies are impacting most aspects of our personal lives and the organizations in which we work. In the automotive sector, electric and self-driving cars, combined with technologies that greatly improve processes are resulting in substantial industrial change. Healthcare can be dramatically improved, banking is being transformed, e-commerce has accelerated, and significant opportunities exist in education.
The combined impact of these changes, and many more, is often described as the Fourth Industrial Revolution – and it is being accelerated by Covid-19. Most organizations are considering their own position in this new environment and how it should impact their strategy and future development. They know that their competitors will be doing the same and many have already been experiencing significant process, product and broader business changes in their industry.
Research tells us that 87% of organizations believe their industries will be disrupted (Deloitte) and 92 % think their business model (the way they do things now) may not be viable in the future (McKinsey). As a result, many have already embarked on technological change of their own (often referred to as Digital Transformation). Unfortunately, research from McKinsey has shown that less than 30% of transformation initiatives have been successful – for a variety of reasons, both technical and human. 76% of CEO's think their digital transformation efforts need to be more human centric (Accenture).
Role of an engineer in digital transformation initiatives
Digital transformation means that, more than ever, success for organizations is dependent on successful technological change – this means that the skills and knowledge of engineers are even more critically important. Engineers have the technical knowledge that the organization needs to make the best technology choices and to effectively apply them. Engineering requires the development of analytical, problem solving and project management skills too, that are now more important within organizations.
This greater emphasis on technology has the potential and need for engineers to play a fuller role in strategic decision making and its implementation in the organization – their knowledge and skills need to be included in decision making at all levels and in all areas. This requires effective communication and teamwork, which has featured in the education of engineers for many years and is now of even greater value. Beyond this, there is also a greater need for skills and knowledge in strategic technological change.
Engineers now need to be able to work with other disciplines at all levels to understand the impact the new technologies will have in their industry and on their organization, along with the opportunities and challenges that they enable. Confusion over the wide range of technological choices available to organizations is common and often prevents them progressing with digital transformation. Deciding where investment is most effective is difficult and requires the inclusion of skilled technical judgement from engineers.
To increase the probability of success when undertaking digital transformation initiatives, businesses need engineers to actively participate in:
Business strategy development
Creating the technology enabled vision
The introduction of new products
Automation
Other improvement of processes
Engineers are also needed when new business models are being considered, which require serving new markets and working with new partners to effectively apply and exploit new technologies.
Digital transformation is essential for most organizations and expanding the participation of engineers in it is essential for its success. Rapid technological change will continue in the future and will increase the organizational role for engineers. Training will be required in many areas to support this, including continual updating of technical knowledge and in the processes used to support digital change.
These new skills include those needed to create the digital transformation vision – combining of understanding of the external competitive environment, with its internal capabilities and knowledge of technology options to determine the objective of the transformation activity. Engineering involvement is essential to do this effectively.
Once the vision is created, a roadmap is needed to guide its achievement. Engineers have the technical understanding needed to make this effective and experience of the challenges that technically-based projects often face – including how to overcome them. Digital transformation projects face many challenges and our understanding of these continues to grow.
Engineers are critical as the implementation of the roadmap proceeds, where technical expertise is essential to integrate the new technologies in the organizations' processes. As the new technologies come on stream, new challenges often emerge in making them work effectively and in fully exploiting their capabilities.
Partnership with the University of Waterloo to support engineers
OSPE and the University of Waterloo are proud to announce a new program to support engineers in digital transformation based on the work we have done to understand the new role that they should play. This program is important for the careers of engineers and for the success of their organizations and communities.
This program is offered online, with a high level of interaction between participants and with their instructor. It is designed to be flexible and will accommodate varying work and personal schedules. Weekly assignments focus on the application of knowledge from the program in participants' own organizations. A weekly online seminar introduces course topics and features lively discussion. An implementation project concludes the program with application of knowledge gained in participant organizations, with consulting support provided by the instructor.
Registration for Digital Transformation for Engineers is open for registration now. Learn more
About the author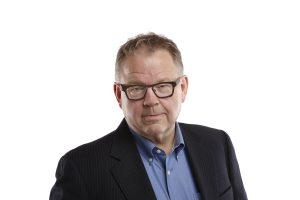 Peter Carr is a Continuing Lecturer in the Department of Management Sciences and a course author and instructor at WatSPEED. His interests focus on the use of technology in business and society and include technology innovation and entrepreneurship, the strategic management of technology, project management, the use of social media to improve business performance, technology in developing countries, the social impact of information technology and online learning.
Peter's PhD is in the lean transformation of traditional manufacturing organizations and was completed at Cranfield University in the UK. Prior to joining the University of Waterloo, he was Executive Director of the Centre for Innovative Management at Athabasca University. He has taught Project Management and Operations Management courses internationally and has been featured in case studies by Microsoft and Blackberry. He has created two project management based online simulations and recently completed work on a report on digital transformation in the manufacturing sector in Canada.