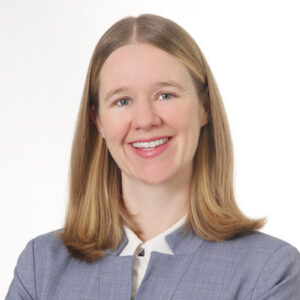 Today, the Association of Energy Engineers (AEE) announced that Emily Thorn Corthay, P.Eng., Founder & CEO of Thorn Associates and current Chair of OSPE's Energy Task Force, has been awarded the 2020 International Energy Engineer of the year award. This award is presented to an individual for outstanding accomplishments in promoting the practices, principles and procedures of energy engineering, and for superior service to the Association. The AEE awards ceremony will be held virtually on October 14, 2020.
Regarding the recent award, Ms. Thorn Corthay thanked the Association of Energy Engineers as well as her nominator, Jon Feldman of the Independent Electricity System Operator, her family, clients, and partners stating "It is an immense honour to receive this prestigious award. At Thorn Associates, we look forward to continuing to assist our clients in reducing their energy costs and carbon emissions through innovative technology and energy management practices."
With COVID-19 economic recovery policies continuing to have a significant impact on energy use as well as more countries adopting carbon pricing, energy and carbon management are more important than ever.
At OSPE we'd like to congratulate Emily Thorn Corthay, P.Eng., on this outstanding achievement. Ms. Thorn Corthay has dedicated many hours to helping inform the policy work of the Ontario Society of Professional Engineers, and for that we are extremely grateful! OSPE recognizes that we would be much less effective without the hard work and dedication of such knowledgeable engineers, like Ms. Thorn Corthay.
About Thorn Associates:
Headquartered in Toronto, Canada, Thorn Associates specializes in helping industrial companies reduce their carbon emissions and energy costs. Our systems-based approach in line with the ISO 50001 energy management standard that aligns energy efficiency projects with other key business drivers develops strategically important projects that get implemented, successfully creating savings that continue over the long term. For more information, see www.thorn.ca.
About the Association of Energy Engineers:
The Association of Energy Engineers is a non-profit professional society with over 18,000 members in more than 100 countries. AEE offers a variety of informational outreach programs including training, conferences, chapters, journals, and certification programs. The mission of AEE is to promote the scientific and educational interests of those engaged in the energy industry and to foster action for sustainable development.