A leader in health innovation: OSPE Member Wes Leewis, P.Eng., develops a migraine diagnosis system
—
Research suggests that approximately one in 10 people suffer from migraines worldwide, and the majority of sufferers are women. The absence of an objective test and access to specialists makes diagnosis challenging—especially for children, people affected by language barriers and people with neurological or serious psychological problems.
Misdiagnosis and under-diagnosis can contribute to the problem becoming entrenched or chronic, which translates into complex, costly and lengthy patient journeys. In addition to the burden on the health care system, headaches and migraines negatively impact quality of life. Reports indicate sufferers struggle to go to work, participate in activities, and maintain relationships.
The team behind this health innovation: Headache Sciences Inc.
—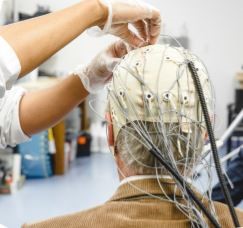 The team behind the startup Headache Sciences Inc. (HSI) recognize the severity of the pain and suffering associated with migraine and headache disorders, and the urgent need for early accurate diagnosis. The members of their small, Toronto-based team believe they have discovered an electrical predisposition to migraines and headaches. The company's new objective electroencephalogram (EEG) technology is powerful enough to assess an individual who is sitting in a chair comfortably, headache-free with 93% accuracy in diagnosing migraines and headache disorders on non-pain days.
In recent years, there has been great progress in signal processing capabilities, computation methods, data science and, most notably, machine-learning techniques. HSI has succeeded in creating the world's first objective test for migraines through the application of these powerful tools. Furthermore, they remain the only known company to have filmed, in real-time, a migraine episode that rendered a 3D representation of the electrical disturbance within the brain (tomography).
HSI has been working to plan the widespread commercialization of their test for migraines and headache disorders. This will allow suffering individuals to undergo the HSI test and for the findings to be shared with doctors to supplement their patient assessment. They are hopeful that this health innovation will streamline and greatly accelerate the current steps in the diagnostics process for migraines. In addition to the potential to reduce human misery, this technology offers enormous potential cost-savings for our health care systems.
The engineer-entrepreneur: Wes Leewis, P.Eng.
—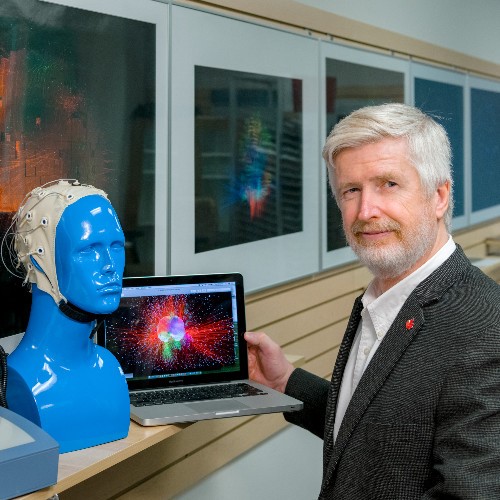 OSPE Member Wes Leewis, P.Eng., is the CEO of HSI and one of the eight team members that make up Headache Sciences Inc. Other members of their scientific team include an engineer specialized in machine learning and artificial intelligence, two PhDs in electrical engineering, a physician/inventor and an academic research neurologist.
Leewis had started up three companies and gained years of engineering industry experience before his acceptance into the first cohort of Ryerson University's Masters of Engineering Innovation and Entrepreneurship (MEIE) program. It was at Ryerson where Leewis first heard about their Esch Awards program.
In concert with Leewis's MEIE education, HSI managed to devise a successful framework and business model through the support of the Centre for Engineering Innovation & Entrepreneurship (CEIE). The Esch Award helped the team members understand their priorities, positioning, and appropriate markets for their technology. After winning all three stages of the Esch Awards on their first attempt, and securing nearly $40,000 in funding, HSI is determined to proceed with commercialization.
HSI is currently working with medical researchers and clinical startups that are focused on migraine and treatment alternatives. They are in talks with one of Canada's largest private clinics to potentially reduce the bottleneck in diagnostics. Through their technology, HSI aims to help people effectively diagnose and treat migraines and other related headache diseases.
At OSPE, you're instantly connected with an impressive network of like-minded people who are changing the world. Isn't it time you joined us? Here's how we've got your back.
*Stay tuned for more stories about the remarkably inspiring work being led by Ontario's engineering community.*
This success story was contributed by Ryerson University's Centre for Engineering Innovation and Entrepreneurship.