Non-biodegradable industrial wastewater treatment is very expensive, time consuming and has significant negative environmental impacts. Industrial wastewater includes liquid waste discharged from manufacturing, mineral extraction, and thermo-electric power generation plants. In Canada, these industries collectively spent over $539 million in 2013 alone, in efforts to treat their wastewater.
Currently, it takes 13 years for microorganisms to digest 50% of the non-biodegradable pollutants in wastewater, which are toxic to the point where they can kill those very same microorganisms. There are existing technologies and solutions to treat wastewater, but none are as effective and affordable as the one offered by CleanInWater Inc.
CleanInWater Inc.'s Revolutionary Wastewater Technology
—
CleanInWater Inc. is an advanced oxidation technology that enables the rapid and efficient removal of non-biodegradable pollutants and their toxicity from water with minimal operating costs. Through a novel and patented control process, CleanInWater is making waves of positive change by addressing one of the worst environmental problems of this century: the treatment and reuse of industrial wastewater. Environment and Climate Change Canada will feature the process in the national technology matrix for the treatment of oil sands wastewater.
The Engineer-Entrepreneur: Dr. Ali Kamel H. Al Jibouri, P.Eng.
—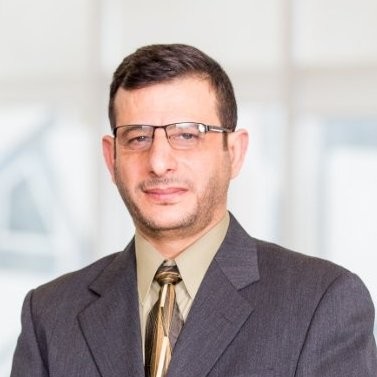 OSPE member Dr. Ali Kamel H. Al Jibouri, P.Eng., founded CleanInWater while completing his PhD at Ryerson University in Chemical Engineering. His thesis was focused on treating industrial wastewater, with a strong emphasis on the oil sands in Alberta. However, a crucial part of his business plan was missing: he didn't know how to take his technical innovation to market. Through Ryerson's Esch Awards, Dr. Al Jibouri saw an opportunity to gain the advice and mentorship he needed, as well as funding for CleanInWater. He applied, won all three stages, and experienced invaluable growth and mentorship along the way.
"When you talk about engineering, you say this is the theory and how you apply it. But now, it's crucial that we mention the business side of things as well. It's not just about the application of theory, but it's also about engineering in practice," says Dr. Al Jibouri.
The funds received from the Esch Foundation enabled Dr. Al Jibouri to scale the technology from a laboratory setting to a pilot project that simulates a real-life environment. He has expanded his team, secured an additional $200,000 in funding and has formed a strong relationship with Environment Canada, which has provided full financial support for his postdoctoral research at Ryerson University to prepare a national technology matrix for the mitigation strategies of Oil Sand-Affected Water and Land.
Dr. Al Jibouri recently received his first letter of intent from a company in the agricultural and farming industry in British Columbia. This company is very interested in the technology and is awaiting a prototype specific to their type of wastewater.
At OSPE, you're instantly connected with an impressive network of like-minded people who are changing the world. Isn't it time you joined us?
Here's how we've got your back.
*Stay tuned for more stories about the remarkably inspiring work being led by Ontario's engineering community.*
This success story was contributed by Ryerson University's Centre for Engineering Innovation and Entrepreneurship.