On February 18, 2020, the Hon. Caroline Mulroney, Minister of Transportation, introduced the Building Transit Faster Act. The proposed legislation aims to help deliver Ontario's four priority subway projects on-time and on-budget.
If passed, the legislation would give the Province the tools needed for Metrolinx and Infrastructure Ontario to deliver the four priority transit projects within the committed timeframes:
Ontario Line Subway with 15 stations, as early as 2027. The 15.5 km Ontario Line will run from Exhibition/Ontario Place through downtown Toronto to the Ontario Science Centre, bringing rapid transit to neighbourhoods such as Liberty Village and Flemingdon Park. It will help address dangerous overcrowding and provide needed relief on the TTC's Line 1 and Bloor-Yonge station.
Scarborough Subway Extension with three stations, by 2029-30. The nearly 8 km extension of TTC's Line 2 (Bloor-Danforth), from Kennedy Station going northeast to McCowan Road/Sheppard Avenue, will improve transit access to the residents of Scarborough.
Yonge North Subway Extension with approximately five stations, by 2029-30. The 7.4 km extension of TTC's Line 1 (Yonge-University) will connect north from Finch Station to Highway 7, connecting Toronto and Richmond Hill.
Eglinton Crosstown West Extension with along the Eglinton West corridor, by 2030-31. The western extension of the Eglinton Crosstown LRT (future Line 5) will increase connectivity along Eglinton Avenue from the future Mount Dennis station to Renforth Drive. Ultimately, through future phases of this project, the Province is committed to establishing connectivity with Pearson International Airport.
The Act would help get transit built faster by:
Relocating utilities efficiently, treating businesses fairly, and ensuring costs are not passed on to consumers.
Allow Metrolinx to require a utility company to relocate its infrastructure within a prescribed timeframe. Introduce a clear process for managing disputes and allow Metrolinx to seek compensation from a utility company if timelines are not met.
Amendments to the Ontario Energy Board Act, 1998 would prohibit the Ontario Energy Board from allowing provincially regulated utilities (electricity and natural gas) to pass compensation costs incurred from delays on to ratepayers.
Ensuring Ontario has easier access to the land required to construct transit projects, while still treating property owners fairly.
Eliminate redundant steps requiring Ontario to repeatedly demonstrate the need for land related to infrastructure projects.
Remove Hearings of Necessity for any property related to the four priority transit projects to avoid unnecessary delays.
For municipal properties needed, municipalities will be given reasonable time limits for internal review to help keep the process on schedule.
Ensuring timely access to municipal services and rights-of-way.
Ontario will continue to work closely with municipalities, including the City of Toronto, to negotiate and secure permits.
In cases where an agreement cannot be reached, the Minister of Transportation could use a new legislative provision to issue an order that outlines the terms and conditions under which Metrolinx could use or modify a municipal road or service, if needed.
Ontario will remain committed to working in partnership with municipalities and reducing the disruption to local communities as much as possible throughout the construction process.
Allowing Ontario to inspect and remove physical barriers, such as trees, without permission from property owners but with appropriate notification.
Anyone entering private property would be required to provide notice, abide by time of day restrictions, and show identification.
Ensuring nearby developments or construction projects do not interfere with or delay the four priority subway projects.
A permit would be required to construct or change any building, structure, road, underground utility infrastructure, or to perform any dewatering or excavation near a subway corridor.
This would apply to new and some existing developments. For existing approved developments that are identified as potential conflicts, there must be at least six months of negotiation before a permit decision can be imposed.
This would give Ontario the ability to coordinate activities in and around the subway corridors and stations and manage the timing of construction activities to prioritize the subway projects.
OSPE agrees that transit projects must be delivered on budget and on time. However, OSPE is concerned that this legislation will erode the environmental assessment process. Currently, public transit projects already go through an accelerated process via the Transit Project Assessment Process (TPAP). This process, under the Ontario Environmental Assessment Act, Regulation 231/08, exempts proponents of all public transit projects from all the requirements under of the Environmental Assessment Act.
The following figure outlines whether the project qualifies for the exemption under the Transit Projects Regulation.
Figure 1: Determining when to follow the transit project assessment process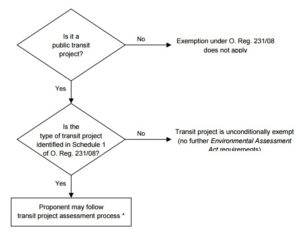 It is important to note that the TPAP is a proponent-driven, self-assessment process and does not require that a transit project be approved by the Minister of the Environment, Conservation and Parks before proceeding.
In order to build long-term sustainable infrastructure, it is imperative that the government consult appropriately with stakeholders and the communities affected. Clear standards that ensure new projects will be able to sustain the increased pressures of climate change and severe weather-related events must be articulated.
OSPE will keep monitoring the government's progress with this file.