In November 2020, OSPE launched a diversity and inclusion campaign titled Engineering for Change. The objective of the campaign is to unite the engineering community around what we know is one of the most important obstacles facing the vitality of the engineering profession – discrimination and bias are keeping some engineering graduates and professional engineers from entering and ultimately succeeding in the profession. Some of our members had questions regarding why diversity and inclusion was being prioritized when decisions about who can be an engineer and succeed in this profession should be based purely on merit and professionalism.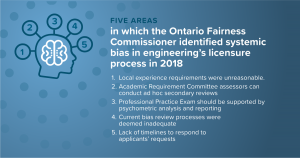 The idea of a meritocracy within the engineering profession is not in and of itself problematic. In fact, it is an important aspiration. OSPE supports the concept that those who work hard, exude professionalism, and hone their craft should be rewarded for their efforts. However, evidence shows us that our systems for evaluating people are skewed by biases. These biases impact women and members of underrepresented groups disproportionately and affect their professional outcomes.
The very idea that meritocracy exists in the engineering profession is holding us back from a productive dialogue about how we can break down barriers for women and others within the engineering profession. It is masking the evident bias and discrimination that lead to alarming statistics such as:
One-in-three women currently get paid less than their male counterparts in the engineering industry
One-in-four women experience harassment, discrimination or bullying at work within the engineering industry
Forty-five percent of women report feeling undervalued or disrespected in the workplace, compared to 20% of their male counterparts
Forty-four percent of men compared to 18% of women claimed claim to having never felt barriers to their workplace advancement.
The concept that meritocracy is a myth is not a new one. Sara Kaplan, Executive Director of the Centre for Gender and the Economy at Rotman, provides various examples of this myth in her work. She notes that that "in a recruitment process, when evaluating two identical applications, research demonstrates that both men and women prefer to hire a candidate named Brian over one named Karen by a ratio of two to one." Similar results are seen in research focused on resumes with ethnic names or any signals of homosexual orientation.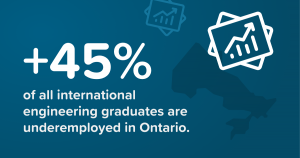 We would be remiss to think that these same trends are not observable in hiring and other decision making within the engineering profession. The numbers displayed above are only part of the story. We have heard countless accounts from women and members of equity-seeking groups that only corroborate what these numbers display.
The truth is engineering can never be a true meritocracy until is breaks down barriers to access and supports the success of all engineers irrespective of their demographic traits. For as long as women and other members of equity-seeking groups are kept in the office while men go out into the field, are devalued and disrespected, are harassed, continue to face obstacles during licencing, are made to feel like the other, are not given a voice around the table, are kept from moving into leadership positions, amongst many other barriers, the profession will not progress.
The myth of meritocracy is very real in engineering. However, there is a good news story to tell. Our members, industry partners, diversity partners, and other key stakeholders across the engineering profession, are deeply committed to change. At our more recent diversity and inclusion forum, The #EDIAdvantage, representatives from academia, industry, and government, demonstrated alignment in their approaches and thinking. We see a deep recognition for the need to action our commitments, measure our progress, and achieve results.
We say it is time for change. Are you with us? We encourage you to join us by visiting www.engineeringforchange.ca and tweeting your support!