On October 9, 2019 OSPE hosted its Federal Election Roundtable, where our Advocacy Task Forces and Committees showcased a comprehensive National Strategy that includes recommendations regarding energy, climate change and the environment, innovative technology, infrastructure, as well as ways to increase the number of underrepresented groups in STEM.
OSPE's advocacy Committee Chairs highlighted the need to address climate change, to develop a national flood action plan, as well as the importance of working with provincial governments and indigenous peoples in order to end all boiling water advisories.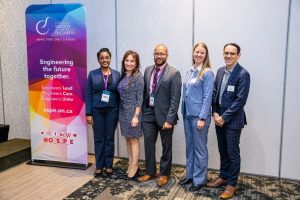 This event also provided the engineering community with the opportunity to hear from politicians running for office, who talked about their party's platforms and their commitments to Canadians.
Representatives from all five major parties were invited to attend – unfortunately the Liberals declined our invite and the Conservatives confirmed, but Michael Ma (Don Valley East) did not show up. The following individuals running for office attended the event:
Laurel MacDowell (NDP- Don Valley West)
David Micalef, P.Eng. (People's Party- Mississauga Centre)
Dan Turcotte (Green Party -Don Valley East)
Debate
The political candidates in attendance were asked several different questions, including the following:
According to the World Bank, Canada consumes almost double the amount of energy per capita than any other G7 country, with the exception of the United States. Analysis by Clean Energy Canada has shown that for every dollar spent on energy efficiency programs, $7 of positive GDP growth is created.
What concrete measures would your party take in order to address energy conservation?
NDP candidate Laurel MacDowell, started by commending OSPE on an "excellent report", and highlighted the need to end fossil fuel subsidies.
Dan Turcotte from the Green Party also reiterated the importance of reducing fossil fuel dependency and the importance of moving towards a greener economy.
David Micalef, P.Eng., from the People's Party of Canada stressed the need for establishing realistic targets when it comes to transitioning to fossil fuel-free energy generation.
Canada's latest greenhouse gas emissions data reveals that we are far behind reaching our Paris Accord commitment of reducing 2005 level of greenhouse gas emissions by 30% by 2030.
How will your government achieve this target?
Micalef spoke about the need to abolish the carbon tax, calling it extremely ineffective. He believes increasing this tax would cripple the economy, and that Canada should focus on helping China reduce their own emissions, since our contribution to worldwide GHG emissions is extremely low on the global scale.
Turcotte believes that Canada "must a be world leader" when it comes to climate change. His party believes the Paris Accord targets aren't aggressive enough.
MacDowell, NDP candidate was critical of Trudeau's government and called it "soft on the environment". She said that it is "necessary and vital for Canada to take a lead in the environment file."
Environment and Climate Change Canada reported that the energy used to power, heat and cool our buildings accounts for 17% of Canada's greenhouse gas emissions.
How does your party seek to move towards low-carbon buildings?
Green Party candidate Turcotte believes that Canada needs to update the Building Code and mentioned his party's commitment to undergoing a massive retrofit of buildings.
MacDowell from the NDP also mentioned her party's commitment to retrofitting all housing stock by 2050, and addressed the importance of moving forward with the electrification of transportation.
Micalef stressed the need to respect the constitution and provincial jurisdiction, highlighting that the federal government should focus on increasing funding towards nuclear power and geoengineering technology to mitigate climate change.
Today, there are more than 100 drinking water advisories in First Nations communities across Canada. In fact, First Nations' homes are 90 times more likely to be without running water.
How would you fix the drinking water problem in First Nations communities?
All three candidates acknowledged the severity of the situation in several First Nations communities when it comes to access to drinkable water.
MacDowell criticized the Liberal government saying they are not being honest when it comes to this file. She suggested that an industrial clean-up policy is needed.
Micalef believes that indigenous peoples must be empowered, and that is why the People's Party would abolish the Indian Act while respecting treaties. He stressed the importance of transparency and accountability and providing indigenous peoples with ownership of their services.
Turcotte mentioned that intergovernmental cooperation is key, and that all Canadians need to lead together to help indigenous peoples. He also believes that there is a great need for the establishment of a National Water Strategy.
Among OECD countries, Canada has the highest share of university and college graduates. However, our country lags in terms of business expenditures on research and development.
What would your government do, if elected, in order to support our country's research and development ecosystem?
PPC candidate Micalef believes that the best way to support our research and development ecosystem is by helping the private sector flourish. He mentioned his platform's commitment to reduce personal income and corporate taxes.
MacDowell from the NDP mentioned the need for encouraging businesses and making sure they are motivated.
Turcotte from the Green Party addressed the key role government plays in providing sustainable funding so Canadian research flourishes.
In Canada, women continue to be underrepresented in Science, Technology, Engineering and Math. OSPE's most recent analysis of Census data indicates that only 23% of women with engineering degrees worked in the engineering profession in 2015.
What should the federal government do in order to increase the representation of women in STEM?
Turcotte believes that a fundamental cultural shift must occur in order to level the playing field between men and women. He commented on the importance of mentorship programs and his party's commitment to abolish tuition. He believes that women would be greatly encouraged to enroll in STEM-related programs once the burden of tuition is lifted.
MacDowell brought up the fact that many women often contend with more unpaid care responsibilities than men. She believes that men need to be more involved in domestic responsibilities and jobs need to be more flexible to allow women equal access to opportunities in the workplace.
Micalef also noted the importance of a cultural shift when it comes to empowering women, mentioning that his party believes in the equality of opportunity, but that certain outcomes should not be forced. As a professional engineer himself, he is worried about the saturation of the workforce.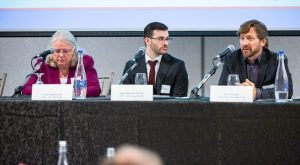 Laurel MacDowell (NDP-Don Valley West), David Micalef, P.Eng. (PPC-Mississauga Centre), Dan Turcotte (Green Party-Don Valley East) answer questions regarding their party's platforms
Audience Engagement
Audience participants also had the opportunity to ask the candidates some of their own questions. OSPE Energy Task Force member, Paul Acchione, P.Eng., asked about the role of nuclear energy in Ontario and Canada.
Both the Green Party and NDP candidates acknowledged that their party is against the development of nuclear energy, and that the federal government should move towards greener technology. The PPC candidate acknowledged the important role nuclear energy should have in Canada's future. He believes that there is an unfounded public fear towards nuclear energy, and that it should be used as a base load, where excess energy could be used to generate hydrogen fuel.
Closing Statements
Each of the three candidates in attendance had the opportunity to provide closing statements at the end of the debate.
Turcotte from the Green Party re-stated the importance of following science and evidence. He called on engineers to "continue doing the work [you] are doing" and to "continue being leaders and innovators."
Micalef from the PPC highlighted his party's commitment to having hard conversations and acknowledged that all political parties want the best for Canadians.
MacDowell from the NDP concluded by mentioning that climate change is an existential crisis and that her party is committed to ending fossil fuel subsidies. She also highlighted her party's commitments towards helping working-class families through pharmacare, dentalcare and childcare reform.
OSPE has shared details related to engineering from each political party's platform on the blog, and will continue to engage with all political parties to share expertise from engineers following the election on October 21, 2019.