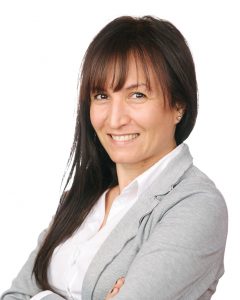 Anna Gkalimani is a Structural Engineer with NA Engineering Associates Inc. She has years of international engineering experience from her work in Greece and Cyprus where she worked as an Assistant Engineer with Mac Beton, a Structural Engineer with Euroco SA and a Project Manager for Magico LTD. Anna is a newly elected Board member who has also been serving on OSPE's Women in Engineering Advocacy Task Force since 2018.
As an internationally trained engineer, Anna knows the challenges that internationally trained engineers face in their effort to be part of the profession and with the licensure process. She knows how important it is to be engaged in the profession, to create networks and have mentors. By being an active member of the Women in Engineering Advocacy Task Force (WE ACT) of OSPE, Anna strives to give back to the profession by empowering and advocating for women in engineering.
Anna has a B. Eng. In Civil Engineering from Democritus University of Thrace in Greece, as well as a Masters of Science in Earthquake Engineering and Seismic-Resistant Structures from Hellenic Open University in Greece.
We sat down with Anna to get a better understanding of what attracted her to OSPE, what her path through engineering has been like, and what she hopes the profession will be like in the future. 
Why were you initially interested in engineering?
Growing up I didn't have any exposure to engineering; no one within my family or friends was an engineer. But my favorite subjects in school were math and physics, so when it was time for me to think about university, I reviewed my options and chose engineering because it includes both math and physics. I applied for civil engineering and got accepted. Choosing a field I didn't know much about had some risk, but I was lucky and ended up loving it!
As an internationally trained engineer, did you have any struggles in your transition to Canada?
Yes, definitely. Having a degree from a non-Canadian university makes it harder to find a job; the employers prefer to hire a candidate from a familiar university as a "safer" option.
Another challenge for me was that I arrived in Canada with a work permit and not with permanent resident status. This made it even more difficult to find an engineering job as the employers are looking for permanent residents or citizens to avoid the risk of hiring someone that may not be able to become permanent resident.
However, the biggest challenge was the lack of Canadian work experience. Even though I had previous work experience in Europe, employers are looking for the Canadian experience.
On the other hand, the Canadian Government is very supportive and provides with various programs and resources to help with this transition. I didn't encounter any difficulties on this level.
Do you have any advice for other engineers who are in a similar position as you once were?
My number one advice is to network! Go out there and meet engineers, connect with engineers, network with engineers! Each country is different when it comes to the labour market. By interacting with people in your industry helps to get an understanding of the Canadian market and how it works. Not only that; being around engineers it will help you learn, share ideas, ask for advice, and hear about new opportunities and trends.
My second piece of advice for the internationally trained engineers is to become proficient in their English language skills. It's crucial to be able to communicate effectively with your team and clients and necessary for better opportunities and growth.
What were some barriers that you had to overcome as a female in a male-dominated field?
Being a female in a male-dominated profession is not always easy. As a young female engineer there were times that I didn't have the same opportunities as my male colleagues. Men tend to mentor and promote men. The lack of women in higher positions means lack of role models, mentors and sponsors for young women engineers.
But I feel that this is slowly changing. I find the newer generations of male engineers far more open to work with their female colleagues. I am hopeful that the future will be more inclusive and women will find their place in engineering.
What does diversity and inclusivity mean to you and how do you incorporate them into your professional environment?
To me inclusion means celebrating diversity and welcoming all individuals regardless of their gender, race, background, education level, sexual orientation, disabilities, etc. Diverse teams are unique, stronger and create better end products and solutions. Unfortunately, I don't see much diversity and inclusion in engineering.
I try to be inclusive with my colleagues at work by acknowledging that everyone has some unconscious biases. Often people are raised in societal environments that introduce these biases. An important step is to be aware of your own and the others unconscious biases. Identifying and settling them is imperative to help individuals grow and to keep the coherence of the team. My motto is that we are all in this together! Be respectful of everyone's contribution to the team. By embracing diversity, we all win.
Why do you believe that it is important to be engaged in the engineering profession?
Engineers' job is to always strive to improve the quality of life for everyone. Engineering is evolving; it's not static. It is extremely important to be engaged and be aware of the emerging new research, interpret the results, use and extend this knowledge to improve in other sectors.
OSPE is an excellent example of being engaged in the profession. Through its programs it offers so many opportunities for engineers to get together and exchange ideas.
Being engaged in these types of activities you learn to think outside of the box. Exchanging different opinions and ideas on the same problem, it challenges your perspectives on how to create the best solution for the problem. It's always great to hear different ideas; it makes you a better engineer.
What are some things you had wished you had known before you entered the engineering profession?
As a female engineer, I wish I knew from the beginning that women and men are not always treated equally in the work environment. I wasn't aware of this and it caused a lot of self-doubt in my abilities. When you don't have the same opportunities, you feel that you are not good enough.
You see men go into the room and express their opinion very confidently and without self-doubt. Women tend to be less confident in the workplace and we need to be more assured in our work.
While it is always important to make sure that your work is meticulous and you're always improving, you have to realize that sometimes the issue is not you but the culture. We need to find our voice and shift this culture.
What do you hope the future of engineering will look like?
In Canada, we are very fortunate to live in a wonderful country that provides us with endless opportunities! Engineers have the potential to really shape the future of Canada. In the future, I hope that engineering disciplines will be even more interconnected and engineers to be able to create better solutions. I hope engineers to become more active part of the society and show the road to diversity and inclusion.
Want to know more about Anna, or have any suggestions on other OSPE members we should feature? Let us know in the comments below!