On October 25, 2019, the government of Ontario announced increased investment in green infrastructure to help small communities rehabilitate critical water, wastewater and stormwater infrastructure. Approximately $200 million dollars is available in federal and provincial funding, which will be targeted, at first, towards communities with populations lower than 100,000 people. The province anticipates launching an additional intake of the green infrastructure stream in 2020 that could focus on other emerging priorities for water, wastewater and stormwater projects, and/or disaster mitigation.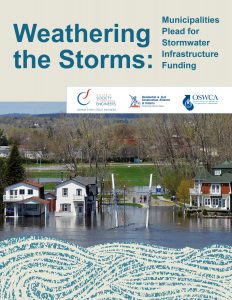 Since 2017, engineers have called on the government to increase investment in green infrastructure, where adequate, and municipal stormwater infrastructure, to help protect communities across Ontario. OSPE's Weathering the Storms: Municipalities Plead for Stormwater Infrastructure Funding report found that most municipalities do not have adequate stormwater infrastructure asset management plans, funding resources to meet the changing demands and regulatory requirements for these assets, and/or the human resources to appropriately track and monitor assets and their metrics. OSPE, along with the Consulting Engineers of Ontario (CEO), the Residential and Civil Construction Alliance of Ontario (RCCAO) and the Ontario Sewer and Watermain Construction Association (OSWCA) recommended that:
Stormwater Infrastructure Asset Management Plans (SIAMPs) be a required component of municipal Asset Management Plans
Stormwater management assistance be considered a funding priority in long-term infrastructure planning, especially for municipalities with populations under 50,000, as many do not have the necessary resources to develop a SIAMP
Ontario develop standardized criteria to help municipalities properly monitor stormwater systems
OSPE welcomes this step forward towards increased investment in green and stormwater infrastructure, and looks forward to continuing to work with government to ensure the voice of engineers is always heard.
Do you have any comments or concerns regarding this topic you'd like OSPE to share with the appropriate government members? Let us know in the comments below!