Today, on March 25th, 2020, the Honourable Rod Phillips, Minister of Finance released Ontario's Action Plan: Responding to COVID-19 (March 2020 Economic and Fiscal Update).
 Economic Update
The Province of Ontario is projecting a deficit of $9.2 billion in 2019–20, an improvement of $1.1 billion relative to the 2019 Budget. As a result of the response to the COVID-19 outbreak, the government is planning for a deficit of $20.5 billion in 2020–21.
Before the outbreak of the novel coronavirus (COVID‑19), Ontario's economy was growing at a moderate pace. The province's real gross domestic product (GDP) increased by an estimated 1.6 per cent in 2019.
Net debt-to-GDP is forecasted to be 39.9 per cent in 2019–20, lower than the 40.7 per cent forecasted in the 2019 Budget, and is projected to further increase to 41.7 per cent by 2020–21.
Job creation was robust in 2019, with Ontario adding 210,200 (+2.9 per cent) net new jobs. The unemployment rate held steady at 5.6 per cent, matching the 2018 rate.
The outbreak and global spread of COVID‑19 has negatively impacted the worldwide economy, disrupting financial markets and significantly increasing near-term economic uncertainty. Although it is clear that Ontario has and will continue to be impacted, the extent of the full impact on the province remains uncertain. The March 2020 Economic and Fiscal Update provides planning assumptions for the upcoming year. In addition to this, the government will provide regular updates of the Province's fiscal and economic outlook throughout the year.
Ontario's Action Plan: Responding to COVID‑19
The government's first steps will be to inject $7 billion into the health care system, to provide direct support for people and jobs. It also will make $10 billion available through tax credits and deferrals to protect jobs, cash flow and household budgets. The following chart outlines Ontario's total investment.
Chart: Highlights of Ontario's Action Plan: Responding to COVID‑19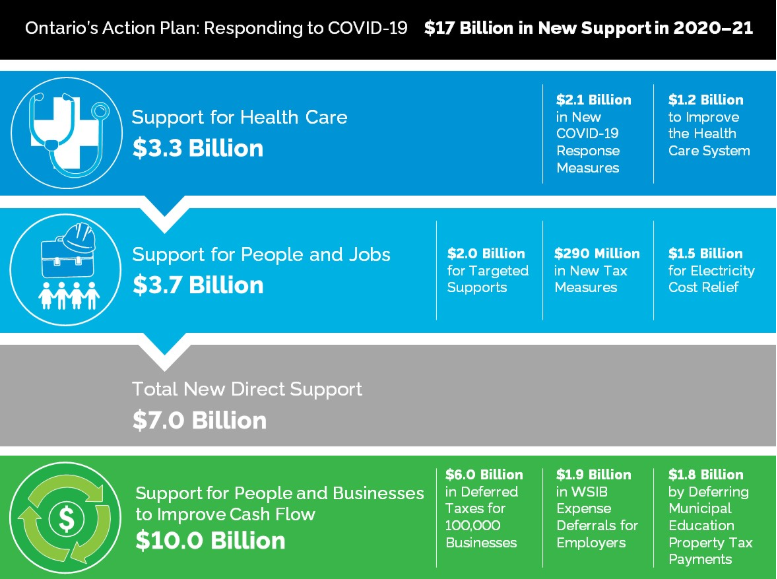 Source: Ontario's Action Plan: Responding to COVID‑19
Support for Health Care
$3.3 billion of additional resources for health care, including:
$2.1 billion in new measures to support the COVID‑19 response including:

A dedicated $1.0 billion COVID‑19 contingency fund;
$341 million for hospital capacity to increase assessments and treatment;
$243 million for long-term care home emergency capacity and new virus containment measures;
$100 million more for public health;
$170 million for community capacity, homecare and Telehealth Ontario;
$62 million for health care workers in assessment centres, hospitals and the community;
$75 million for new personal protective equipment and critical medical supplies;
Approximately $80 million for ambulance and paramedic services; and
Approximately $70 million for new infection control measures in retirement homes, residential facilities and emergency shelters

$1.2 billion to improve services in the health and long-term care sector.
Support for People and Jobs
$3.7 billion to support people and jobs, including:
OSPE and engineers believe this is a positive short-term step. Given the current circumstances, we believe that any relief the government can give consumers is welcomed.
However, electricity bills won't be reduced tremendously, due to the cost structure of our electricity system (high fixed costs and low variable costs). At the same time, not all Ontarians will benefit from this policy decision. For real economic relief and considerable reduction in electricity prices, both in the short and long term, the Government of Ontario and the Energy Board must reform its electricity price plans.
READ OUR ANALYSIS OF THIS POLICY DECISION HERE
Cutting taxes by $355 million for about 57,000 employers through a proposed temporary increase to the Employer Health Tax (EHT) exemption;
Helping to support regions lagging in employment growth with a proposed new Corporate Income Tax credit — the Regional Opportunities Investment Tax Credit; and
Supporting the timely delivery of critical food and supplies by amending a regulation that restricted delivery trucks from operating during off-peak hours.
Support for People and Businesses to Improve Cash Flow
$10 billion in support for people and businesses to improve cash flows by:
Providing a five-month interest and penalty-free period to make payments for the majority of provincially administered taxes, providing $6 billion in relief to help support Ontario businesses when they need it the most;
Deferring the upcoming quarterly (June 30) remittance of education property tax to school boards by 90 days. This will provide municipalities with the flexibility to provide property tax deferrals of over $1.8 billion to local residents and businesses; and
Providing $1.9 billion in new financial relief by the Workplace Safety and Insurance Board (WSIB) allowing employers to defer payments for a period of six months.
The government will release a multi-year provincial Budget by November 15, 2020. This responsible approach will allow the government to continue assessing the economic situation and put forward a long-term outlook based on the most recent and reliable data.
OSPE believes that the Ontario Government should do more to help residents and businesses. Unlike Quebec, British Columbia, Saskatchewan and PEI, there is no direct cash payments to help those that have lost work because of COVID-19. For example, British Columbia created a one-time emergency benefit of $1000 for workers who have lost income because of COVID-19, while Quebec announced a $573 weekly payment for those eligible.
Ontario should follow these provinces and enhance the stimulus package offered by the federal government.
At this time, OSPE will work to ensure our members are informed of existing resources and government announcements that directly impact the engineering sector in Ontario. This includes information regarding economic-relief measures that have been taken by all levels of government to date.
Moreover, OSPE is advocating to ensure that our members are protected and that employers are taking the necessary measures to guarantee that essential workplaces are safe. This is an evolving and unprecedented situation.
OSPE will continue to work with all our industry partners, including all orders of government, to monitor the situation as it evolves to ensure the safety and security of the engineering community.
For more on COVID-19 and its affect on engineering in Ontario, visit our COVID-19 news page.