On November 30, the Government of Canada released its Fall Economic Statement 2020: Supporting Canadians and Fighting COVID-19
Deputy Prime Minister and Finance Minister, the Honourable Chrystia Freeland outlined the government's first major economic update since the COVID-19 pandemic hit Canada.
She highlighted how the Government of Canada:
"will do whatever it takes to help Canadians through this crisis. We will invest in every necessary public health measure. We will support Canadians and Canadian businesses, in a deliberate, prudent and thoughtful way. And we will ensure the Canadian economy that emerges from this pandemic is more robust, inclusive and sustainable than the one that preceded it, with a stronger, more resilient middle class."
The Trudeau government has provided the first detailed accounting of its COVID-19 spending, revealing a massive deficit and plans for billions more in targeted measures. The deficit has increased to $382 billion for 2020-21 but could approach $400 billion if Canada sees "escalated restrictions" and further COVID-19 lockdowns. The fall economic statement calls for $51 billion in new spending over the next two years, and up to $100 billion on a three-year recovery package "when the virus is under control and our economy is ready to absorb" stimulus.
The Fall Economic Statement highlights the government's approach, specially concerning the pandemic:
Canada's COVID-19 response is based on the notion that the best economic policy is a strong health policy.
The following table provides a high level breakdown of the government's support in billions of dollars and share of the spending.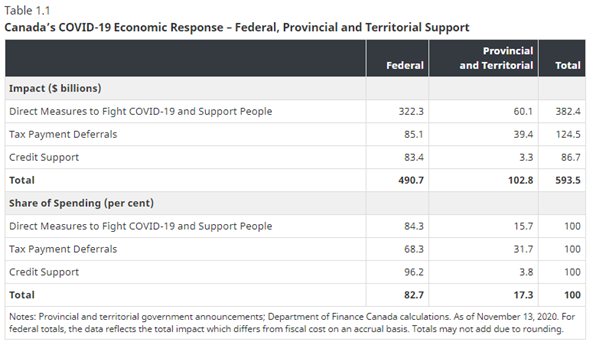 The government also highlighted the importance of federal-provincial-territorial collaboration in order to fight the pandemic, specifically through the Safe Restart Agreement, which was adopted by Canada's First Ministers. This agreement has focused on increasing testing and contact tracing capacity across provinces and territories, as well as supporting the capacity of our health care systems, including services for people facing mental health challenges. It has also assisted with the procurement of personal protective equipment.
The following table outlines the federal support through the Safe Restart Agreement.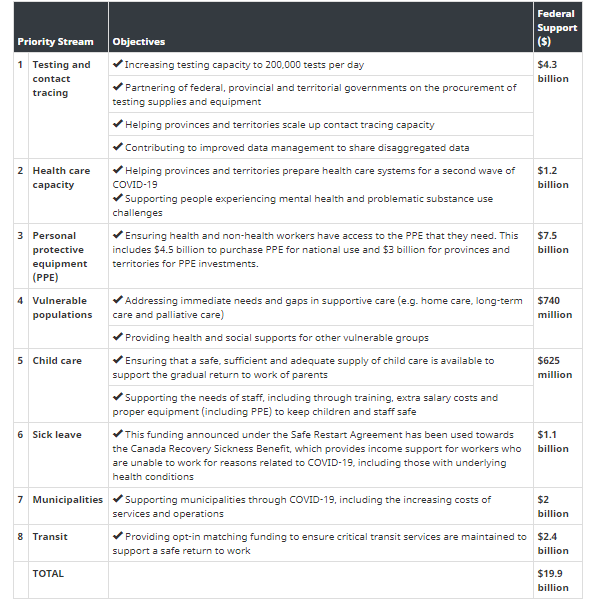 The government is delivering scalable and targeted support to keep Canadians healthy, safe and solvent. To date, the government has committed:
Over $270 billion in direct support to Canadians and businesses;
Up to $85 billion in tax and customs duty payment deferrals to meet liquidity needs of businesses and households; and
Over $52 billion in support for coordinated federal, provincial and territorial action to strengthen critical health care systems, purchase personal protective equipment and supplies, and support critical medical research and vaccine developments;
The federal government has provided more than 8 out of every ten dollars invested by governments in Canada to fight COVID-19 and support Canadians.
The Canada Emergency Response Benefit provided emergency income support to millions of Canadians. Since the end of the program, 2 million claimants have applied to the simplified Employment Insurance system but many Canadians were still not eligible for EI. Therefore, the government launched three new income support benefits for these workers.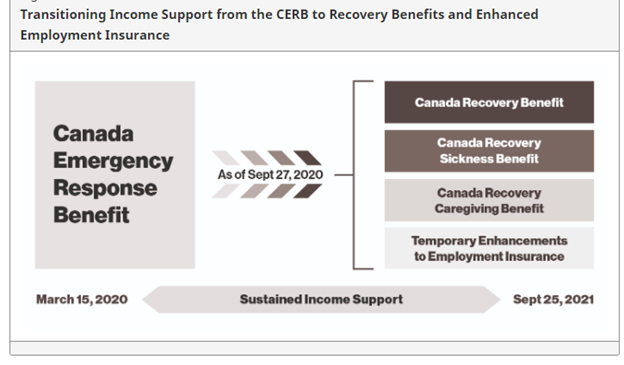 To ensure a robust and resilient recovery, the government is developing the details of a plan to help Canada build back better, by preparing to invest up to $100 billion over the next three fiscal years – roughly valued at between 3 to 4 per cent of GDP. This stimulus will help accelerate our economic recovery, and will be deployed at a time when the virus is under control and the economy is able to effectively absorb it.
The investments the government is making today are the first steps to creating jobs, growing the middle class, strengthening social supports, moving towards a low-carbon economy, unleashing private spending, and building up the infrastructure our economic success depends on. The decisions we make and the actions we take, today, have a fundamental impact on our future prosperity and well-being.
OSPE is pleased to know that the government understands that in order to ensure preparedness for future events and build an economy that is strong and benefits all people, it is imperative that new funding allocations provide a sustainable benefit for diverse, future generations by ensuring a targeted focus on building sustainability, investing in talent development and retention, and fostering innovation.
Some specific government announcement and programs include the following:
Creating One Million Jobs.
In the Speech from the Throne, the government announced its commitment to create over one million jobs, restoring employment to previous levels. The government will be focused on measures that promote good, full time, middle class jobs and that bring Canadians experiencing long-term unemployment back into the workforce.
Investing in Training and Skills
The Government of Canada has already announced that it will invest an additional $1.5 billion in the Workforce Development Agreements with provinces and territories to offer Canadians the skills training and employment support they need. This is in addition to the $3.4 billion already being provided by the federal government to provinces and territories under the Labour Market Development Agreements and Workforce Development Agreements in 2020-2021. The government has also provided the provinces and territories greater flexibility to administer these agreements. This support will respond to the increased number of Canadians looking to re-enter the workforce, particularly workers and employers in hard-hit sectors and groups disadvantaged as a result of the pandemic.
To further bolster training supports for those hardest hit by the pandemic, including marginalized and racialized women, Indigenous Peoples, persons with disabilities and recent newcomers to Canada, the government proposes to invest an additional $274.2 million over 2 years, starting in 2021-22.
Prior to COVID-19, some of Ontario's industries, such as infrastructure and transportation, were already facing a talent-gap in their engineering departments. Engineering jobs were being given to international firms because Ontario did not have the right talent to get the job done. This is deeply concerning to the economic recovery of the province and the country as a whole, as the success of the economy depends on the ability to match talent with job vacancies and to ensure that this talent can adapt to market demands. This concern has become magnified by immediate demands for more technologically equipped engineers due to changes caused by the current crisis.
The Federal Government should work with the Ontario Government to create incentives that support a strong culture of lifelong learning across Ontario, where employers and employees are provided with the tools and resources to upskill and retrain local talent.
An Action Plan for Women in the Economy
As announced in the Speech from the Throne, the government will create an Action Plan for Women in the Economy to help more women get back into the workforce and to ensure a feminist, intersectional response to this pandemic and recovery.
The government is announcing the creation of a task force of diverse experts to help the government develop this plan. Advice of the task force will be intersectional and will support the government's longer-term goal of building a more inclusive and resilient economy. The task force will provide advice on advancing gender equality and equity more broadly over the medium and longer-term, consistent with the goals and intent of the Canadian Gender Budgeting Act and the government's Gender Results Framework, to address the inequities faced by Indigenous, Black and racialized women, as well as other vulnerable women.
OSPE believes that this is a great step towards ensuring that women and other vulnerable sectors are able to re-enter the workforce. The engineering community recommends that the Government of Canada do more. It should:
Require organizations to demonstrate a commitment to inclusive design in order to access funding. Projects must account for our diverse population, be flexible and adaptable, employ inclusive processes and tools, and have a broad impact. The requirements outlined in this funding framework should be measurable and generate accountability from industry to advance a vibrant, thriving design ecosystem across Canada.
Address the wage gap.
Reduce the burden of unpaid care.
Invest in robust labour market analysis.
Encourage diverse and inclusive workplace practices.
Towards a Canada-wide Early Learning and Child Care System
In the Fall Economic Statement, the government has made initial commitments to establish a Canada-wide Early Learning and Child Care System. The government has committed $20 million over 5 years, starting in 2021-22 to create a Federal Secretariat on Early Learning and Child Care.
To sustain previous investments in Early Learning and Child Care that provide fee subsidies and create new affordable spaces, the government is proposing to make funding permanent at 2027-28 levels by providing $870 million per year, starting in 2028-29. Additional funding is also committed to supporting early childhood educator workforce.
The government has also proposed a temporary increase of up to $1,200 in 2021 for each child under the age of 6, for families who are entitled to the Canada Child Benefit.
Growing the Economy through Immigration
The Government of Canada is committed to an immigration system that supports economic growth, diversity, and helps build vibrant, dynamic and inclusive communities.
In the 2021-2023 Immigration Levels Plan, the government set out a path for responsible increases to immigration targets. Immigration is also an important factor in helping the Canadian economy recover, drive future growth and create jobs for middle class Canadians. The Levels Plan aims to continue welcoming immigrants at a rate of about 1 per cent of the population of Canada, including 401,000 permanent residents in 2021, 411,000 in 2022 and 421,000 in 2023.
A Competitive, Green Economy
The government has committed to putting climate action at the heart of its plan to create a million jobs. These will be good middle class jobs for today, and for the decades to come, creating opportunities for our current workforce and for our children and grandchildren. Canadians from all regions need to be part of this collective effort, and the government will also work to make many of these traditionally male-dominated industries more inclusive. Canada remains strongly committed to meeting and exceeding its Paris targets and achieving net-zero by 2050.
Home Energy Retrofits
The government proposes to provide $2.6 billion over 7 years, starting in 2020-21, to Natural Resources Canada to help homeowners improve their home energy efficiency by providing up to 700,000 grants of up to $5,000 to help homeowners make energy-efficient improvements to their homes, up to one million free EnerGuide energy assessments, and support to recruit and train EnerGuide energy auditors to meet increased demand.
Zero-emission Vehicle Infrastructure
The government proposes to accelerate this work by providing $150 million over 3 years to Natural Resources Canada, starting in 2021-22. These investments in infrastructure for zero-emission vehicles will help increase confidence that charging and refuelling stations are available and conveniently located where and when they are needed.
Public Transit Infrastructure
In Budget 2017, the government announced unprecedented investments in public transit infrastructure as part of the Investing in Canada Plan. To build on these investments the government will outline its next steps on public transit, including its plan to help electrify public transit systems across Canada, and provide permanent public transit funding, in partnership with the provinces and territories.
This investment will accelerate Canada's transition to a low-carbon economy, accelerate growth in local economies, and accelerate improvement to Canadians' quality of life.
OSPE truly supports the need to continue investing in public transit, especially allocating resources towards electrifying public transit.
The Canada Infrastructure Bank's Growth Plan
In October 2020, the Canada Infrastructure Bank (CIB) announced a $10 billion Growth Plan to invest in infrastructure that will create good jobs for Canadians, build stronger communities, and make the economy more sustainable and resilient for everyone. Over the next three years, the CIB will work in partnership with provincial, territorial, municipal, and Indigenous communities, and leverage the private sector, to build infrastructure across Canada.
$2.5 billion for clean power to support renewable generation and storage and to transmit clean electricity between provinces, territories, and regions, including to northern and Indigenous communities;
$2 billion to connect about 750,000 homes and small businesses to broadband in underserved communities;
$2 billion to invest in large-scale building retrofits;
$1.5 billion for agriculture irrigation projects; and
$1.5 billion to accelerate the adoption of zero-emission buses and associated charging infrastructure.
To accelerate the delivery of projects in which the CIB intends to invest, the plan will also allocate $500 million for project development and early construction works.
OSPE applauds these kinds of investments. Engineers believe that a proper pandemic response requires smart investments in infrastructure projects that are both "shovel-ready" and "shovel worthy."
Building the Foundation for a Net-zero Carbon Future
On November 19, 2020, the government delivered on its commitment to legislate Canada's goal of achieving net-zero greenhouse gas emissions by 2050 by introducing bill C-12, the Canadian Net-Zero Emissions Accountability Act,to Parliament. This legislation would legally bind the government to a process to achieve net-zero emissions by 2050, and require the Minister of Finance to report annually on key measures that the federal government, including Crown Corporations, has taken to manage climate-related financial risks and opportunities.
Canadians are full of innovative new ideas that will lead to the development and deployment of important new clean technologies. In particular, Canadians can lead the development and deployment of new zero-emission technologies. This includes technologies that create carbon-free heat and electricity. Following on the Small Modular Reactor (SMR) Roadmap released in 2018, the government intends to launch an SMR Action Plan by the end of 2020 to lay out the next steps to develop and deploy this technology. The government intends to work with interested parties, including New Brunswick, Ontario, Alberta and Saskatchewan, to advance this important work. The government's upcoming climate plan will highlight further work and investments in areas like renewables, clean fuels, and hydrogen.
OSPE supports the development of SMRs and will be providing recommendations regarding the Government's SMR Action Plan. Engineering knowledge is key to the proper implementation of SMR technology in Ontario and throughout Canada.
Border Carbon Adjustments
The government is committed to ensuring that Canada's transition to a low-carbon economy is achieved in a way that is fair and predictable for our businesses, and supports Canada's international competitiveness. To this end, the government is exploring the potential of border carbon adjustments, and will be discussing this issue with our international partners. Border carbon adjustments are about levelling the playing field across jurisdictions on carbon pricing: they propose to establish a carbon fee on imports from countries that do not have carbon pricing so that those products face the same costs as those supplied by domestic producers who pay a price on carbon pollution.
"The Government of Canada will continue to deploy all necessary fiscal firepower to fight the pandemic, in line with recommendations from the IMF and the Organisation for Economic Co-operation and Development. It will also continue to collaborate with provinces, territories and other governments to save lives and livelihoods and support Canadians and Canadian businesses for as long as this crisis lasts. Canadians should not have to take on debt that their government can better shoulder."
Maintaining our Low-debt Advantage
The federal government's strong fiscal position means Canada has sufficient room to borrow as necessary to meet the challenges of COVID-19. Coming out of the crisis, Canada is expected to maintain its low-debt advantage. The government will continue to protect Canada's debt advantage so borrowing costs remain low and ensuring future generations are not burdened with COVID-19-related debt.