On March 16th, OSPE held its second Members-Only Climate Crisis Consultation.  
The climate crisis is an issue that deserves a high-level of urgency and OSPE is taking this responsibility very seriously. Action is needed from all levels of government to center agendas around the pressing issue that is the climate crisis. Since engineering intersects all industries, it is only right that their voices are heard when addressing this issue.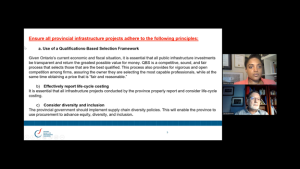 During the first consultation, held on February 23rd, the policy topics discussed included carbon pricing, the Ontario Building Code and the electrification of the transportation system, among others. Our members gave us the opportunity to hear from them directly. This second Members-Only Climate Crisis Consultation addressed a separate, but equally important set of issues: 
Ensure all provincial infrastructure projects adhere to the following principles:

 

Use of a Qualifications-Based Selection Framework                                              

 

Effectively report life-cycle costing                                                                       

 

Consider Diversity and Inclusion

Excess Soils

 

Highway 413

 

Investing in Ontario's Mining Industry

 

Establishing an Ontario Critical Minerals Research and Market Development Council within Ontario's Critical Minerals Strategy

 

Investing in Hydrogen Technology

 
The consultations provided our members with the opportunity to discuss, among their peers, the pressing and pertinent engineering issues regarding the climate crisis. These consultations inform OSPE's advocacy work.  
If you have any questions regarding OSPE's advocacy process, please contact us at advocacy@ospe.on.ca.