On June 18th 2019, over 300 individuals from the government, academia, the engineering sector, students, and those outside of the engineering profession gathered together to attend the 17th Annual Claudette MacKay-Lassonde Forum, which was presented by OSPE's Women in Engineering Advocacy Champions Task Force (WE ACT).
Held in Kitchener, Ontario, this event focused on taking action and discussing practical solutions to empower women in the STEM sector. The event sparked insightful conversations to overcome the gender barrier that is so prominent in the engineering sector.
It is not enough to acknowledge the ongoing issues. We must implement actionable strategies to be more inclusive and diverse in the workplace. #ItsTimeWeBuild a better future for the women in the field and trail blaze a path for the women to come. The day began with a message from our Prime Minister.
Greetings from Government
Jane McKenna, MPP of Burlington
Jane McKenna, MPP for Burlington, spoke about the significance of engineering and the benefits it imposes for Ontario's economy. Her speech emphasized that current STEM professions lack female representation and for Ontario to improve – the gender disparity must be resolved.
"Simply put, we are here to solve many of our problems and make Ontario a better place to live in and work. But, we also know there are still barriers in the STEM fields. That is why we are all here today. Women play a critical role in our economy, contributing greatly to all professions, trades, and sectors and helping to make Ontario open for business. For Ontario to remain competitive we need everyone. Both women and men need to have a wide range of skills that will help our province compete in the 21st century global economy."
Catherine Fife, MPP of Waterloo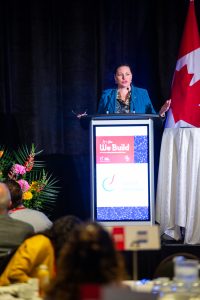 Catherine Fife, MPP for Waterloo, delivered a captivating speech about the challenges women face in the STEM sector and the steps that must be taken to overcome these barriers.
"Not only do we only have a problem of getting women into STEM but also keeping them in STEM. And that's a crucial part. This is a systemic issue that needs a systemic solution, and it will take all of us. We need more young girls to see they have a place in STEM, so that they can be just like you one day. Follow your dreams and reach your potential. Our education system needs to do more to show young girls that they can be and do anything. STEM isn't just about robotics or computers; it's also about being creative and innovative and female engineers see the world differently."
Setting the Landscape
Angela Wojtyla, P.Eng., WE ACT Chair
Angela Wojtyla, P.Eng., Chair of the Women in Engineering Advocacy Champions Task Force, briefly highlighted the history of WE ACT and spoke of the importance of diversity in the workplace.
"Often, the accomplishments of female engineers go unnoticed. Even though we are underrepresented, women still contribute significantly to Canada's innovation and technology ecosystem. One of OSPE's key objectives is to diversify the candidates nominated for engineering and STEM awards, so women and other equity-seeking groups begin to get recognition for their contributions."
Introducing DiversifySTEM
Kathy Larette, C.E.T., Breaking Barriers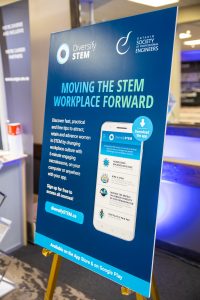 "Diversify STEM is a micro-learning app and a website that delivers fast, bite-sized, actionable lessons on promoting gender-diversity and changing the culture in STEM workplaces. It is designed for time-crunched STEM employers who want practical tips on attracting and retaining women in STEM careers through the flexible and action-oriented modules. The goal is to provide employers with strategies to help break barriers in the workplace in five minute increments. The DiversifySTEM app will be available on the Google and Apple app store very soon."
Building your Professional Network and Personal Brand
Bobby Umar, P.Eng., Personal Branding & Networking Expert
Bobby Umar brought humour and excitement to the stage as he presented valuable networking and personal branding tips.
"Personal branding is a connection with yourself. Networking is a connection with the people around you. And then there is digital, which is a connection with the world. Your personal brand is a promise delivered to everyone you come in contact with. You have the opportunity to take your leadership brand and infuse it into your organization. It's important to know your personal brand. What do you bring to the table?"
Panel 1: Mentorship vs. Sponsorship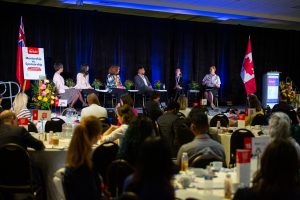 This panel explored the natures of mentorships and sponsorships in the STEM sector. These diverse and talented panelists discussed the benefits of mentorships and sponsorships and how they are critical in advancing a woman's career, especially since women in STEM often lack these kinds of professional figures.
Moderator: Elizabeth Pietrantonio, P.Eng. Below are quotes from each of the panelists:
Integrating Mental Health and Wellbeing
Carolyn David, P.Eng., discusses the realities of women feeling disrespected in STEM workplaces and showcases her own positive experience at CN Rail to provide insight into a healthy and supportive work environment.
"Roughly 45% of women still feel disrespected or undervalued in the workplace and almost just as much feel like they don't have role models or mentors … It can be a real challenge for some to stay true to themselves and still effectively communicate in a male dominated environment. It takes a critical mass of women to start making changes and we need to ask questions about women visibility as well as women leadership for better outcomes."
Panel 2: Men and Equality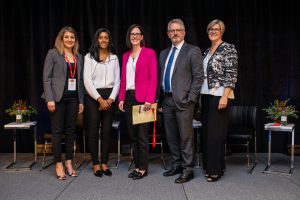 In this panel, the speakers communicate the importance of a man's role in the gender parity efforts. They spoke of the significance of having men in the workplace as active participants and used their personal experiences to leverage these conversations.
Moderator: Lisa Latorcai, President at Amadeus Consulting. Below are some quotes from the panelists:
Taking Charge of Your Career
Alicia Sullivan, a Director at Catalyst, presented various steps women can take in their careers to advance in their profession. She was engaging with the audience and encouraged women to make bold decisions.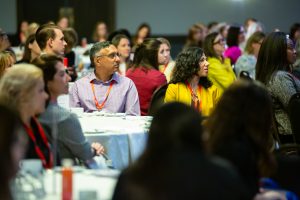 "It's important that, as you advance your career or take it to the next level, you gain access to people who can really help you to get there. However, it's not an entitlement. You have to prove your worth… We [also] have to make our achievements known and visible with the people who matter to you. It's always so hard for us to toot our own horn and to self-promote. However, we can't wait until the annual performance review to [showcase our work]…[Ask] for extra responsibilities that take advantage of your skillsets, your personality, or other things that you bring to the job."
Building Effective Leadership
Diane Lundquist, P.Eng., gave an inspiration speech on the leadership traits needed for an inclusive workplace environment. Her riveting words captured the true essence of what a leader should be.
"When we think of courage, we are conditioned to think of the brave and noble lone wolf pushing on through everything and not showing a crack. But really courage involves being humble. Being a leader does not mean you are perfect. Admit your faults and those of your organization, and this willingness will help others feel included along with you. Be brave enough to challenge the status quo and if you see something – say something."
International Women in Engineering Day #TransformTheFuture
We're releasing this blog post today as a part of International Women in Engineering Day which celebrates women in the profession from all across the globe. The theme for INWED this year is #TransformTheFuture, which falls directly in line with the theme of this year's WE ACT Forum, #ItsTimeWeBuild.
To every person who joined us in person on the day, or joined the conversation online through #ItsTimeWeBuild, we thank you. By building relationships, personal brands, and understanding the pathways to a success, we can transform the profession and build a brighter future for us all.