Nestled in heart of the innovative Toronto-Waterloo Region Corridor,  The Xerox Research Centre of Canada (XRCC) is nicely positioned to take in and support exciting new startups.
This impressive 120,000 square-foot, state-of-the-art advanced materials research facility helps companies accelerate their time to market by providing the facility, resources and expertise that startup ventures need to take new advanced material ideas from bench- to commercial-scale.
"Many of the startups we work with come to the XRCC through our extensive network of formal and informal partners," says Patricia Hawkins, Manager, Strategic Partnerships and Innovation Services, XRCC. "A lot of our clients are introduced to us through this thriving ecosystem of universities and likeminded organizations, including the Peel Region Research Innovation Commercialization Centre (RIC) and the Ontario Centres of Excellence (OCE) advanced manufacturing team."
The story, however, began a bit differently for a startup called Anomera, a spin-out from McGill University, that connected with the XRCC after a simple online search for scale up support.
The building blocks of next generation bio-products
—
Anomera is an advanced materials company that reinterprets cellulose into innovative multi-application materials or next-generation bio-products on the nanoscale. The company converts cellulose from wood waste and paper industry pulp into biodegradable, environmentally friendly, high performance ingredients. Anomera's versatile product is a natural alternative to mineral, ceramic and artificial ingredients found in markets ranging from inks and pigments, to water and air purification, pharmaceuticals, coatings, composites, and their first major endeavor – cosmetics and skin care.
Anomera is an innovator in green chemistry, materials science and energy-efficient manufacturing. The company has, for instance, developed a new class of cellulose microbeads that can sustainably replace environmentally damaging plastic microbeads that are widely used in beauty products.
"Our approach was simple. We had the idea and we had the strategic partners, including forest industry giant Rayonier, and elite global cosmetics company Chanel. We demonstrated that the product works, and now we are building manufacturing towards it, in order to get full traction in the market and ultimately grow," explains Mark Andrews, Founder and CTO, Anomera.
Anomera Inc.'s Pilot Plant
—
"At McGill, we were working at lab scale.  We joined XRCC and scaled the production to a 100-gallon reactor, which allowed us to optimize the chemical engineering and develop the production process.  At XRCC, we now have a 200-gallon reactor that is just coming online and will produce 26-kilogram batches of material.  At this time, we are designing our pilot plant which will be capable of generating 240-tonnes of product annually," adds Howard Fields, acting President and Director of Anomera. "XRCC afforded us proof-of-concept and we are now ready to proceed into the business of delivering Anomera's patented cellulose nanocrystal product. With success in the market, we'll be moving into a factory setting capable of producing hundreds of thousands of tons a year."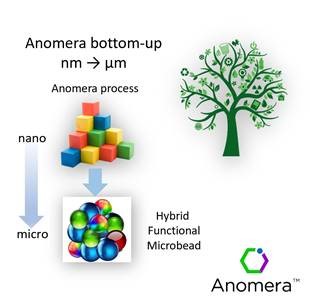 "It's a wonderful circle in some sense about the scale of matter," says Andrews. "You go from big things (in our case, massive trees), down to small things (when trees are turned into wood pulp) and then even smaller things (when we break this down further into nanocrystals). Our cellular nanocrystal product is then used to build big things once again when it is added into resources like cement, composites and paints, virtually strengthening building materials for new kinds of construction. It's all very synergistic."
When Anomera first came to the XRCC, the Xerox team became very familiar with the startup's innovative technology through a series of discovery meetings that led to the development of a formal proposal and engineering assessment.
"We typically start by looking at factors like where the company is, what they need to do to get where they want to be, what the costs might look like to carry out that work, and what product cost might look like at maturity," says Dr. Paul Smith, Vice-President and Centre Director, XRCC.
"From there, we develop stages or 'statements of work' that are essentially bite-sized chunks of the project. These are critical checkpoints that a company must hit along the way, kind of like a CMO Matrix, to determine that it is, in fact, feasible and safe for an idea to become a product at the end of the day."
The fruits of a partnership with the XRCC
—
By joining forces with the XRCC, startups like Anomera gain access to the analytical and capital equipment they need so that they can not only invest their funds more effectively, but they can also tap into different types of expertise or skillsets very rapidly as the project evolves.
"If you talk to any startup, money is one thing, but speed to market is everything. And we help them do that," says Dr. Smith.
Patricia Hawkins also explains how much credibility a partnership with the XRCC can afford a startup.
"By sitting down in investor meetings and explaining exactly how the process works, we're often able to build confidence in the venture and help secure funding. The XRCC is ISO 9001:2015 certified, which is quite an uncommon distinction for a research centre. This is an ISO quality management system that is really important for companies that are scaling up, especially into particular markets like cosmetics – an industry that is so highly regulated."
In fact, Chanel recently audited Anomera's production facility at XRCC around quality management. Because Xerox was able to help Anomera put a quality management system in place, it was one of the reasons Anomera was added to Chanel's approved vendor list – a significant accomplishment for a startup.
The unique thing about Anomera is that the company adopts a specialized approach for every industry and client with which it partners. Regardless of the sector, Anomera teams up with the most highly regarded professionals – chemists, engineers, academics or researchers – who are working in each field. Alongside these industry professionals, they conduct their verification testing and proof-of-concept before going to market and approaching any companies within that industry.
"The road is never straight when it comes to a scale-up," says Andrews. "Scale-up involves a lot of new things. This includes the new emphasis on safety and compliance with respect to factors like the handling of waste. It's not just getting a sustainable product into the marketplace – it's being sustainable all the way. And that involves many new green engineering challenges. In a way, we're breaking new ground and that's very exciting!"
Do you have any questions for Anomera or the XRCC? Leave your questions in the comments section below.