In less than three weeks students will stream back into schools while the COVID-19 pandemic continues. While returning back to some of the "normalcy" of our pre-pandemic lives will bring much needed relief to parents, caregivers, and workers, there are many potential pitfalls that come with returning to crowded environments amidst an ongoing pandemic.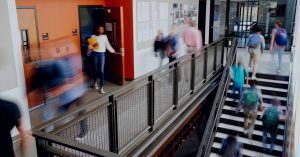 The increased burden on infrastructure—public transport, daycare, offices—are already well documented, as they make social distance measures difficult to enforce. The heightened risk of back-to-school plans is similarly due to a combination of factors: lack of PPE, class sizes, lack of new protocols, and an overburdened ventilation system. Combined, these issues have resulted in four educational unions across Ontario to allege, "that the current back-to-school strategy breaks provincial law by violating occupational health and safety legislation."
As is well documented, the indoor spread of COVID-19 poses a high risk. Individuals sharing close confines who breathe the same air and increased physical contact are most likely to transmit COVID-19. There are comparably fewer incidents of other types of transmission such as surface to person and outdoor transmission. Of particular focus for OSPE is the ventilation systems, which in many schools across Ontario are old and in need of upgrade. To battle this amidst the pandemic, the Ontario government has released $50 million in funds to upgrade ventilation systems.
How well will this investment help schools?
OSPE spoke to Indoor Air Quality Specialist, and Environment Task Force member, Franco DiGiovanni, LL, to better understand how new ventilation upgrades and protocols may protect students.
At its root is a simple idea relayed by DiGiovanni, "The more ventilation, with clean outdoor air, the better at lowering airborne transmission risks between persons in the classroom." However, DiGiovanni noted problems with the influx of funds to upgrade the existing ventilation systems.
"According to the Toronto Star (Sat. Aug 15) there are approximately 5,000 schools in Ontario; this would equate to about $10,000 per school, so not that much money per school if evenly spread." Ontario Education Minister Stephen Lecce, at the August 13 press conference announcing the funds, did not provide further detail on how the money would be spent, only suggesting that cheaper mobile HVAC units could be used for older buildings, rather than replacing entire ventilation systems.
While Mobile HVAC units may seem like a reasonable stopgap measure, they come with their own problems. "Mobile HVAC units may be the only option in certain cases, in older schools/classrooms, when there is no existing duct-work, and could be used to increase fresh air ventilation. One wonders how many units will be needed across the Province, and whether there will be enough units in the province available. We don't know if there will be enough time to procure and install units." Unfortunately, no details on HVAC availability have been provided by government.
These two unknown variables—how many mobile HVAC systems are needed and how quickly they can be installed—show us how engineering principles must work with other factors to combat the pandemic. While upgraded ventilation would likely help mitigate the spread of disease, as DiGiovanni notes, "we're not going to completely eliminate the risk of transmission in school settings; it would be best to implement a number of measures in parallel (e.g., masks, physical distancing, sanitization, good hand hygiene, etc.) to try to reduce risk as much as possible."
COVID-19 continues to showcase how disciplinary borders must be broken down to reach innovative, timely, and safe solutions. The pandemic calls for a multi-pronged approach that takes into account science, engineering, medical, and communication principles, to ensure that all angles are tackled and all individuals informed.
As society tries to restructure on the fly, we must remember the OSPE principles of Lead, Care, and Unite, when considering how best to create a new "normal." OSPE is proud to support engineers like DiGiovanni who stand for these principles and are determined to create a safe, open future. OSPE and its engineers suggest that the government increase investment in upgrading HVAC to ensure that all schools Ontario are safeguarded.