Back in February 2021, C.F. Crozier & Associates Inc., a multidisciplinary consulting engineering firm, announced its inaugural fund of $25,000 as a gift to McMaster University. The C.F. Crozier & Associates Inc. Bursary is valued at $5,000 and will be awarded annually over the next five years to provide financial support to eligible students enrolled in Civil, Mechanical, or Electrical & Computer Engineering programs.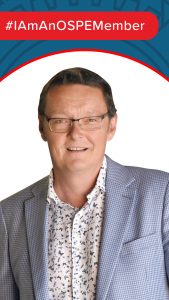 "We have a long-standing relationship with McMaster and felt it most appropriate to support students at an institution that shares similar values as our firm," said Chris Crozier P.Eng., founder and CEO of Crozier and fellow OSPE Member. "The exceptional Engineering & Management Program at McMaster University provided me with the foundation I needed to pursue my career in engineering and business, and I'm forever grateful. It's time to give back and I'm excited to award the annual bursary to support students who will transform the future of engineering."
Chris was named one of McMaster's Faculty of Engineering's Top 150 Alumni in 2017 and was honoured to join the Dean's Advisory Board. Alongside fellow alumnus, Chris assists in identifying strategic partnerships within specific industries, anticipating future direction in government policy, and forecasting the potential impact of new technologies on education and research within the school's Faculty of Engineering.
Responding to the gift, Dean of Engineering, Professor and OSPE member, Ishwar K. Puri, P.Eng., wrote, "Despite the pandemic, our faculty, staff and students continue to pursue their goals and do outstanding work and our friends like [Crozier], continue to make that work possible. [This] meaningful contribution is directly impacting the Faculty's mission to inspire and educate citizen scholars who will transform the world."
"We've always believed in our peers, our community, and the younger generation to help us the lead the way," Chris added. "Everyone deserves a chance and we're honoured to be able to assist in any way we can."
Chris is no stranger to supporting the engineering community. As an OSPE member for almost 20 years, Chris knows the value that comes with giving back. "OSPE provides engineering professionals with critical resources, innovation, and opportunity to perform at their best, collaborate, and focus on actionable solutions," said Chris.
While the C.F. Crozier & Associates Inc. Bursary supports new engineering students at the beginning of their journey, Chris recognizes the work OSPE does for the engineering community as a whole. "Quality of living in Ontario is prioritized and elevated through OSPE's initiatives and efforts, resulting in a cohesive relationship between engineer and community," said Crozier.
OSPE loves to see its members give back to the communities that helped them get to where they are today. Continual support from previous generations of engineers to the next generation is critical for the sustainability and prevalence of our profession.
Chris explains, "I am an OSPE member because the association focuses on initiatives that are important to me, like diversity and gender equity in engineering, and elevating engineers to a higher status in society by removing out-of-date stereotypes."