The recent launch of the OSPE Exchange Hubs program has put us in frontline contact with engineering students, allowing us firsthand access to their questions and concerns. As Natasha Reid, OSPE's Community Engagement and Events Specialist comments, "A pressing concern for students and recent grads, of course, is which pathway to take after graduation. With a plethora of options, we noticed that there is lots of general information about life after school, but nothing specific. We wanted to give them access to professionals in the field who had real, lived experience with the workforce."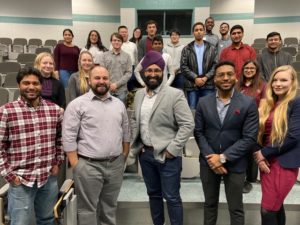 Building on this idea, the OSPE Exchange Hubs organized career panels in Hamilton, Ontario, at McMaster University, and at Ryerson, in downtown Toronto. The first panel was February 25th, 2020, at McMaster. The panelists, Cassandra Lee Taha, Shane Arnold, Manraj S. Pannu, Prakhar Garg, and Cristian Ivascu, spoke in the John Hodgins Engineering Building. Their areas of expertise were varied; for example, Taha works in EIT structural engineering, Arnold is a P.Eng. appointed as a scientific research and experimental development coordinator for WSP Transportation, and Prakhar a graduate of McMaster's Mechatronics Engineering and Management program. By leveraging OSPE's network of engineers, attendees were given access to the daily realities of each field, from academia to the corporate, and were given the opportunity to directly ask questions to the panelists.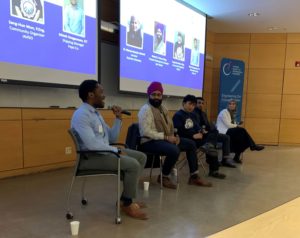 At Ryerson, on March 4th, 2020, a mix of students and professionals convened in the George Vari Engineering and Computing building, where panelists Dr. Marwa Hussein Ahmed, Abisek Sivaganesan, Sang-Hun Mun and Manraj S. Pannu, fielded questions. They covered a wide range of experience: Dr. Ahmed has a PhD in Automated Condition Assessment, Abisek Sivaganesan a B.Eng. in Chemical Engineering and a background in Supply Chain operations, Manraj S. Pannu a P.Eng., and the Manager of Process Development at Spin Master and Sang-Hun Mun, P.Eng., is an environmental engineer licensed both in Ontario and South Korea. Similar to the McMaster event, after a moderated discussion, guests were allowed to ask questions about any step in the professional's career path and were given well thought out, contemporary and specific answers.
At both events attendees were given the opportunity to network amongst themselves and with the professionals with complimentary refreshments. As Manraj S. Pannu said, "Getting a job now is about making a personal connection with people," and the networking events were geared towards that idea. Not only was the purpose of job seeking served, but also the broader idea of engaging with community and appreciating the holistic value that can provide.
OSPE is proud to work together with universities in Ontario to bridge the student-professional gap, and to bolster the confidence of these seen to be young professionals. "While OSPE provides engineering graduates who pursue traditional engineering careers with programs to get licenced as a P.Eng., we also acknowledge there are non-traditional career paths, where other sectors, such as financial, digital commerce and in policy making, are seeing tremendous value in an engineering education. OSPE will support your career, whatever path it takes", according to OSPE CEO, Sandro Perruzza.