The COVID-19 pandemic revealed that a shortage of personal protective equipment (PPE) is currently affecting our healthcare system. It's not only that there is a lack of equipment—such as protective masks—but also the difficulties encountered by frontline workers who have not previously been required to wear this equipment for such long periods of time. The discomfort caused by long periods of mask wearing is noteworthy, as not only can it cause skin irritation that affects concentration, and therefore impact recovery efforts, but it can also speed up transmission to our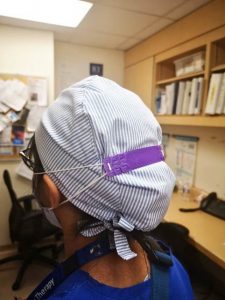 frontline workers by increasing the rate of unnecessary face touching. The elastic used to secure the mask to the face clings tightly behind the ears and is prone to chafe and rub over long periods of wear. This causes the skin to tear and break, and in an effort to reduce the discomfort, leads to our nurses and doctor's constantly touching their faces while already in high-risk environments.
When Jerome James, P.Eng., OSPE Board Member and energy engineering consultant in Toronto, saw these news reports, he felt that he had to act. As he told us, "Since the beginning of this global pandemic, I've been thinking about how I could lend a hand to aid in the effort to help reduce the burden being felt by our medical workers and support staff." While there are multiple, notable, efforts across engineering sectors to retool and otherwise redeploy resources to help in the COVID-19 relief efforts, James felt that his background as a "design enthusiast" meant that he could make a personal contribution. "I have many close friends who are physicians and respiratory and occupational therapists that are on the frontlines each day and I wanted to use my design skills and ability to help them out."
In the spirit of individual resourcefulness, James wanted to contribute a method that could be easily and efficiently deployed. Inspired by the 3D makers across Canada who have been uploading 3D blueprints for masks on platforms such as Thingiverse, James began tinkering with designs for a replacement part on his 3D printer. "I already had a hand-built, kit 3D printer collecting dust in a basement I could easily grab and put to use," he told us. Keeping comfort and durability in mind, James beta tested his "ear retainer" designs with early wearers, using an iterative process until he created a simple plastic addition that received positive feedback from long term wearers.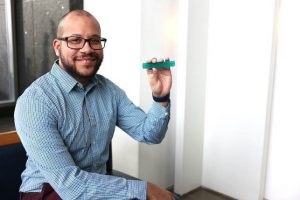 While the measure was simple, it was effective and efficient, a hallmark of good engineering principles. James has already delivered over 180 pieces of his ear retainers to doctors and nurses around Toronto, including Toronto Western, North York General, and Sick Kids. Regina General in Saskatchewan and even Dartmouth-Hitchcock Medical Centre in New Hampshire have also received sets of his 3D renderings.
As James states simply, "It feels good to give back to those who are keeping us healthy in these uncertain times." This simple act of giving back by James is a wonderful example of OSPE's three strategic pillars, and how engineers can exemplify the ideas of care, unite, and lead in their communities.
James has kindly provided OSPE with the necessary G-code created by himself to print off his rendition of the ear mask piece. You can download the GCode by clicking here.
For more on COVID-19 and its affect on engineering in Ontario, visit our COVID-19 news page.