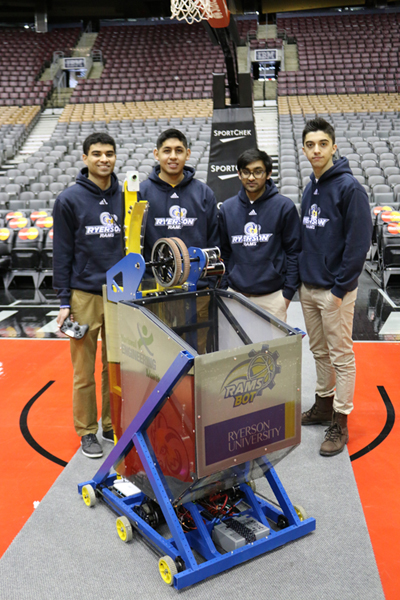 Have you met RamsBot?
RamsBot is a basketball-shooting robot designed and built by Ryerson Rams Robotics, an undergraduate engineering design team that represents Ryerson University in robotics challenges across North America. RamsBot boasts a 90 per cent  shooting accuracy from the field and it even trash-talks on the court.
RamsBot came into being last winter when the Ontario Society of Professional Engineers (OSPE) invited Ryerson University to build a robot for National Engineering Month 2015. The project was proposed to the Robotics team by the Faculty of Engineering and Architectural Science Dean's Office.
Students on the team applied their background from FIRST Robotics competitions in high school and coupled it with the mechatronics knowledge and skills they learned in Ryerson's mechanical and electrical engineering programs to build the robot. RamsBot is built similar to a tennis-ball machine. It is equipped with a hopper for ball storage and a shooter that moves basketballs through a conveyor to a flywheel that provides the speed and pressure needed to shoot the ball.
RamsBot was unveiled February 27, 2015 at National Engineering Month's kick-off event, Nothin' but NEM: Engineering Night with the Toronto Raptors at the Air Canada Centre in Toronto, where the Raptors faced off the Golden State Warriors. As a part of the post-game entertainment, the RamsBot showed off its skills on the court. It shot 70 per cent from three-point range and 90 per cent from the free throw line. It even attempted a half-court shot that it barely missed.
RamsBot recently caught the attention of Roger Lajoie, host of Sportsnet 590's The Fan. "Students at #Ryerson are amazing. Their basketball shooting robot has a better FT percentage than Steve Nash!" he wrote in a Twitter post earlier this month.
Watch the RamsBot in action:
Video courtesy of The Ryersonian and the Ryerson Rams Robotics.
RamsBot will be at several events around Toronto this summer. Follow RamsBot on Facebook for more details.