This year, as we celebrate and look back on 20 years of the Ontario Society of Professional Engineers, we wanted to recognize some of our longest serving members. The Society owes a great deal of its success to the hard work of its members and volunteers throughout the years. Without them, many OSPE events and advocacy initiatives wouldn't have been nearly as successful, so thank you.
Changiz Sadr, P.Eng., has been around since the beginning of OSPE. Sadr retired in 2017 after 40+ years of engineering work, but he hasn't backed away from the profession totally. He continues to be a strong supporter of OSPE and its initiatives as well as being an active volunteer and member of both PEO and Engineers Canada. Changiz currently sits on the Board of Engineers Canada and is involved with multiple committees for the regulator.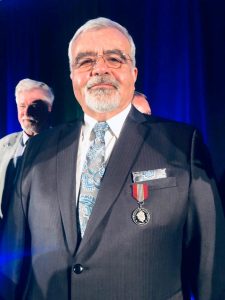 Like many in his field, Changiz dedicates a lot of his time to giving back to the profession. This year, PEO honoured him with a pin for his 20 years of volunteer service. He has also taken home numerous other awards recognizing his dedication to helping others; for example, last year, Changiz was recognized by the Governor General of Canada when he was awarded the Canada Sovereign's Medal for Volunteers. Sadr has been recognized for his professional work in the past as well. In 2019, he was recognized as the Most Dedicated Communication Engineering Consultant in Ontario as a part of Corporate Vision Magazine's Canadian Business Awards.
For Changiz, OSPE's value is in bringing the amazing work of engineers to light. As he said when we sat down with him, "I feel like this need should be inside of every engineer in Ontario, because besides serving the public (the mandate of PEO), engineers need to be served as well." And it's initiatives like P.Eng. Day, meeting with MPP's and serving as a resource for media that ensures engineers get the spotlight they deserve.
When discussing his favourite OSPE initiatives, Changiz highlighted both the advocacy work that OSPE does for our members and the profession, as well as our employment events that help pair understaffed employers with ready-to-work engineers.
Throughout his time working as an engineer in Ontario, Changiz had always hoped that the public would put a higher value on engineering as a profession and that the public would trust engineers' contributions to society more. As the advocacy body for engineers in Ontario, Changiz sees supporting OSPE as a way to help engineers get that support and recognition they deserve from those outside the profession, and in the future, he hopes that engineers are as highly regarded in our society as some of the other well respected professions.