OSPE Member Rob Harvey, P.Eng., Director of Energy Infrastructure at Hydrogenics, was the keynote speaker at the 2019 Hamilton Halton Engineering Week (HHEW). Rob has worked in the energy sector for more than 20 years and shared details about the future of fuel cell power modules for heavy-duty mobility. OSPE caught up with him to hear more about his innovative work, as well as his commitment to supporting Ontario's engineering advocacy association.

How did you get started in engineering?
I had a strong aptitude for math and science in high school and engineering was a good fit.  My father was a professional engineer and that influenced me as well.  I studied at the University of Waterloo and graduated with a degree in Systems Design Engineering.
Can you tell me about your role with Hydrogenics and the work you're doing there?
Hydrogenics is a hydrogen cleantech company. We design and manufacture fuel cell power modules for heavy-duty mobility (buses, trains and large trucks), and we design and build large scale water electrolyser systems to produce renewable hydrogen to fuel those vehicles and other applications.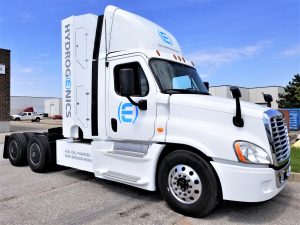 My current role with Hydrogenics is Director of Energy Infrastructure. I've been with the company for eight years now, and I've been part of the development of the Power-to-Hydrogen industry for large scale electrolysers from building awareness to advocacy, and from getting demonstration projects built right up to the early commercialization stage where we are today.  We developed the Markham Energy Storage Facility as a joint venture with Enbridge Gas—it is a 2.5MW twin-stack PEM electrolyser project that is providing regulation services to the IESO under contract.  I was also a founding member of the Energy Storage Canada industry association and served on its Board for six years.
At Hydrogenics, we don't build the entire vehicle, but we engineer and build the fuel cell power modules for original equipment manufacturers (OEMs) and vehicle integrators. A fuel cell power module is a zero-emission engine that generates electricity from hydrogen using an electrochemical process.  For example, we worked with Alstom to create a fuel cell power module specifically designed for their zero-emission commuter train, the Coradia iLint, the first of its kind which has now been in passenger service in Germany for over a year.
Now that you've been in the industry for some time, where do you see it headed in the future?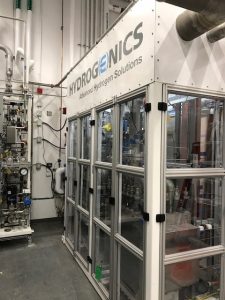 Without a doubt hydrogen is going to be a part of our cleaner energy future.  In jurisdictions like California, China, Japan, and Europe there have been significant investments and support for the deployment of zero-emission fuel cell electric vehicles and the hydrogen refueling infrastructure.  Many manufacturers of buses, trucks and trains are moving into this space and adopting the technology. In California, for example, they have incentive programs in place that will help municipalities meet the mandate to convert their bus fleets to zero emission vehicles by 2029, which really isn't that far away.
The value proposition for fuel cell electric powertrain for heavy-duty vehicles is compelling.  It is twice as efficient as an internal combustion engine with a mechanical drivetrain, it has zero emissions and it delivers the same performance, range and refueling time as a conventional vehicle today.  With volume production, the industry will move quickly down the cost curve and fleet operators will be able to achieve a lower Total Cost of Ownership in the future.
As a long-standing OSPE member, can you share why you think OSPE is important or why you joined OSPE in the first place?
As a part of my business development role at Hydrogenics, I met Paul Acchione, P.Eng., at a conference while he was the President of OSPE. At the time, I was developing the business case for Power-to-Hydrogen, and I reached out to Paul because he's a very bright guy who has a deep understanding of the Ontario electricity and energy markets and how to best leverage the mix of renewable and other generation resources in the province.
I subsequently found out that OSPE had published a number of white papers on the energy sector that were relevant to the work I do.  So, it was initially Paul that connected me to OSPE, but once I saw the advocacy work that OSPE was doing, I decided to join.
That's great to hear! Where do you see the hydrogen sector heading in the future?
A sure sign of the growing importance of the hydrogen cleantech sector is the significant level of investment over the past year by major players.  In Hydrogenics' case, Air Liquide made an equity investment, and then Cummins made an offer to acquire the remaining shares of the company, which was approved by shareholders in September 2019.  As part of Cummins, Hydrogenics will be able to scale up to meet the future demand.