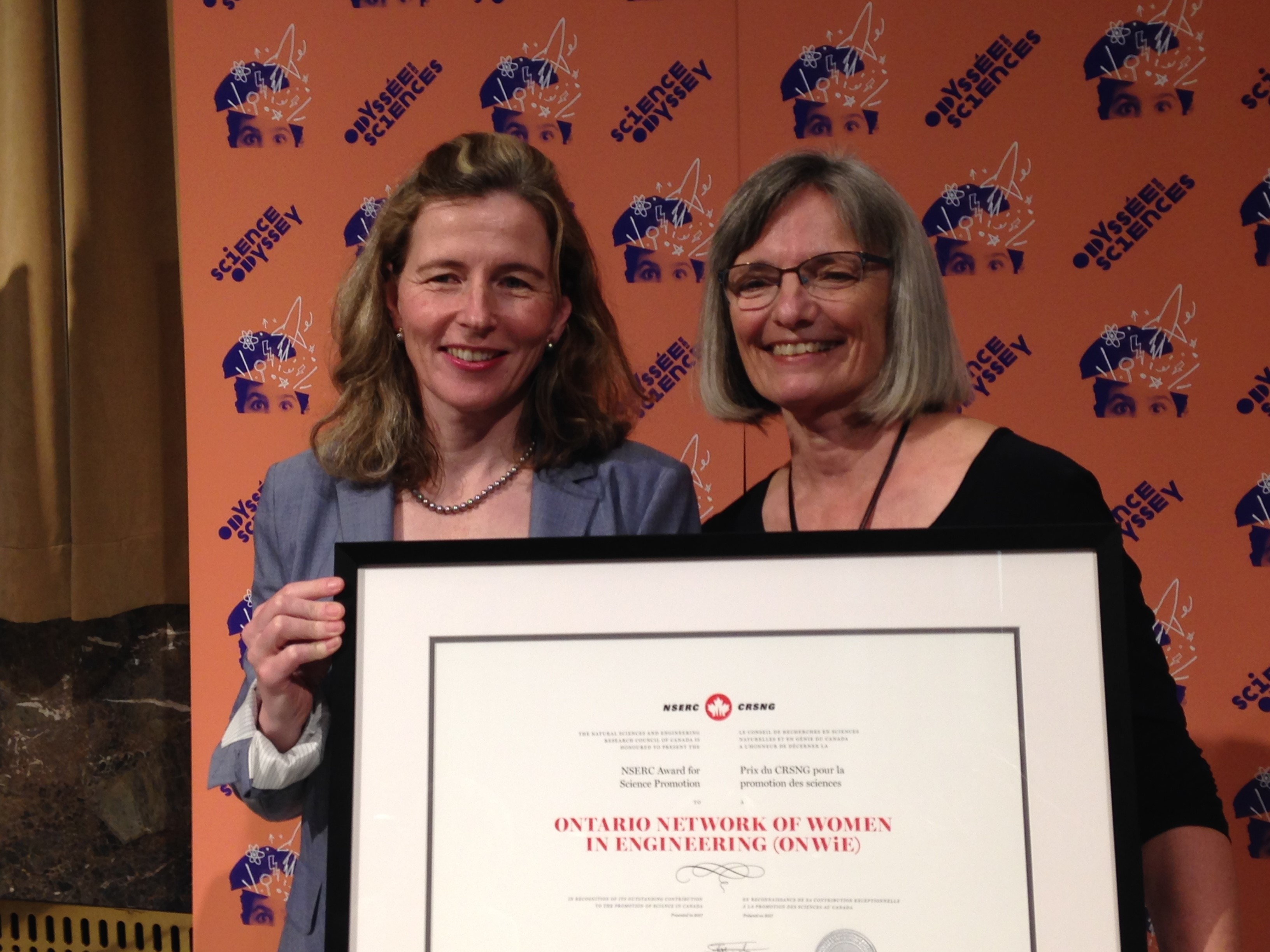 Today, we are pleased to share the exciting news that two Professional OSPE members – Mary Wells, P.Eng., Chair of the Ontario Network of Women in Engineering (ONWiE), and Valerie Davidson, P.Eng., founder of ONWiE – will be accepting a Natural Sciences and Engineering Research Council of Canada (NSERC) Award for Science Promotion in Ottawa on behalf of ONWiE.
The NSERC Awards for Science Promotion afford "Canada's science community the opportunity to recognize, support and encourage the work of outstanding science promoters." Every year, the NSERC honours just one organization from across Canada for its creative efforts to encourage popular interest in science and to inspire all demographics to pursue STEM studies and participate in STEM activities.
Formed in 2005, ONWiE is the embodiment of an innovative collaboration between all the schools and faculties of applied science and engineering across Ontario. ONWiE supports current female engineers, engineering students and engineering graduates, while encouraging the next generation of women to pursue careers in engineering to address the persistent low enrolment of female students in engineering programs. The organization's overarching goal is to provide opportunities for women and girls across Ontario to explore and excel in the engineering profession.
The NSERC Award thus recognizes twelve years of hard work and dedication on the part of the ONWiE team, including each participating faculty, staff, students and volunteers. The network's hands-on programs break down misconceptions about engineering and help familiarize girls with potential careers in the various fields of engineering. ONWiE outreach programs like Go ENG Girl, Girl Guide Badge Days and Go CODE Girl help expose youth to the engineering profession and engineering role models. In total, more than 17,000 girls and 7,000 parents across the province have taken part in these programs – with measurable results.
Since ONWiE's founding, Ontario has seen a 21 per cent increase in the number of female students taking grade 12 physics – a prerequisite for engineering. Meanwhile, the number of young women in Ontario applying to engineering has almost tripled, and they now make up 21 per cent of the province's undergraduate engineering students.
The NSERC award comes with a $25,000 cheque, giving ONWiE more resources to continue its impressive work.
Congratulations ONWiE! We look forward to continuing to work together to remove barriers for anyone in Ontario seeking to pursue a successful career in engineering!
Learn more about ONWiE and how you can get involved.
Learn more about how OSPE can also help you build your engineering career through services like these: