P.Eng. day was started by OSPE three years ago on March 1st, 2018, as a way to recognize the work being done by engineers all across Ontario. As the voice of engineering in Ontario, we wanted a day dedicated to promoting engineers, the importance of the profession, and to highlight just how much of our society engineers are a key part of.
During the lead up to P. Eng day on March 1st, 2020, we're going  to feature P.Engs. on our blog who exemplify the three main pillars of OSPE's Strategic Plan–Engineering the Future Together.

With a dynamic variety of projects, engineers require flexible hard and soft skills to fully utilize their array of traits. OSPE is proud to highlight three engineers that exemplify the traits outlined in Engineering the Future Together: one that cares, one that unites, and one that leads. Which leads us to our next profile–Herman Chan, P.Eng.
Herman is the lead for Spin Master's Management Development Program, where he helps guide young engineers through three 6-month rotations at the organization. Even though these engineers might not always report directly to Herman, the way in which Herman ensures their development shows that he is an engineer who leads.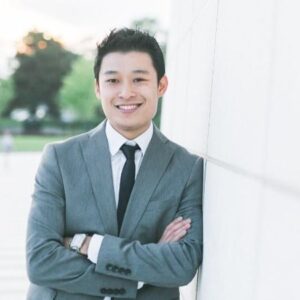 Herman began his engineering journey at the University of Waterloo in their Mechanical Engineering Program. After graduation he immediately began working for an engineering consulting firm as a Mechanical Designer, but after a few years realized it wasn't the role for him. Herman found that although there is a lot to learn in the technical aspect of engineering, he felt he was missing out on the more personal aspects of work. He wanted a role in which he could interact with people of different backgrounds and have more opportunities to manage and lead teams.
That's when he found his role at Spin Master. Since joining Spin Master nine years ago, Herman has moved through a few roles, and now finds himself as a Product Development Manager within the organization. Like previously mentioned, Herman is a lead on Spin Master's Management Development Program where he helps lead young engineers through the beginnings of their careers. Young engineers like Vanessa Raponi, E.I.T. and OSPE member, who recommended Herman for this feature.
When asked how Herman has influenced her, Vanessa responded "He has helped encourage me to be a leader within the organization and has influenced the type of leader I hope to be. Herman will give his time to help anyone, on any issue. He is constantly mentoring the newest entrants to our team and is very patient when teaching others."
Herman believes that when leading the Management Development Program, it's important not to be short-sighted. "These are the people that are going to be our future bosses," Herman said "Even if I spend the time mentoring someone who takes that knowledge and starts working somewhere else, it is not at all a waste of time. I take pride anytime they have success in their careers, even if it doesn't relate to me."
As for the future of engineering, Herman hopes that society's perception of engineers becomes broader. Where a lot of people have a narrow view of what an engineer might do, Herman believes that engineers are "in the profession of problem solving" and that the engineering mindset is what makes engineers, not the work that they perform.
Over our P.Eng day feature series, we were proud to share with you engineers that lead, care, and unite. While engineering is a multifaceted, problem-solving based profession, we believe its future health rests on those who can guide us based on these three principals.
On March 1st, we hope to see you celebrate the P.Engs. in your lives that also exemplify these strategic pillars. Be sure to tag @O_S_P_E or use #PEngDay when doing so on social media!