P.Eng. day was started by OSPE three years ago as a way to recognize the work being done by engineers all across Ontario. As the voice of engineering in Ontario, we wanted a day dedicated to promoting engineers, the importance of the profession, and highlighting just how much of our society engineers are a key part of.
March 1st, 2020 will officially mark the third annual P.Eng. Day in Ontario and for this year we're going to be featuring P.Engs. who exemplify the three main pillars of OSPE's Strategic Plan – Engineering the Future Together.

Engineers require a diverse set of hard and soft skills to be successful in their careers. With a dynamic variety of projects, engineers need to be adaptable and have an array of traits they can utilize when needed. From those traits, OSPE is trying to highlight an engineer that leads, one that cares, and another that unites – which brings us to our first profile: Kerry Loken, P.Eng.
Kerry is a great example of an engineer that unites those in her engineering community. From her work with WISE Sudbury, to her mentorship of young professionals and advocacy for the importance of the P.Eng. designation, Kerry has definitely made an impact on her community.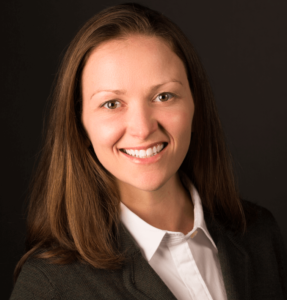 After realizing she had a knack for science and math, but lacked family members with experience in those fields, she approached her high school Guidance Councillor who put her through a career aptitude test. When she got the results back, she was less than impressed with her top fit – Female Prison Guard – and decided to research her second highest fit, an engineer. 
Quickly after arriving in her Mechanical Engineering program at UOttawa, she realized she had made the right decision. "I immediately felt as if I was among my people. I felt that everyone I talked to in the engineering building seemed to get me a lot more than those I grew up with."
Shortly after graduation, she moved with her husband (also an engineer) to Sudbury. Here she immediately became involved with the local WISE chapter – Women in Science and Engineering. Since then she has worked with WISE in a number of capacities. She sat on the Board of Directors as the Vice President in 2010, President in 2011 and Past President in 2012.
For Kerry, a highlight of her work with WISE Sudbury is their annual WISE Science and Engineering Olympics, which Kerry lead for two of her years with the Chapter. The event brings together 120 girls from grades 4-7 to learn about science and engineering, and then apply their learning in fun mini-competitions between the student groups. The event is great for young girls to meet new friends from other schools, learn problem solving techniques, and it is completely funded through sponsorship from local businesses.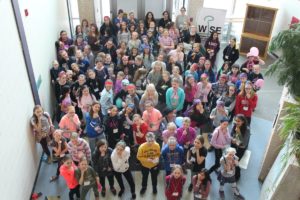 Kerry has also been a great advocate for the profession as a whole. "In my previous workplaces, I have taken the initiative to speak to all of the Engineers in Training and IEGs about the importance of the P.Eng. seal, this history of our iron rings and I would encourage them to think about what it means to them." Additionally, Kerry put a number of prospective P.Engs. in touch with people at P.E.O. to help them better understand the licencing process and how they might go about obtaining their own license.
Recently, these endeavors aligned when Kerry was able to give a new engineering graduate her Iron Ring. This female engineering graduate had remembered Kerry speaking to her and a group of young girls while she was in the WISE program about all the great aspects of being an engineer. Years later, that engineer connected with Kerry's husband and told him that hearing Kerry talk "was the moment she decided to become an engineer." From there she connected with Kerry, and created a mentor-mentee relationship and eventually Kerry presented her with the Iron Ring.
As for her hopes for the future of engineering, Kerry is a big proponent of continuing professional development. "If we wish, as professionals, to stay at the same level that we are, we have to look at the other professionals around us. Teachers, Doctors, Lawyers, Nurses – all have professional development requirements as a part of their programs, so we need to be continuing to do this maintenance."
For more on Kerry and her professional accomplishments, SNOLAB, her employer, did a feature on her for last year's National Engineering Month.