Did you know that across Canada, the percentage of the newly licensed engineers who are women is only 17.9%? Engineers Canada's 30 by 30 initiative aims to address this gender gap and to raise the number of newly licensed women engineers to 30% by 2030. One of the primary challenges with regards to the recruitment and retention of women in STEM continues to be a lack of female role models. Annette Bergeron, President of Engineers Canada, talks gender barriers, role models, mentors, and how to introduce young girls to engineering.
Annette graduated from Queen's University with a BScHE in Metallurgical Engineering and from York University's Schulich School of Business with an MBA in Strategic Management and Entrepreneurship. She was elected as the sixth female President of PEO and she is a past President and Chair of the Ontario Society of Professional Engineers. In 2013 and 2014, Bergeron was recognized among the Top 25 Women of Influence in Canada. Annette has over three decades of experience in industry, academic administration, engineering and business education, entrepreneurship and governance.
Q: As a female engineer, did you encounter any barriers in your career?
—
A: In my very first job after graduation, I encountered both a lack of mentorship and sponsorship. I could see two male colleagues at my same level that were given special jobs to put them on a career path. I felt adrift and no one seemed interested in a path forward for me. I wish I had known at that time that as a woman in a male dominated industry and profession, I would not be naturally selected for progression and would have to ensure it myself.
Q: How important is it for young women and girls to have mentors and role models?
—
A: Mentors and role models are very important for not only embarking on an engineering journey, but also for advancing and developing your career. Engineers Canada's last Final Year Student Exit Survey found that about 52% of engineering students relied on mentors to get a job after graduating. Making those connections in industry and in the workplace can be incredibly valuable when you're early on in your career. Even as you are advancing in your career, mentors and role models continue to be important. They can offer career advice based on their own real-life experiences and they can look out for you, providing you with great support and a strong ally for your professional development.
Mentorship, sponsorship and personal networks are all main themes of the upcoming 17th Annual Claudette MacKay-Lassonde Forum: It's Time We Build.
The Forum, happening on June 18th and presented by OSPE's Women in Engineering Advocacy Champions Task Force (WE ACT), looks at these topics, as well as a few others, with a focus on the importance of providing actionable strategies to empower women in STEM to succeed in their careers. For more on this event, visit www.ospeweact.ca.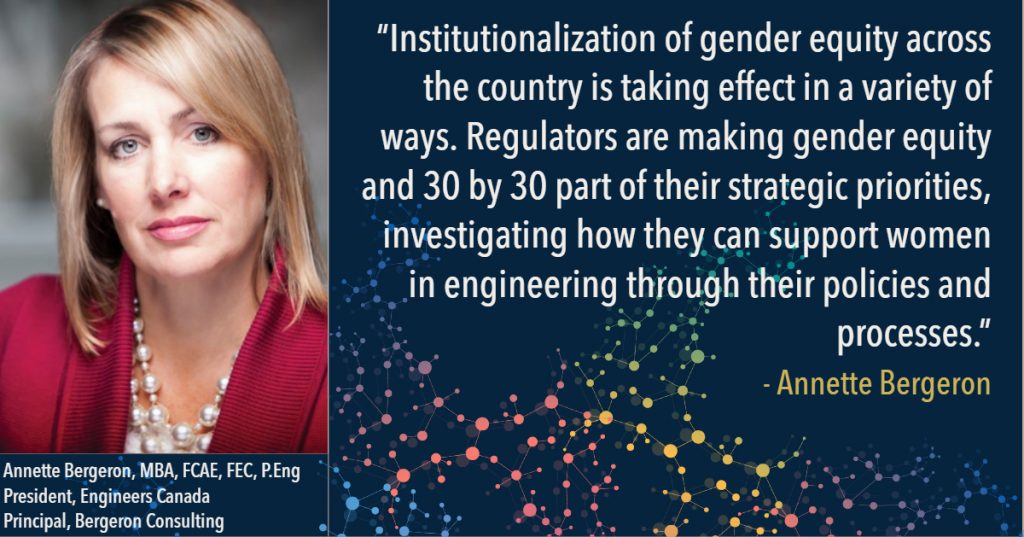 Q: Your daughter received her iron ring recently. How did she make her decision to enter engineering?
—
A: At the last minute! She was filling out her university applications for science and unbeknownst to me, selected engineering. In high school, she was not going to take physics. I suggested to keep all doors open by taking physics. High school physics in its current form is not attractive to young women, and I would say one of the first self-selected barriers to a career in engineering. For my daughter, I doubt that it was a last minute decision. She had an active role model throughout her life as I took her to several engineering conferences. As I mentioned, mentors and role models are very important and we need more of them.
Q: People often say, 'You cannot be what you do not know.' How can we introduce engineering to young girls?
—
A: There are so many ways to introduce engineering to young girls. March was National Engineering Month in Canada, which we celebrate every year with hundreds of hands-on events across the country that demonstrate to young Canadians what they could do as engineers.
This exploration of engineering can happen year-round. For example, Engineers Canada has worked with Girl Guides of Canada to develop an engineering crest, which young girls can earn by completing an engineering activity under the supervision of an engineer, EIT or engineering student. Thousands of young girls across Canada have earned this crest.
We're also working to bring engineering into schools and classrooms with the Future City competition, which exposes students to the engineering design process in grades 6, 7, and 8. Other school or extracurricular activities, like science fairs, robotics clubs, and coding camps can be great ways to introduce STEM subjects to girls to inspire them to embark on an engineering path.
Q: What is the recent update on the Engineers Canada's 30 by 30 campaign?
—
A: Great work is being done across the country within the 30 by 30 network. 30 by 30 Champions in each of the provinces and territories are taking their own path, engaging with regional stakeholders in creating local solutions towards the goal of 30 by 30. For example, here in Ontario, Professional Engineers Ontario is engaging engineering employers; in Alberta, federally funded research on workplace culture and retention of women in engineering is underway; and Manitoba has developed a campaign called Engineering Changes Lives and established the Manitoba 2030 Coalition of 13 engineering employers.
We see steady increase in the numbers of women enrolled in post-secondary engineering programs. However, we need to make sure these women are graduating with the knowledge and connections needed to continue along the pathway to licensure. This is where the 30 by 30 network is so valuable. We are creating connections between the engineering programs and regulators, providing a space for them to collaborate and share their work.
For more on this topic, check out the hashtags #30by30 and #LetsBreakBarriers on social media.
Useful links:
This post includes contributions from two of OSPE's Women in Engineering Advocacy Champions Task Force (WE ACT) members, Anna Gkalimani, P.Eng., and Elizabeth Pietrantonio, P. Eng.