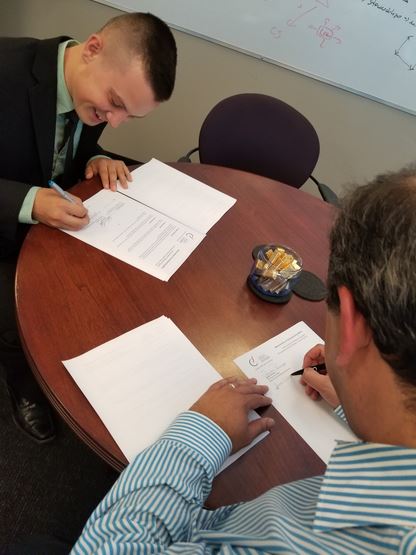 OSPE student members – we're very excited to announce a formal partnership between the Ontario Society of Professional Engineers and the Engineering Student Societies Council of Ontario!
The purpose of our revamped OSPE-ESSCO partnership is to ensure you never miss an opportunity to express your needs and priorities as an engineering student, champion your chosen profession and gain new experience and knowledge outside of the classroom.
Student-focused advocacy
—
OSPE and ESSCO will be collaborating on a strategic plan for ESSCO advocacy. Through this partnership, ESSCO representatives, particularly the new "ESSCO Director of Advocacy," will work directly with OSPE's Policy Leads to address student-centric advocacy issues and wins.
Going forward, each campus Engineering Society will have an "OSPE Liaison Officer" who will engage students in advocacy, government relations and OSPE membership. What a way to build up your resume, communication skills and understanding of public policy!
Stay in-the-know
—
Through open communication with you, we stay up-to-date on your main priorities, challenges and concerns. You have the ability to share your voice and guide our efforts, and as your advocacy body, we can amplify your message.
As part of the new partnership with ESSCO, both of our societies are committed to communicating some of the many ways that you can stay connected to the engineering community on your campus and beyond.
Keep an eye out for:
Posts on the

ESSCO

and

OSPE

blogs

, informing you on opportunities to engage with OSPE and your peers, attend major events, network or volunteer within the engineering community, sharpen your job search skills, and access engineering-specific scholarships, internships and job prospects.

Social media and email updates

on your access to exclusive "OSPE MemberPerks," including deals, promotions and discounts on everything from your favourite restaurants, to travel packages.
Everyone's ideas are valued at OSPE. Regardless of what stage you're at in your journey, it is our priority to represent your needs and interests to the best of our ability. The new partnership between OSPE and ESSCO is the perfect way to increase visibility, awareness and engagement for engineering students across the province!
Curious how you can get more involved in volunteering and advocacy with ESSCO and OSPE? Email: president@essco.ca.