In 2017, OSPE launched its updated website and online member platform to simplify the process for membership sign up and renewal. Our members are our priority, so our goal is to continuously refine and expand our member services, keeping YOU in mind.
Today's tutorial will remind you how to set up your online OSPE account and will walk you through some of the NEWEST FEATURES of OSPE's online member platform.
Signing in to your online OSPE member account:
—
Visit https://www.ospe.on.ca/ to get started.
If you are a new member: Click the red "Join OSPE" tab at the top right-hand corner of your screen. Follow the prompts on the next page to select your membership type, enter your email address and fill in the "About You" page, so you can begin taking advantage of the OSPE services that meet your needs.
If you are an existing member: Click on the blue "Sign In" tab at the top right-hand corner of your screen.
Once you are logged in to your OSPE account, the "Members Area" page gives you easy access to some of OSPE's most-used membership features.
Here's a preview of some of the online platform's NEWEST FEATURES:
—
Your OSPE membership card is now available online: Do you have trouble keeping track of your OSPE membership card? Struggling to remember your membership number? Now you can enjoy easy access to your OSPE membership card at all times by simply logging in to your member profile.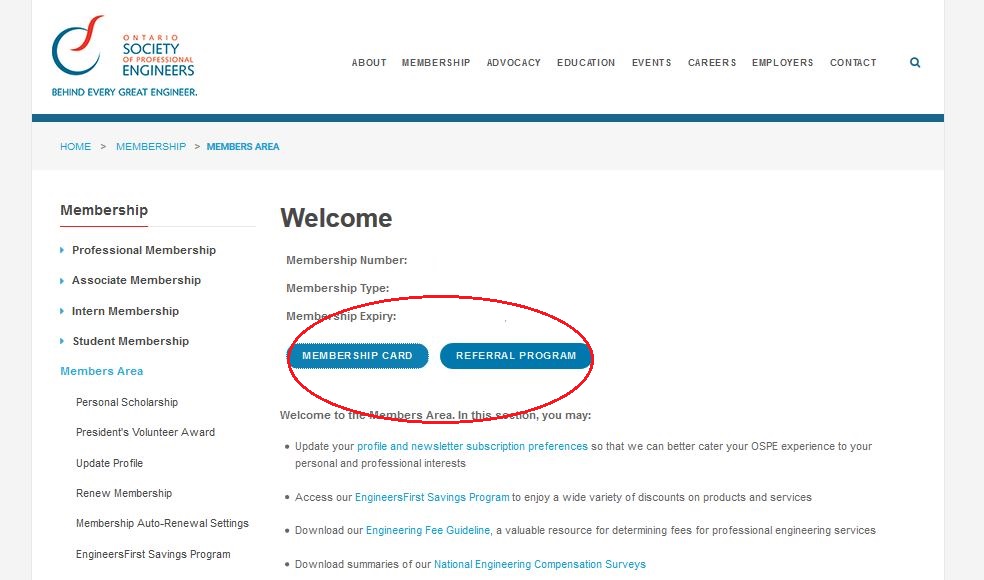 OSPE's Referral Program is now active: It's never been easier to tell your friends and colleagues about OSPE. Simply log in to your OSPE account to share their names and email addresses and we'll take care of the rest!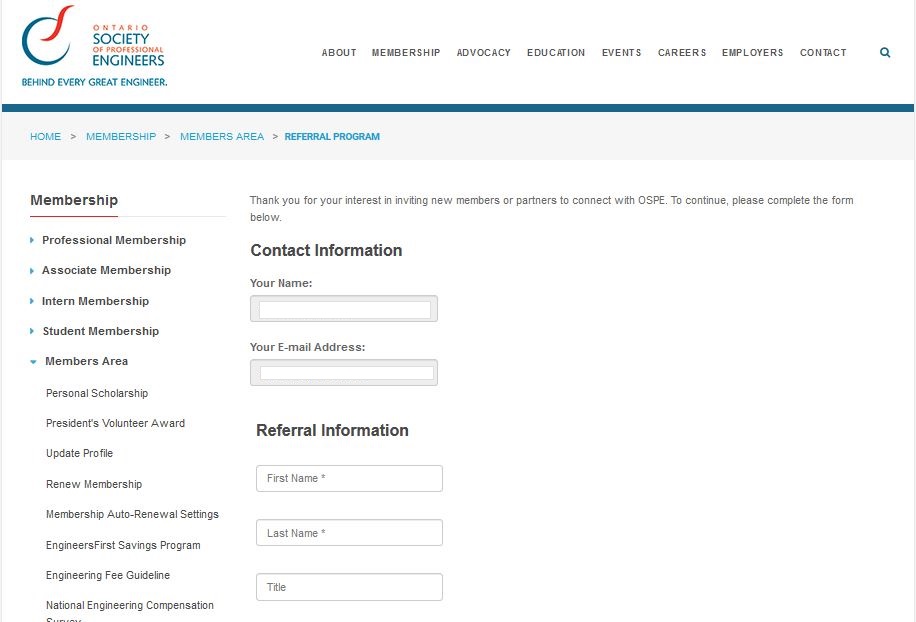 Your membership expiry date will now be printed on your receipts: We strive to make the membership process as simple and efficient as we can. From now on, your membership expiry date will be printed on your receipt for your convenience.
Keeping your OSPE profile and preferences up-to-date:
—
Update your profile: Ensure your contact information and professional history (current job role, PEO number, educational history etc.) are up-to-date so that you receive member communications and offerings that are tailored to you.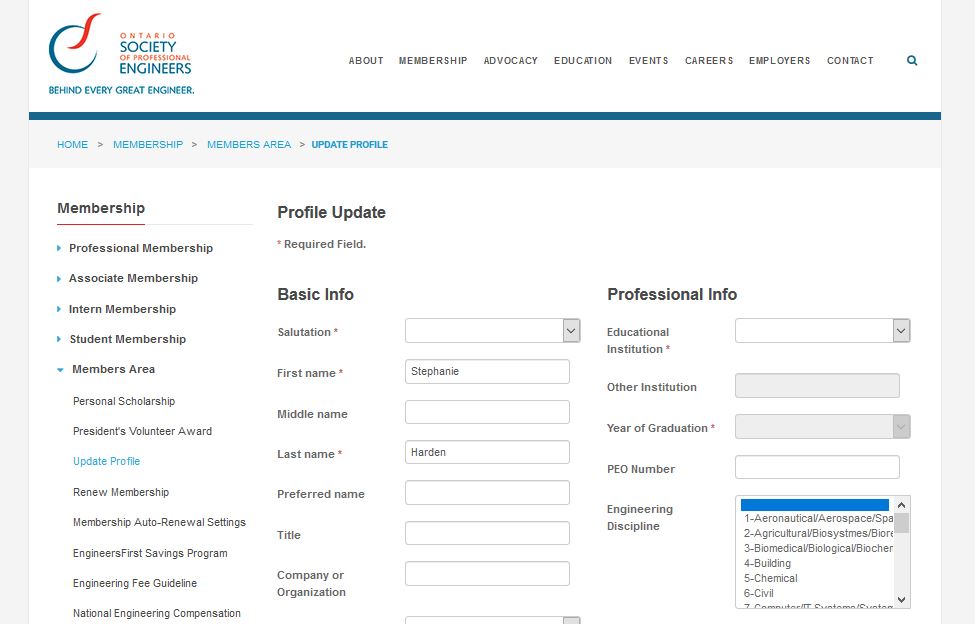 Enable auto-renew: Choose our auto-renewal feature, so that you never have to worry about missing your membership expiration date.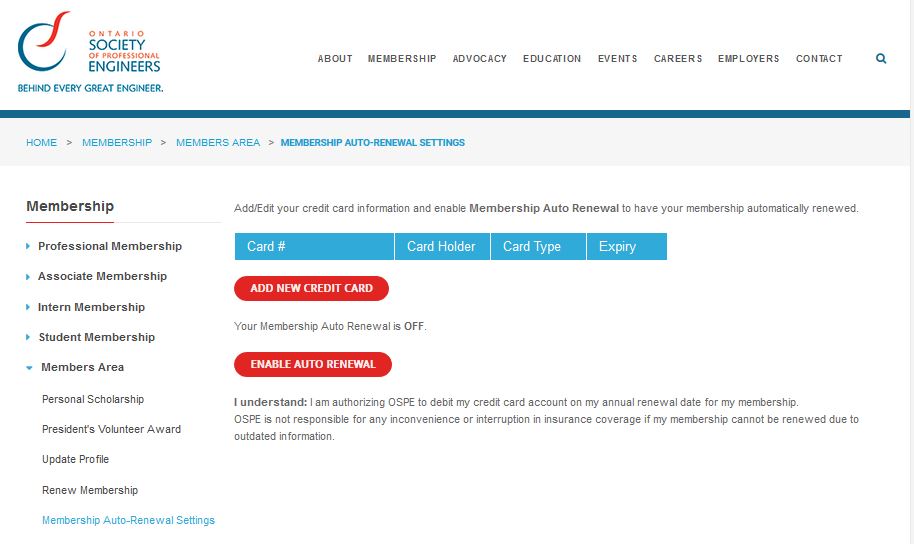 Update your "Communications Preferences": Decide which OSPE communications you wish to receive, so that you stay informed on all OSPE activities and offerings that are important to you.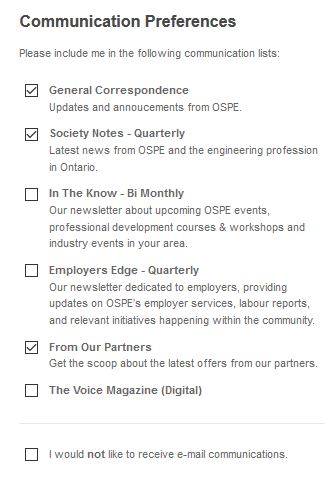 Browse through the many exclusive benefits of OSPE membership:
– Check out OSPE's EngineersFirst Savings Program to access deals on everything from restaurants to insurance.
– Enjoy free access to the annual Engineering Fee Guideline and Compensation Surveys
– Check out some of the many ways that you can get involved in OSPE, including direct links to OSPE's advocacy initiatives, like our Political Action Network; as well as our professional development courses and career services.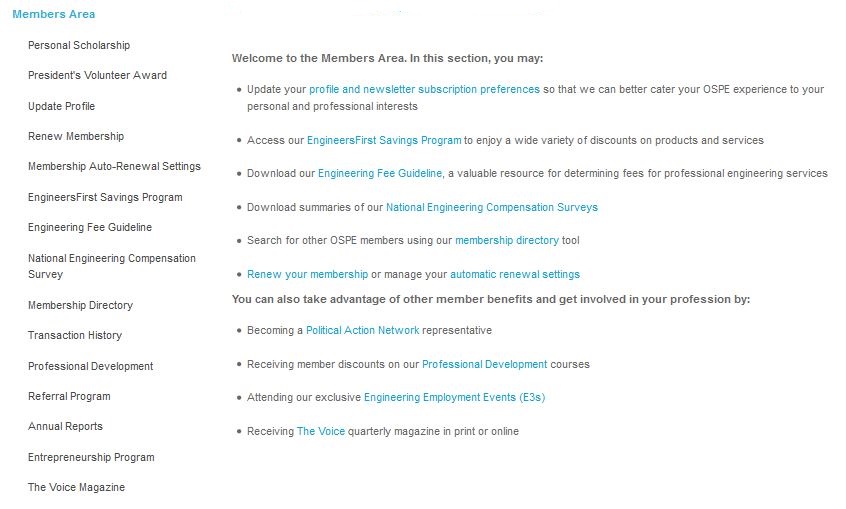 If you have any questions about our new online member features or about logging in to your OSPE account, email info@ospe.on.ca.