Message from OSPE President & Chair
A new year, a new decade, and new opportunities for OSPE are right around the corner. This past year has been one of many challenges, accomplishments and progress here at OSPE. On the back of our new strategic plan Engineering the Future Together, which will lead us into 2022, OSPE has been focusing on ways in which we can Lead, Care for, and Unite the engineering profession.
In this last quarter of the year, OSPE held its largest equity, diversity and inclusion (EDI) conference – The EDI Imperative: Changing the Profile of STEAM in Canada, to great success. This was our most well-attended conference to date and was focused on educating, brainstorming and discussing ways to increase the representation of marginalized groups within engineering. There were helpful discussions around defining the issues and creating a framework for change, success stories from those in STEAM that broke through their own personal barriers, and a look into the future of engineering as a more inclusive and diverse profession. For a recap of the event, read more here.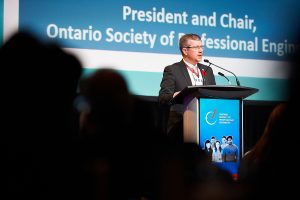 Since our last issue of The Voice we've been hard at work uniting engineers in various Ontario communities through the launch of OSPE's Exchange Hubs. These hubs serve as a centralized location, typically around select university campuses, where professionals, students and everyone in between can meet, discuss and strategize ways to support and influence their community. The outpouring of support for these OSPE Hubs has been amazing – we've had so many students and professional members volunteering their time and getting involved as Hub Ambassadors. Each
of these hubs have been hard at work planning events for the coming year and we can't wait to see what kind of impact they have.
Another initiative of OSPE's that's right around the corner is the How to Change the World (HtCtW) program. This is an experiential education program that prepares participants to bring their expertise to bear on complex societal challenges. In partnership with OSPE, the HtCtW program builds upon the UN Sustainable Development Goals to enable participants to understand the local through global applicability of their learning experience.
In this new year and new decade, we at OSPE want to continue to elevate the engineering profession. Through our various initiatives, we want to hear from you, the engineers, and we, in turn, want to amplify your voices so that they're heard by society. We believe that the evidence-based problem solving and discussions that engineers bring are important and need to be considered.
On behalf of myself and the OSPE staff, we'd like to extend our seasons greetings and wish everyone a safe and happy holiday filled with family, friends, and the best of opportunities in the coming year.
Message from OSPE CEO
Two of the most frequently asked questions that we receive at OSPE are "why is advocating for engineers necessary?" and "why should an advocacy body like OSPE spend its time lobbying for policy changes on things like climate change and clean energy?" The answer to both of these questions is that the well-being of the engineering profession depends on the public, government, and media fully understanding just how necessary engineering expertise is to solving today's problems.
Advocacy for engineers and consulting with governments on policy change are intrinsically related. While PEO's role as a regulatory body is to safeguard the interest of the general public, OSPE's primary function is to act as the voice of Ontario's engineering community. Despite the plethora of contributions engineers have made to humanity, public perception of the profession is not always as favourable as we might hope.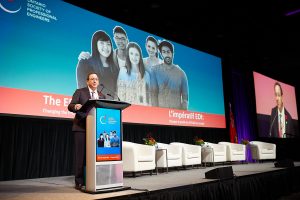 A public opinion research survey commissioned by Engineers Canada found that the public's perception of engineers was lesser than that of many other professionals, including nurses, doctors, and electricians. The survey asked respondents to rank professions based on the level of familiarity and trust they felt towards each one. Engineers were consistently ranked on the mid to lower range of the list. These findings are not altogether surprising – each of the professions that scored highly on this list are represented exceptionally well by advocacy bodies across the country promoting the work they do. In other words, familiarity breeds trust.
These findings were echoed in a survey conducted on behalf of the multinational 3M Company. Their countrywide survey found that almost half of the respondents viewed scientists as elitist, and many respondents discounted findings that did not align with their own personal beliefs. Unfortunately, this trend can be seen in numerous areas of science. The anti-vaccine movement, and the large number of people who continue to discount the reality of climate change, are perfect examples of this. More encouragingly, however, the survey also suggested a curiosity and a genuine desire amongst the general public to learn more about the scientific world.
OSPE has done remarkably well in changing public policy while showcasing the expertise, passion, and dedication of professional engineers. As applied scientists, engineers have the skills and expertise to develop solutions to everyday problems that the government alone simply does not. OSPE's advocacy work and our efforts to change public policy demonstrate the necessity of having engineers in conversations around clean energy, climate change, infrastructure, and so much more. In this way, we are working to keep engineers in the spotlight in order to educate the public, and remind the media and government, that engineers are a truly invaluable resource to Ontario.
Have any questions, comments or concerns for your President & CEO? Let them know in the comments below!