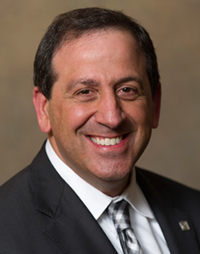 This is a message from OSPE's CEO, Sandro Perruzza.
As we head into the holiday season, followed by a new start in 2016, I'd like to encourage you to consider three reasons why all engineering professionals should become OSPE members.
To support your advocacy organization
OSPE consults with government regularly on big issues like climate change and energy policy to ensure the critical work and expertise of engineers is incorporated into public policy decisions. Engineers have a moral obligation to provide these solutions.
To speak to the media and educate the public
The media contacts OSPE frequently to comment on engineering news, and to speak to subject matter experts on a wide range of topics. OSPE needs more input and participation from engineers in Ontario to adequately represent the profession.
To enhance your career
OSPE looks after the economic interests of engineers by making sure you have opportunities for gainful employment. We host Engineering Employment Events (E3s) and provide an online job board giving you access to top companies and opportunities across the province.
Is there a specific policy issue you'd like us to focus on in 2016? Leave your comment below, or contact advocacy@ospe.on.ca.
Do you wish to speak to the media about an issue in the news that you can provide an expert opinion on? Comment below, or contact our Manager of Corporate Communications and Digital Media directly at csmith@ospe.on.ca.
Do you have an idea for a service OSPE could provide that would help enhance your career? Tell us what you think below, or contact our Manager of Professional Development and Career Services at jmoudakis@ospe.on.ca.