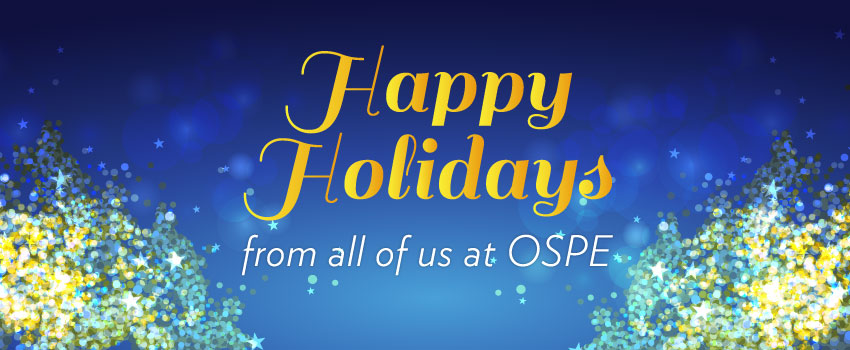 The snow has arrived as if on cue and that can only mean one thing – it is officially the holiday season. Regardless of how you celebrate this time of year, we at OSPE extend our warmest wishes to you and your loved ones. We'd like to thank each one of our dedicated members for sharing your ideas and unwavering support over the past year.
In 2017, our activities and initiatives proved to open many new doors for OSPE. Equally as important, the expertise, guidance and active participation of our Board of Directors and diverse membership base demonstrated that, together, we also know how to make a difference once these doors are opened.
⛄ What are some 'OSPE highlights' from 2017?

⛄
—-
* Submitted an advisory document to the Minister of Energy and all three major political parties detailing 21 actionable recommendations to deliver energy efficiencies and savings for Ontarians. By establishing a voluntary interruptible retail electricity market under the technical guidance of professional engineers, Ontario can productively use its excess clean electricity and reduce residential and commercial rates by as much as 25%.
* Hosted a series of thought-leadership events that connected OSPE with engineers across the province. For example, our "Spark the Fire" event in North Bay brought together engineers, industry, government, academic and First Nations leaders to discuss northern development and the future of Ontario's Ring of Fire, while our "Navigating the Glass Obstacle Course" event brought together thought leaders from post-secondary institutions, STEM companies and government to discuss strategies for supporting gender equity in the engineering profession.
* Launched the Change the World campaign to remind Ontarians that engineers improve our quality of life every day, and to inspire members of the engineering community to share their stories and voice with OSPE to strengthen their advocacy body.
* Received funding from Status of Women Canada for a three-year project to address barriers that contribute to the under-representation of women in STEM. The overall goal is to identify the systemic barriers that women in STEM face and to develop policy recommendations and practices to break down these barriers. So far, the response to our #LetsBreakBarriers survey has been incredible, with over 3,200 submissions to date!
* Fostered new partnerships with organizations as diverse as the Institute of Electrical and Electronics Engineers (IEEE), Canadian Aeronautics and Space Institute (CASI), Construction Specifications Canada (CSC), the C150 Global Odyssey & more!
And these are only a few examples of the advocacy initiatives and outreach activities that we were able to accomplish as a community this year.
We look forward to continuing to work together in 2018 to raise awareness about the vital role that the engineers play in our province and around the world.

⛄

Important updates for members

⛄
—-
In lieu of the holidays, OSPE will not be posting on the blog for the next two weeks, but we'll be eager to provide exciting new content in January that highlights more incredible individuals and projects from across the profession.
If you haven't had a chance to do so already, don't forget to update your OSPE member profile by logging in at www.ospe.on.ca, so you can enjoy easy access to your favourite membership features.
Set up auto-renewal, access savings opportunities and helpful resources like our Engineering Fee Guideline, find out how you can get involved with OSPE and receive membership and advocacy updates by setting your communications preferences. As a member, you have access to OSPE's The Voice magazine, Society Notes and In the Know newsletters, and you can subscribe to the Society Notes blog. Take advantage of all the benefits of your OSPE membership in 2018!
Once again, all of us at OSPE wish you a Merry Christmas, a relaxing holiday season with friends and family and all the best in the coming New Year!
*As a reminder, the OSPE office will be closed from December 25, 2017 to January 1, 2018.