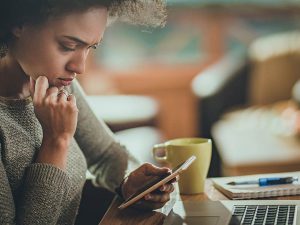 Criminals love a crisis, so the COVID-19 situation means it's more important than ever to be on the alert for fraud. Read on for some tips to help you tell if they're real or not.
Scam artists have been known to pose as financial advisors, government officials, police officers, charity workers, even family members. Their goal: to get you to give up confidential information or transfer them money.
When a company reaches out to you through calls, emails or text – be cautious when they:
Ask for personal or confidential information, like your social insurance number
Claim there is a problem with your account or payment information
Say you're eligible for a government refund
Claim they've noticed suspicious activity or login attempts
Send texts or emails with clickable links or requesting money transfers
If you are not comfortable providing your information, tell the representative that you will call back. Be sure to call the number on a statement or letter the organization sent you or use the phone number on their website.
How to avoid becoming the next victim of phishing or fraud:
Ensure the software on both your computer and mobile device are up to date. Updates can provide critical protection against security threats, so set them to update automatically.
Most companies today will allow you to set up 2-step verification for an extra layer of security.
Protect your data on all devices by backing it up on an external hard drive or cloud storage.
Stay alert and know what to watch out for!
Sources:
To find out more, call 1-888-476-8737 or visit thepersonal.com/ospe
Note: This article is being provided by OSPE on behalf of The Personal which has a group sponsorship agreement with regards to home and auto insurance for our members. The Personal refers to The Personal General Insurance Inc. in Quebec and The Personal Insurance Company in all other provinces and territories of Canada. The information and advice in this article are provided for informational purposes only. The Personal shall not be liable for any damages arising from any reliance upon such information or advice. The Personal recommends using caution and consulting an expert for comprehensive, expert advice. Auto Insurance is not available in MB, SK and BC due to government-run plans.