By the time the warm weather comes around, your car has carried you through snow, ice, salt, wind, mud and more – so it's time to show it some love. Here's how to give your car the care it needs:
Change your tires
Now that the warm weather should be back for good, it's important to change your snow tires to all-season or summer tires to avoid unnecessary wear and tear on your winter ones. In fact, snow tires can become a safety hazard in the summer by overheating and increasing the risk of a blowout – so be sure to get them changed if you haven't already done so.*
Have your car inspected by an expert
It's always a good idea to get your vehicle inspected to ensure your safety on the road. Most garages have a visual check and inspection plan covering multiple points under the hood and vehicle. This usually includes:
Brakes, steering and suspension
Battery charge, headlights and position lights
Essential fluids like motor oil, transmission fluid and coolant
Once garages fully re-open and return to accepting non-mandatory vehicle repairs, it might be a good idea to take your car in for this kind of check-up.
Give it a good clean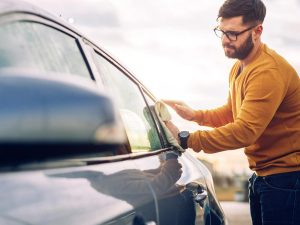 It's important to give your car a good clean every once in a while – and the warm weather can make this task a bit more enjoyable. Here's what to focus on:
Put winter equipment away (shovels, cables, blankets and traction aids)
Give the carpets a thorough cleaning and vacuuming
Wash and wax the body
Clean the windows and plastic surfaces (to prevent discoloration and cracking)
Check the condition of the vehicle body, and, if required refer to an expert
Good reasons to take care of your car
At the end of the day, a little effort during the warmer months can pay dividends: your car will be cleaner, safer and more reliable – and keeping it in good condition could even save you money on major repairs over the long-term. For more helpful tips and tricks, visit thepersonal.com/blog today.
To find out more, call 1-888-476-8737 or visit thepersonal.com/ospe
*Please note that winter tires can be mandatory at certain times of the year. Please check with your local authorities that your tires can be legally changed.
This article is being provided by Ontario Society of Professional Engineers on behalf of The Personal which has a group sponsorship agreement with regards to home and auto insurance for our Professional Engineers, Engineering Graduates and Engineering Students. The Personal refers to The Personal General Insurance Inc. in Quebec and The Personal Insurance Company in all other provinces and territories of Canada. The information and advice in this article are provided for informational purposes only. The Personal shall not be liable for any damages arising from any reliance upon such information or advice. The Personal recommends using caution and consulting an expert for comprehensive, expert advice. Auto Insurance is not available in MB, SK and BC due to government-run plans.