Welcome to the final installment of our three-part blog series on OSPE's 15 years of advocacy, where we explore some of the advocacy wins OSPE's made from the year 2000 to the present. Below are some highlights from 2011-today.
Did you miss the first two posts of this series? Take a look at highlights from 2000-2005 and 2006-2010.
Don't forget to tell us what policy issues you want OSPE to tackle over the next year in the comments section below.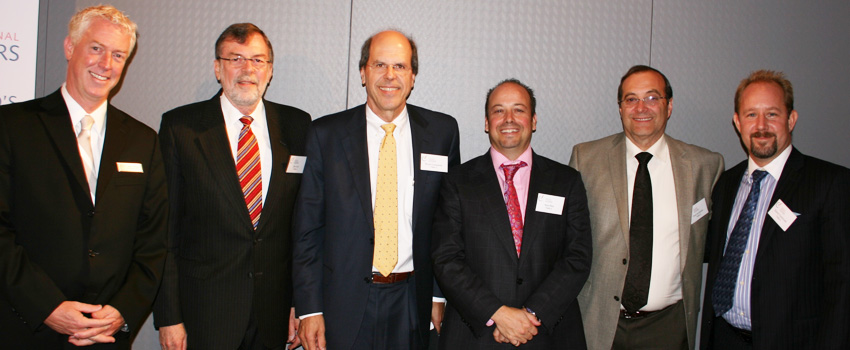 2011: Minister of Citizenship and Immigration extends funding for OSPE's bridging program for internationally trained engineers (ITEs)

Honourable Eric Hoskins, Minister of Citizenship and Immigration, announces extension of funding to full 3 year term for OSPE's Examination Skills Preparation for Internationally Trained Engineers, which prepares ITEs for the PPE
2012:
OSPE's Wind and the Electrical Grid Generates Media and Political Attention
"Following reports of unusual electrical power system performance problems and negative electricity market prices, OSPE undertook an engineering analysis of the state of the power system. OSPE's report Wind and the Electrical Grid identified a number of problems with the supply mix mandated by the Ministry of Energy and the lack of flexibility of the existing power system to absorb the planned capacities of wind turbines," explains Paul Acchione, P.Eng., Chair of OSPE's Energy Task Force
The Ministry adopts, fully or partially, 13 of 19 recommendations
Acchione highlights OSPE's 19 recommendations with TVO's The Agenda and Ottawa's 580 CFRA News Talk Radio
PC Party approaches OSPE for comment on its energy white paper
Acchione reflects that, "OSPE learned that engineering data based on a thorough analysis is the most effective way to ensure policymakers accept and incorporate OSPE's recommendations."
OSPE invited to participate in Ontario Chamber of Commerce's Big Move Task Force to discuss transit planning in the GTA
Task force comprised of representatives from various infrastructure and transportation groups to discuss transit planning in Ontario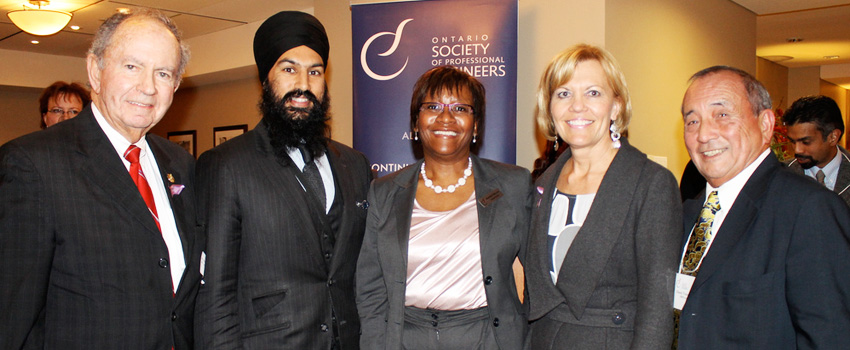 2013: OSPE speaks to media on the important role of engineers in Globe and Mail supplement on "Engineering in Canada"
OSPE invited by the Elliot Lake Commission of Inquiry to participate in roundtable on "The Role of Professionals and Other Building Consultants"
Paul Acchione, Past OSPE Chair and Board member, and Chris Roney, PEO Councillor, make presentations to Commission
Input from event incorporated into the final Elliot Lake report
OSPE recommends a formal Continuing Professional Development (CPD) program for licensed engineers and a formal Quality Assurance (QA) Program for Certificate Authorization Holders
Commission recommends a CPD program be implemented by April 2016
PEO subsequently creates Task Force to review need and requirements for CPD, QA, and Competency Assessment and will report back to council by the end of 2015
OSPE invited to consultations on the Ring of Fire and Forms Working Group
Living in Sudbury, David Wood, past OPSE Vice Chair and Board member, notices the lack of media on the Ring of Fire and lack of communication between mining companies, First Nations, and federal and provincial governments
"With OSPE's role in advocacy front and centre in my mind, it became clear to me that we needed to become involved," David recalls
He approaches the Sudbury Chamber of Commerce about preliminary investigations and was invited to attend consultations
"We had a lively roundtable discussion at the Chamber's offices with about 15 professionals related to the mining industry to provide input into the document being produced."
OSPE reviews and contributes to the Ontario Chamber of Commerce final report, Beneath the Surface: Uncovering the Economic Potential of Ontario's Ring of Fire
Wood adds that this was an important advocacy area for OSPE to participate in because "the opportunities that would come from the development of the Ring of Fire are immense."
OSPE forms a Ring of Fire Working Group to raise awareness of the importance of Ring of Fire projects and the need to move forward with infrastructure projects in the region, which will provide significant business and employment opportunities for engineers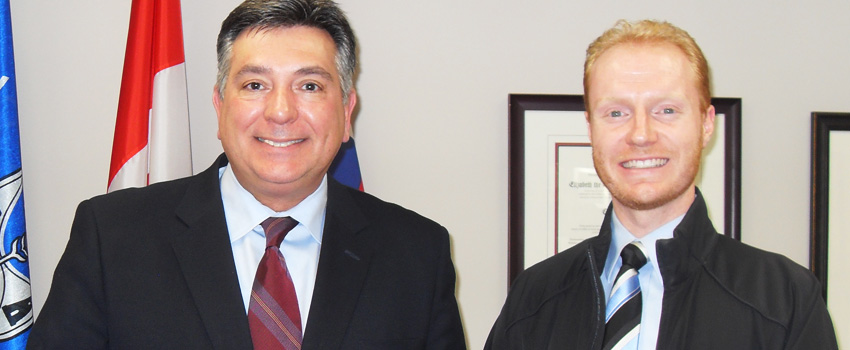 2014: OSPE releases study on labour market conditions facing internationally trained engineers (ITEs), From the World to the Workforce
Report found a disconnect between recruitment processes of employers and the job search practices of ITEs
Honourable James Moore, federal Minister of Industry, personally acknowledges report
OSPE develops "Engineering Your Workforce to Address Engineering Skills Shortages" – a unique employer program to provide HR professionals and hiring managers with tools to assess the skills of ITEs
OSPE offers online hub of resources for engineering employers, "Engineering Employer Resource Centre"
OSPE releases report, From Classroom to Career: A Snapshot of Employment and Underemployment Among Ontario's Engineering Graduates
Report examines the type of jobs Ontarians with a degree in engineering are working in
OSPE found that only 29.7% of employed Ontarians with an engineering degree actually work as engineers or engineering managers
OSPE participates in "Public Works and Infrastructure Roundtable: Cutting Red Tape, Encouraging New Ideas, and Saving Money" at Toronto City Hall
Closed-door discussion arranged and led by Councillor Denzil Minnan-Wong
Shared ideas from OSPE's Infrastructure Task Force about procurement and working with the city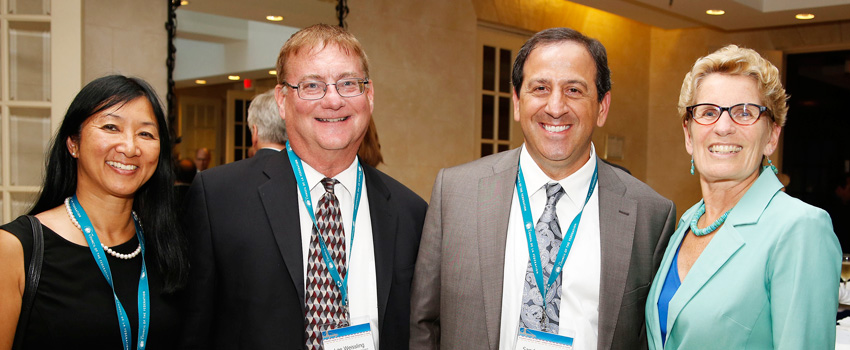 2015: OSPE releases Crisis in Ontario's Engineering Labour Market
Report found that more than 33% of engineering-degree holders work in jobs that don't necessarily require a university degree
"OSPE's report is a breakthrough in reversing 20 years of discussion of an engineering shortage and presenting labour market reality for the first time to engineers and the public. The report and the ongoing work surrounding it is OSPE's greatest achievement since its inception because it has the potential to bring about real improvement in the careers of tens of thousands of engineers," says Ray Givens, OSPE Board member.
OSPE CEO Sandro Perruzza invited to speak about the report on CBC Radio's Ontario Today, while listeners across Ontario call in to share their experiences and perspectives on the underemployment crisis
OSPE board members invited to attend Roundtable on Women in Leadership
Karen Chan, P.Eng. (OSPE Vice Chair), Valerie Davidson, P.Eng., Clare Morris, P.Eng., and Helen Wojcinski, P.Eng. attend
OSPE raises its profile with government and contributes to future initiatives that will advance the status of women in Canada
OSPE invited to Ontario Government's Pre-Budget Consultations hosted by the Minister of Finance, Charles Sousa
OSPE again invited to the Standing Committee consisting of 12 MPPs alongside Consulting Engineers of Ontario (CEO), Ontario Federation of Agriculture, and Canadian Union of Public Employees (CUPE)
OSPE's recommendations cover infrastructure, the environment, energy, labour market conditions, advanced manufacturing/research and innovation, and the Ring of Fire
OSPE's influence in government continues to become stronger as engineers gain increasing stature among policy makers and elected officials
Tell us in the comments section below: What policy issues do you want to see OSPE tackle over the next year?